DNP Programs in Nevada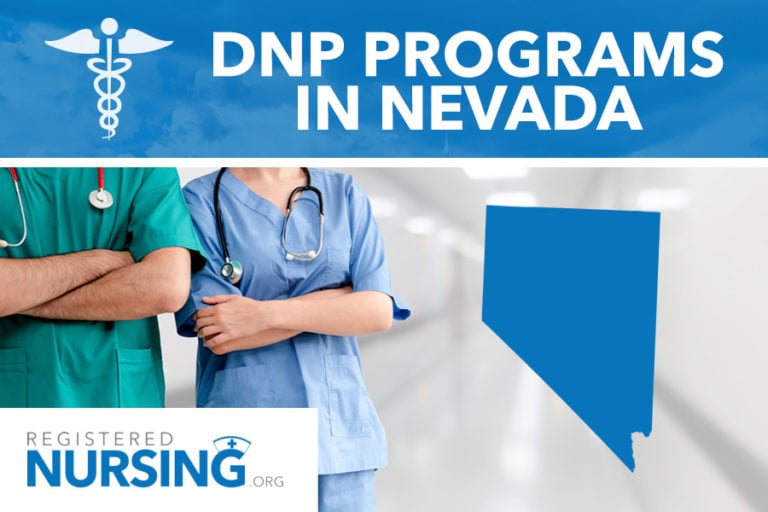 Doctor of Nursing Practice degrees (DNPs) are high-level degrees that prepare students for clinical nursing education and advanced practice nursing. Registered nurses seeking DNP degrees are able to focus their studies on either advanced practice nursing and systems or organizational/educational leadership.
The number of unit hours required to complete a program will vary from program to program and depend on the specialty being pursued.  The post-master's DNP programs in the state of Nevada will requires completion of didactic and practicum nursing courses that comprise around 31 semester credit—depending on the track. BSN-DNP programs normally require 60 credits for the Nurse Executive tracks, and 68 credits to complete the Advanced Practice Family Nurse Practitioner tracks.
Upon successful completion of the DNP, graduates will be able to:
Provide advanced nursing care to improve patient and population health care outcomes in various direct and indirect settings
Provide evidence-based practice through the application of analytical methods, information systems technology, and clinical research
Take leadership roles in the analysis, delivery, and management of nursing care and health care systems.
Act as a change agent, leader, and advocate in the design, implementation, and evaluation of health care policy as it affects populations and the nursing profession
Collaborate in inter-professional teams to meet the health care needs of culturally and ethnically diverse individuals and populations
Choosing a DNP Program
Selecting the right DNP program and school takes a little legwork. To ensure that you choose the right school for you, there are a few important things that should be carefully considered.
What to Consider When Choosing a DNP Program
Program Cost—Tuition costs for the two DNP programs in the state of Nevada are as follows:

Touro University Nevada Tuition Cost: $625 per unit hour
UNLV—In-state $615 per unit hour; Out-of-state $1000 per unit hour

Online/Campus Options— Nevada has several universities with DNP programs that are delivered to students primarily in an online format:

Touro University Nevada—Touro's DNP program is offered completely online with no required on-campus visits. The practicum and scholarly project portions of the program (which are required for graduation) may be completed in the student's geographical area

Accreditation— DNP programs in the state of Nevada are accredited by the Commission on Nursing Education (CCNE).
Residency— Clinical residencies and fellowships for DNP students can typically be arranged through their university. Students are encouraged to ask what kind of partnerships their school has with local hospitals and health centers.
Admission & State Licensing or Certification Requirements
Admission
To be considered for acceptance in the Doctor of Nursing Practice (DNP) degree program, applicants should:
Hold a current BSN or MSN degree from a CCNE or ACEN accredited School of Nursing
Cumulative GPA of 3.2 (on a 4.0 scale) in their undergraduate nursing coursework
Cumulative GPA of 3.0 in their Master's program
Be licensed as a registered nurse with an unencumbered license in the state the practicum will be completed
English proficiency (written & spoken) is mandatory
Submit all required information to the admissions department by the deadline
Pass a Level I criminal background check and drug screen
Complete required health immunizations and other requirements identified by the School of Nursing (varies based on practicum experience)
Pay any fees
Interview with faculty
Transcripts of all education institutions attended must be sent to the school of choice
Certification
Accredited DNP programs in the state of Nevada allow successful students to sit for certification upon completion of programs. DNP tracks offered at universities in Nevada allow students to become certified specialty fields including, but not limited to, the following:
Doctor of Nursing Practice – Advanced Practice
Doctor of Nursing Practice – Nurse Executive
Licensing
In the state of Nevada, nursing students who've completed the DNP track will need to be licensed by the Nevada State Board of Nursing. Requirements for licensure include:
Completing an application
Background checks
Provide transcripts from all educational institutions
Submit verification of specialty certification
Complete fingerprinting
Nevada BSN to DNP Program Options
Some schools offer BSN to DNP program options for students to directly enter a doctorate program from their baccalaureate degree. This option is available in Nevada at:
University of Nevada, Las Vegas: offers a BSN – DNP program at 60 credits for the Nurse Executive track, and 68 credits to complete the Advanced Practice Family Nurse Practitioner track
Related Education Paths
Helpful DNP Agencies and Organizations in Nevada
List of Campus and Online DNP Programs in Nevada
Henderson, NV
874 American Pacific Drive
Henderson
,
NV
89014
(702) 777-8687
Las Vegas, NV
4505 S. Maryland Pkwy.
Las Vegas
,
NV
89154
(702) 895-3011
Reno, NV
1664 N. Virginia Street
Reno
,
NV
89557
(775) 784-1110
Are we missing your school's program or need to update information listed? Please contact us so we can make the necessary changes.
Find DNP Programs By City: