Nursing Programs in Las Vegas, NV
Employment opportunities abound in registered nursing, making it a great career choice for those who reside in and around Las Vegas. The city boasts a number of educational choices, with programs for beginners and experienced nurses alike.
To get started in nursing or to advance your nursing career, check out our accredited program listings sections below: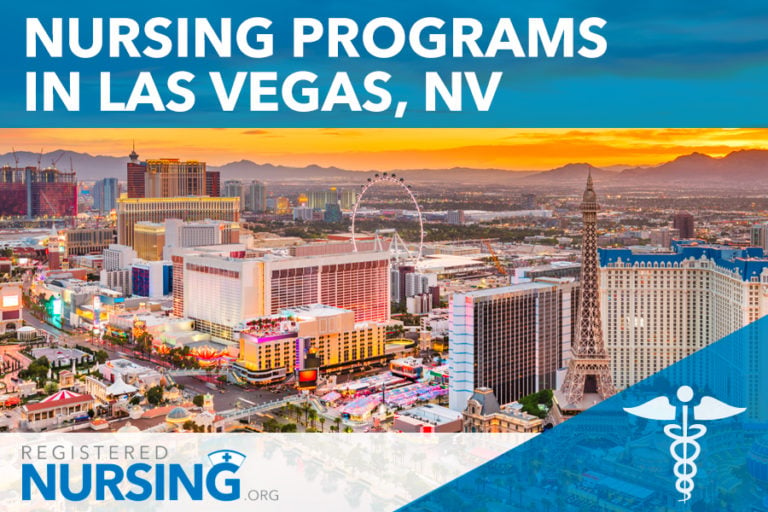 Entry Level ADN & BSN Programs in Las Vegas, NV
Getting started in the nursing industry requires enrolling in an entry-level nursing program, which are programs for people who haven't previously earned a nursing degree or license. In Las Vegas, prospective students can choose from an Associate's Degree in Nursing (ADN) and a direct-entry Bachelor's of Science in Nursing (BSN).
LPN to RN Programs
The College of Southern Nevada offers an LPN to RN program that is designed to help experienced licensed practical nurses become registered nurses in a shorter amount of time by taking into account previous LPN coursework and licensure. The program includes both classroom and clinical practice hours in adult health nursing, family health nursing and mental health nursing and trains RNs to promote health and wellness as well as care for the sick, injured and dying.
ADN Programs
With just 2 years of study, students can earn the most basic degree type, the ADN. These programs are usually found in community colleges and technical schools. The College of Southern Nevada, for example, offers a 69-credit ADN program that includes courses in microbiology, pediatric nursing, and pharmacology, among others.
Direct-Entry BSN Programs
These baccalaureate nursing programs are 4 years in length and are starting to become standard for RNs who want to work in hospitals and other healthcare systems. Roseman University of Health Sciences offers a BSN program in both on-campus and hybrid formats. Students enrolled in the traditional classroom program participate in a variety of classroom and lab hours as well as clinical rotations. Those in the hybrid program take didactic courses online and complete group assignments, labs, and more in person.
Las Vegas RN Program NCLEX-RN Pass Rates
Top Ranked Accredited Nursing Programs in Las Vegas
Listed below are the top nursing schools in Las Vegas based on our RegisteredNursing.org RN program rankings for Nevada out of 12 other accredited programs offered in the state:
Arizona College of Nursing - Las Vegas - #3
Nevada State College - #2
RN to BSN/MSN Programs in Las Vegas, NV
For those already hold a lower nursing degree or diploma but want to advance, "bridge" programs offer an advantageous pathway. These programs allow RNs to complete a bachelor's degree in nursing in the RN to BSN option, or a master's degree in nursing in the RN to MSN version in a fraction of the time. This is due to the fact that students are awarded some credit for classes previously taken.
RN to BSN Programs
RN to BSN programs are much shorter than traditional direct-entry bachelor's programs; in fact, some of them can be completed in around one year. This is the case with Nevada State College's RN to BSN program, which is offered online and requires 36 credits to complete.
Learn more about Nevada RN to BSN Programs.
RN to MSN Programs
Nurses who want to pursue a Master's of Science in Nursing (MSN) can opt for the RN to MSN program type. Western Governors University offers an RN to MSN program with a choice between the Nurse Education and Nursing Informatics specialty tracks. Both are available in completely online formats and require around 20 hours a week of study at minimum.
Learn more about Nevada RN to MSN Programs.
APRN & Nurse Practitioner Programs in Las Vegas, NV
Advanced nursing programs are for RNs who want to hold the highest nursing roles available, including management and leadership positions within hospitals and healthcare facilities. The Las Vegas area is home to traditional Master's of Science in Nursing (MSN) programs, post-master's certificate programs, and Doctor of Nursing Practice (DNP) programs.
MSN Programs
The traditional MSN program requires roughly 2 years of full-time schooling beyond a BSN degree and allows for specialization in a number of nurse practitioner roles. The University of Nevada, Las Vegas offers an MSN with both nurse educator and family nurse practitioner specialty tracks. Students can choose between a 2-year and 3-year plan.
Learn more about Nevada Nurse Practitioner Programs.
Post-Master's Certificate Programs
The post-master's certificate program is designed for those who have completed an MSN degree but wish to change specialties. This is a feasible, much more cost-effective way for master's-prepared RNs to gain niche specialization. The University of Nevada, Las Vegas offers these advanced graduate certificates in nursing education and family nurse practitioner specialties.
Find out more about Nevada Post-Master's Certificate Programs.
DNP Programs
The Doctor of Nursing Practice (DNP) pathway is one of the highest degrees a nurse can earn. The curriculum combines classroom courses with clinical practicum. Tuoro University offers both standard and accelerated DNP programs, both of which include courses such as Advanced Leadership, Healthcare Policy, and more.
Learn more about Nevada DNP Programs.