Nurse Practitioner Schools in Nevada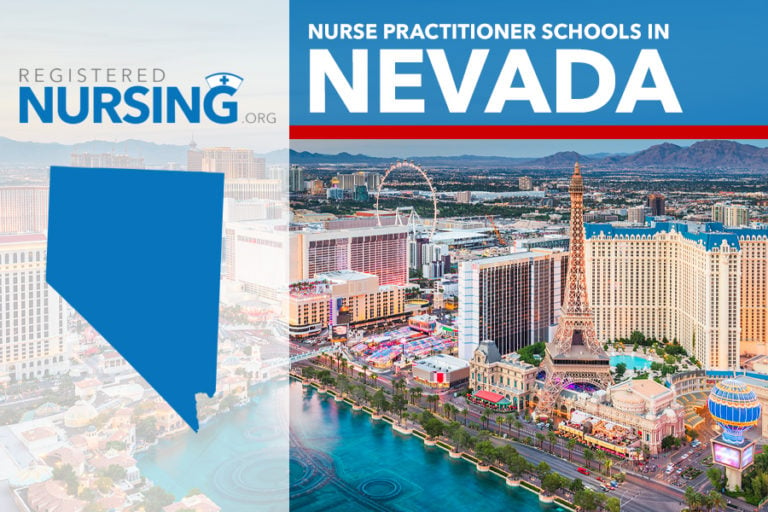 Registered nurses interested in practicing independently and managing patient's acute and chronic illnesses can advance their practice and become nurse practitioners. Autonomy is a key aspect of advanced-practice nursing and one that is highly valued by nurses.
In Nevada, nurse practitioners have the authority to practice independently without physician involvement, may act as primary care providers, and prescribe medications.
Choosing a Nurse Practitioner Program
After deciding to return to school for an advanced degree (master's or doctoral degree in nursing), nurses should consider the following when choosing a graduate program:
Accreditation-Nurses should look for schools that are accredited by the Commission on Collegiate Nursing Education (CCNE). This accreditation agency ensures the school provides not only a quality curriculum but quality faculty and specific graduation criteria that will prepare the nurse practitioner for independent practice. According to the CCNE, Nevada has two accredited graduate programs (both MSN and DNP available).
Program Cost-The cost per credit in Nevada is about $300 for in-state residents. However, several schools have additional fees based on the number of credits the student is enrolled in, health insurance fees, student union fees, etc. Prospective students are encouraged to visit the schools' website for complete tuition/ fee information. Graduate nursing students can expect to complete between 35-50 credits to graduate
Program Length- Schools may require a minimum of a bachelor's degree (BSN) before enrollment. BSN to MSN can take around two years to complete, and BSN to DNP can take three to four years (if the student is attending full time). For nurses who do not have a BSN, they can expect an additional eighteen months to two years to earn a BSN (depending on full or part-time status)
Internship/Externship opportunities- Graduate nursing students are required to complete a pre-determined number of clinical practicum hours (usually around 500 hours) before graduating to ensure they have gained the necessary clinical experience they will need to work independently. Nurse practitioner residency programs are a relatively new concept in which nurse practitioner graduates enroll in a "residency" program (like medical students) to further their clinical experience and education. Unfortunately, Nevada does not currently have these programs for nurse practitioners at this time, but neighboring states (California and Utah) have several available.
Online/Campus Options-According to the American Association of Nurse Practitioners (AANP), both schools offer 50-100% distance learning. These benefits nurses who must work while working for an advanced-level degree. Students should check the schools' websites to determine the campus visitation requirements to ensure it will work with their schedules.
Admission and Certification Requirements
Prerequisites for admission into a graduate nursing program may vary slightly between schools, but students may be required to:
Have a current RN/APRN license
Have earned a BSN from an accredited school
Have maintained a GPA of 3.0 or higher in previous collegiate coursework (GPA requirements may vary)
Have completed a statistics course
Have prior clinical experience as an RN
Have completed the Graduate Record Examination (GRE)
Provide letters of recommendation
Complete interviews
As stated earlier, specific admission requirements may vary between schools and between degree programs (MSN or DNP) and may be dependent on the track the student wishes to pursue (such as critical care, acute care, mental health, etc.) Students should check specific requirements before enrollment.
After completion of the graduate program, students can earn certification in their chosen specialty. Certification can include:
Family Nurse Practitioner
Adult-Gerontology Nurse Practitioner (acute or primary care)
Psychiatric-mental health
Pediatrics
If not obtained through the nurse practitioner program, certification can be earned through national credentialing agencies. Nevada requires national certification before licensure, and accepts the following credentialing organizations:
American Board of Nursing Specialties
Accreditation Commission for Education in Nursing
Commission on Collegiate Nursing Education
National Commission for Certifying Agencies of the Institute for Credentialing Excellence
American Association of Nurse Practitioners
Pediatric Nursing Certification Board
The above is not a comprehensive list; graduate nurses should review the board's website for detailed certification requirements.
Licensing/Certification
Besides earning national certification in the specialty of choice, APRN requirements for licensure in Nevada include:
Hold and active RN license
Complete the application for licensure
Submit a copy of national certification
Submit official transcripts (sent directly from the graduate program). Transcripts must reflect the graduate has completed:

Advanced Health Assessment
Advanced Pathophysiology
Advanced Pharmacology
Advanced role preparation
Specific specialty area
Clinical preceptorship

Complete additional information on the application (if the nurse practitioner will be prescribing medications)

If the APRN is prescribing schedule II controlled substances, a formal protocol must be obtained with a collaborative physician if the applicant has less than two years (or 2,000 hours) of clinical practice
Additional requirements are outlined on the board's website for APRNs seeking licensure when they have completed a graduate program before 1992, between 1992 and June 2005, or after June 2005. Applicants are encouraged to read the requirements carefully when submitting their licensure application.
Nevada Nurse Practitioner Agencies and Organizations
Schools That Offer Nurse Practitioner Programs in Nevada
Nevada is a large state, yet only has two accredited universities offering advanced-level degrees. To help Nevada nurses achieve their goals of advanced-practice nursing, online programs are readily available.
Henderson, NV
Graduate Certificate ProgramsMSN Programs
874 American Pacific Drive
Henderson
,
NV
89014
(702) 777-8687
Las Vegas, NV
School of Nursing
4505 S. Maryland Pkwy.
Las Vegas
,
NV
89154
(702) 895-3011
Reno, NV
DNP ProgramsGraduate Certificate ProgramsMSN Programs
1664 N. Virginia Street
Reno
,
NV
89557
(775) 784-1110
Are we missing your school's program or need to update information listed? Please contact us so we can make the necessary changes.