DNP Programs in New Jersey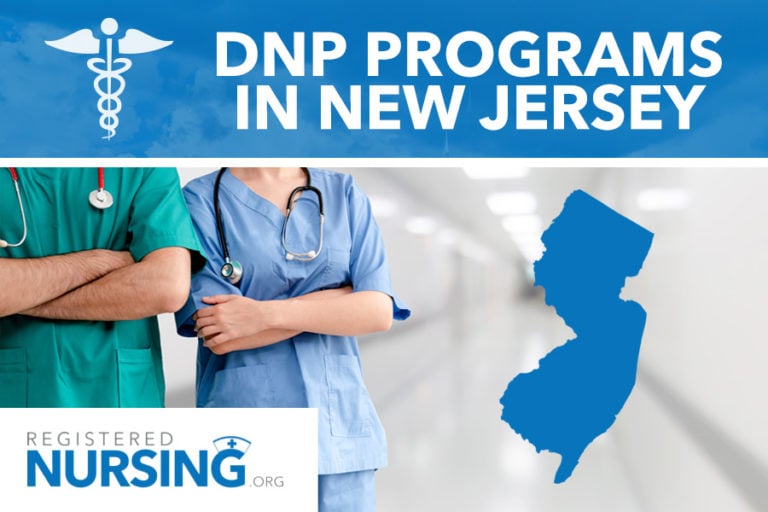 The Doctor of Nursing Practice (DNP) is the highest degree for clinical nursing practice. Nurses that graduate from a DNP program have a number of career options ranging from clinical leadership to hospital administration.
Universities nationwide offer DNP programs to students. In the state of New Jersey, most of the post-master's DNP programs range between 28 and 38 credit hours, depending on the track selected. BSN to DNP students are expected to complete 65 to 72 unit hours with 540 clinical hours devoted to precepted NP practice and 500 mentored hours in which the student develops, implements, evaluates, and disseminates their project.
Upon successful completion of the DNP, graduates will be able to:
Provide advanced nursing care to individuals, families, communities, and clinical populations.
Evaluate and influence health care policy and systems.
Critique and selectively translate science to guide clinical decision-making and program development.
Appraise and utilize current technologies to advance the quality and accessibility of care.
Provide leadership and inter-professional collaboration in multiple health care arenas.
Initiate changes in the healthcare system through the design and implementation of health related projects that strengthen the outcomes in the healthcare delivery system.
Evaluate systems responses to health and illness as a basis for the promotion, restoration, and maintenance of health and functional abilities and the prevention of illness.
Integrate advanced knowledge of nursing theories, related sciences and humanities, and methods of inquiry.
Choosing a DNP Program
To select a quality school for your DNP program, some research is required. There are a few important elements to consider before you apply to a program.
What to Consider When Choosing a DNP Program
Program Cost— Tuition for DNP programs in the state of New Jersey can vary from institution to institution. If you are a resident of the state, expect to pay anywhere between $838 to $1,050 per unit hour. If you're a non-resident, depending on whether you decide on attending at public or private university, you will most likely pay between $1,215 and $2,000 per unit hour.
Online/Campus Options— Four of the seven universities with DNP programs in the state of New Jersey offer students online options.
Accreditation—DNP programs in the state of New Jersey are accredited by the Commission on Nursing Education (CCNE).
Residency—Clinical fellowships and residencies are available, including the following:
Admission & State Licensing or Certification Requirements
Admission
To be considered for acceptance in the Doctor of Nursing Practice (DNP) degree program, applicants should meet the following:
Hold a master's degree with a major in nursing in an advanced clinical practice or in a nursing administration/management program accredited by CCNE or NLNAC
GPA of 3.3-3.5 on prior graduate level course work
Satisfactory scores on the Graduate Record Exam (GRE) or Millers Analogies Test (MAT) within the last 5 years
Courses in both statistics and research at the graduate level
Essay discussing professional goals and focusing on recent experience, how the DNP will enhance the applicant's professional development, and career goals upon program completion
Verification of the number of supervised clinical hours from the director of the MSN program
New Jersey-registered nurse license (unencumbered)
One year of work experience as registered nurse
Current certifications (if you are an NP or CNS)
Three letters of recommendation
Current resume or CV
In-person interview
Certification
Accredited DNP programs in New Jersey allow individuals to sit for certification upon successful completion of programs. DNP tracks offered at universities in New Jersey allow students to become certified in the vast majority if not all advanced practice nursing specialty disciplines.
Licensing
For the state of New Jersey, nursing students who've completed the DNP track will need to be licensed by the New Jersey State Board of Nursing. Requirements for licensure include:
Completing an application
Background checks
Provide transcripts from all educational institutions
Submit verification of specialty certification
Complete fingerprinting
New Jersey BSN to DNP Program Options
Three of the seven DNP programs offered in the state of New Jersey have BSN to DNP pathways available:
Fairleigh Dickinson University—offers students both Post MSN and BSN-DNP pathways
Rutgers University—offers students both post-MSN and BSN-DNP pathways
Seton Hall University—offers students both post-MSN and BSN-DNP pathways
Related Education Paths
Helpful DNP Agencies and Organizations in New Jersey
List of Campus and Online DNP Programs in New Jersey
Jersey City, NJ
New Brunswick, NJ
Newark, NJ
Rutherford, NJ
South Orange, NJ
Teaneck, NJ
Trenton, NJ
Wayne, NJ
West Long Branch, NJ
Are we missing your school's program or need to update information listed? Please contact us so we can make the necessary changes.
Find DNP Programs By City: