Nursing Programs in Newark, NJ
New Jersey. It gets a lot of grief, but it unapologetically doesn't care. Though it is often cast in the shadow of the Big Apple, Newark, NJ, located across the Hudson River, is a major city in its own rights with 280,000+ residents and a hub of major cultural, arts and entertainment centers. Newark is home to diverse populations of residents, and its colleges and universities reflect that. Nurses in Newark can earn competitive salaries from approximately $35 to $50 an hour, depending on number of years of experience, according to Indeed.com.
To get started in nursing or to advance your nursing career, check out our accredited program listings sections below: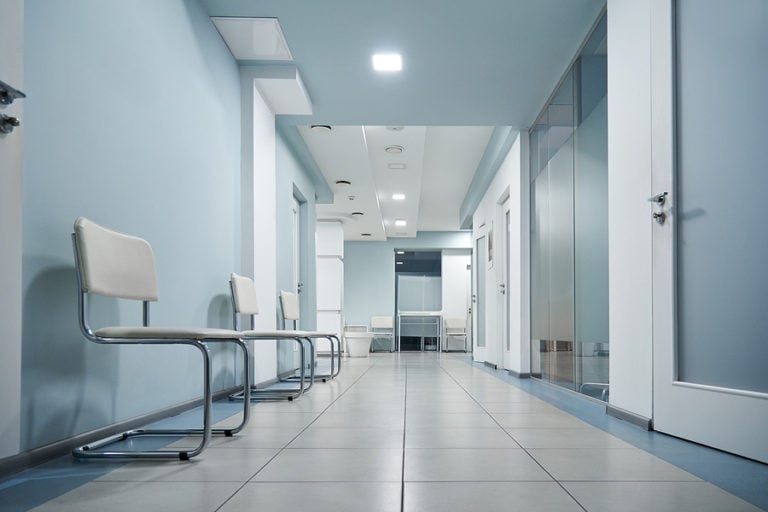 Entry-Level ADN & BSN Programs in Newark, NJ
Nurses are needed now more than ever. Fewer professions command such a competitive salary from the start and offer nearly unlimited growth opportunities. Nursing has many entry-level pathways, including LPN to RN, ADN, or BSN degree. Colleges in Newark, New Jersey offer a range of starting points to those with and without a medical or healthcare background.
LPN to RN Programs
Licensed Practical Nurses provide steady and consistent nursing care to elderly patients as well as those with chronic illnesses and medical conditions. Though there's a high demand for these workers, LPNs can earn a higher salary and perform advanced tasks by becoming Registered Nurses. LPN to RN bridge programs such as the one offered at Union County College outside of Newark, NJ, seek to make the most of previously earned college credit and work experience. It is designed to get you through the program and ready for the RN exam as efficiently as possible.
ADN Programs
If you're a fan of quality and efficiency and dislike the notion of wasting time and money when deciding to go back to school, then Essex County College's Associate of Applied Science in Nursing may be for you. Located in Newark, NJ, the program is recognized for its modern training facility and nursing simulation lab.  The program prepares graduates to enter the hospital environment immediately upon graduation; it readies students to pass the NCLEX-RN exam. The downside? The program is very competitive so apply early.
Direct-Entry BSN Programs
Begin your career in nursing with the end in mind by earning your Bachelor of Science in Nursing degree from the start. Doing so may solidify your career commitment as well as help you earn more on your first day of work which will add up cumulatively over the course of your career. Bloomfield College, located about 15 minutes north on the Parkway from Newark, offers a top-rated BSN with a 94% pass rate for the NCLEX-RN licensure exam, one of the highest in the region. The traditional program covers nursing core topics including clinical judgment, teamwork, research, and evidence-based practice skills.
Find out more about New Jersey Accelerated BSN Programs.
Newark RN Program NCLEX-RN Pass Rates
Top Ranked Accredited Nursing Programs in Newark
Listed below are the top nursing schools in Newark based on our RegisteredNursing.org RN program rankings for New Jersey out of 49 other accredited programs offered in the state:
Bloomfield College - #15
Essex County College - #11
Hudson County Community College - #17
Rutgers University - #17
Seton Hall University - #14
RN to BSN/MSN Programs in Newark, NJ
The Bachelor of Science in Nursing is quickly becoming the standard for all working RNs. Top hospitals and medical centers prefer to hire them and BSN-holding RNs can work in preferred units. If you've thought of earning your BSN, schools in Newark, NJ are offering fast to complete, RN to BSN bridge programs. For those who know they want to enter high-level nursing specialties, the RN to MSN pathway is also available for ADN or diploma-educated nurses to advance to a master's degree.
RN to BSN Programs
Nurses are the lifeblood of hospitals; it's impossible to imagine a medical center without them. Earn the respect and salary you deserve by obtaining your Bachelor of Science in Nursing via an RN-to-BSN bridge option. New Jersey's Rutgers University, which has a Newark location, offers a highly recognized RN-to-BSN designed for experienced working nurses. Flexible and fast-moving, the program focuses on evidence-based practice, patient safety, public health, leadership, and technology among other topics. Most coursework can be completed online while on-site clinicals can typically be completed at your current place of employment.
Find out more about New Jersey RN to BSN Programs.
RN to MSN Programs
Some nurses know right away that they wanted to enter advanced-practice specialties and hold more prestigious nursing roles. For those nurses, the RN to MSN pathway allows them to work toward the goal of earning a master's degree in nursing. Depending on the program, the nurse may earn just the MSN, or sometimes both the BSN and MSN throughout the course of the bridge program. In either event, it's a seamless process from RN to master's-prepared nurse. Saint Peter's University, for example, offers an RN to MSN bridge option for nurses who already hold a bachelor's degree in a non-nursing field.
Find out more about New Jersey RN to MSN Programs.
APRN & Nurse Practitioner Programs in Newark, NJ
Every day registered nurses in Newark, New Jersey are on the front lines saving lives. If you'd like to have a greater role in decision-making, you can earn a graduate degree, post-master's certificate, or doctorate degree to work as an advanced practice registered nurse (APRN). Working-nurse friendly programs from Newark-area colleges make it possible to earn this advanced degree in an attainable timeframe.
MSN Programs
How far you take your nursing career is up to you. With so many options for advancement and specialization available, the opportunities are almost endless. William Paterson University, located about 30 minutes outside of Newark, offers several certified Master of Science in Nursing programs, including Nurse Practitioners in various specialties. New Jersey allows licensed practitioners to work independently of physicians to diagnose and treat patients. MSN programs are offered both full-time for traditional students and part-time for working adults.
Learn more about New Jersey Nurse Practitioner Programs.
Post-Master's Certificate Programs
Advanced practice nurses can impact patient care in so many ways. However, once you've gained experience as a hands-on nurse, you've likely found your niche where you'd like to specialize. By earning a post-grad certificate, you can gain the competencies needed to specialize as a Nurse Practitioner (Adult-Gerontology Acute Care or Primary Care), Family Nurse Practitioner, Nursing Informatics Manager, Nursing Educator and more. Rutgers University, which has a Newark facility, offers these low-cost post-grad certs that can be completed in less time than an additional degree.
Learn more about New Jersey Post-Master's Certificate Programs.
DNP Programs
Public health initiatives and policies are making headlines. Making meaningful contributions to this field has never been so important. Nurses who would like to impact the larger spectrum of public health, including policy, equity and healthcare delivery issues can pursue a Doctor of Nursing Practice (DNP). Seton Hall University, located west across the Parkway from Newark, NJ, offers an online program that includes topics such as population health, healthcare systems, and implementing evidence-based practice. Applicants to the leadership and policy-focused program must have direct patient care experience.
Learn more about New Jersey DNP Programs.