Nurse Practitioner Schools in New Jersey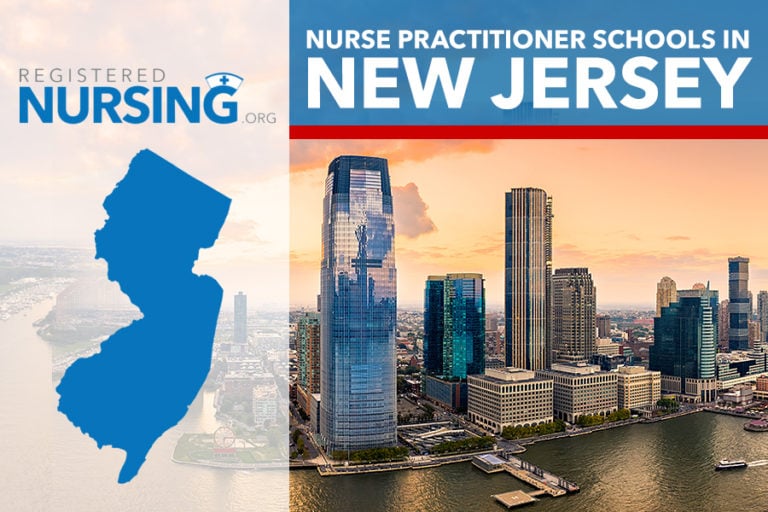 Registered nurses who wish to expand their practice and become nurse practitioners can expect to enjoy a highly respected and in-demand career. According to the Bureau of Labor Statistics, advanced-practice nurses are projected to experience job growth of 45% until the year 2029.
In New Jersey, nurse practitioners can act as a primary care provider but must establish a collaborative agreement with a physician to practice and prescribe medications.
Choosing a Nurse Practitioner Program
Accreditation-Graduate programs for nurses should be accredited by a nationally recognized agency such as the Commission on Collegiate Nursing Education (CCNE) or the Accreditation Commission for Education in Nursing (ACEN). There are eleven accredited graduate programs in New Jersey accredited by CCNE, and one accredited by the ACEN.
Program Cost-The tuition cost per credit varies between schools, but the average cost of attending a graduate nursing program in New Jersey is around $850 per credit. This average is for in-state residents and does not include the cost of books, supplies, living expenses, and additional fees.
Program length- Graduate nursing students can expect to spend two to three years in school to earn a master's degree (MSN), or three to four years to earn a doctoral degree (DNP) in nursing. This timeline is if the student is attending full time. Part-time students can expect a longer educational path.
Internship/Externship opportunities- Graduate nursing students in the nurse practitioner track must complete a pre-determined number of clinical hours to gain the necessary on-the-job skills needed to practice as a health care provider. There are, however, nurse practitioner residency programs that further prepare NPs to practice in their specialty of choice. New Jersey has several nurse practitioner residency programs available to graduates.
Online/Campus Options- Enrolling in an online graduate degree program is beneficial for nurses who must work while attending school or who live far from campus. Five of the accredited graduate programs offer distance learning up to 99-100%. Students are encouraged to visit each school's website to determine the specific campus visitation requirements.
Admission and Certification Requirements
Requirements for admission in MSN/DNP programs in New Jersey may vary slightly, but applicants may be required to:
Have an active RN license
Have a BSN degree from an accredited school
Have maintained a GPA of 3.0 or higher from previous collegiate coursework
Provide letters of recommendation
Interview with faculty
Furnish proof of liability insurance
Have completed a statistics course
Have prior clinical experience as an RN in the specialty area of choice
Licensing/Certification
Certification in a clinical specialty (for example, adult-gerontology or pediatrics) is required for licensure in New Jersey. Certification can be obtained upon completion of the graduate NP track or through a national certification agency such as the American Nurses Credentialing Center (ANCC).
Additional requirements for licensure include:
Proof of a current RN license in good standing
Completion of the application along with applicable fees
Submission of official transcripts (sent directly from the school)
Provide evidence of completion of a graduate-level course in Pharmacology, or incorporated into the graduate program
New Jersey Nurse Practitioner Agencies and Organizations
Schools That Offer Nurse Practitioner Programs in New Jersey
As stated earlier, advanced-practice nursing is a rapidly growing profession. Nurse practitioners are highly valued members of the health care team and are compensated well. In fact, New Jersey is the fifth top-paying state for nurse practitioners. The available job opportunities and respect in the work place, as well as compensation, make advanced-practice nursing an excellent career choice.
Ewing, NJ
Galloway, NJ
Jersey City, NJ
Lawrenceville, NJ
Mahwah, NJ
Newark, NJ
Rutherford, NJ
South Orange, NJ
Teaneck, NJ
Wayne, NJ
West Long Branch, NJ
Are we missing your school's program or need to update information listed? Please contact us so we can make the necessary changes.