DNP Programs in Oregon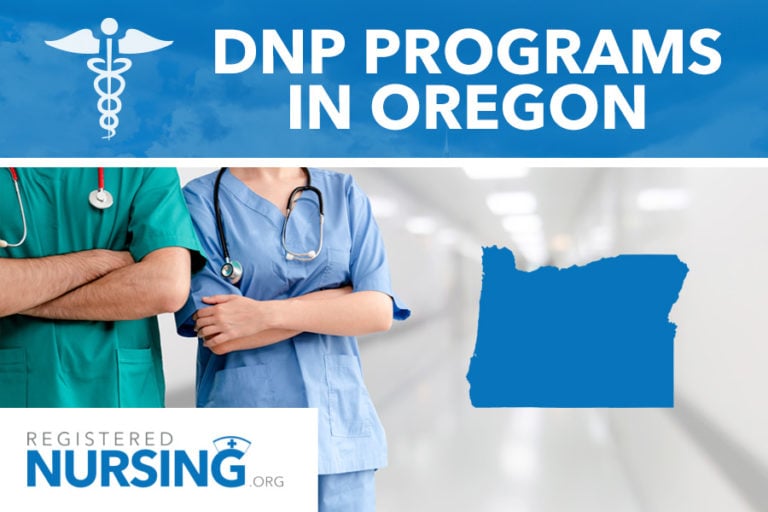 The Doctor of Nursing Practice is the highest degree a nurse can earn. It differs from a Ph.D. in that it is more of a clinical and educational focus, as opposed to the research-based practice. Earning a DNP demonstrates that the nurse is an expert in his or her field, whether working as a clinician or in an executive role.
DNP programs begin with foundation courses then branch into the different specialties. Specialties can include nurse practitioners, midwives, nurse anesthetists, or clinical nurse specialists. Specialties can also include more administrative roles such as nurse executive, nurse administrator, nurse leader, or in informatics. While different programs have a varying curriculum, DNP student outcomes are standard. The American Association of Colleges of Nursing (AACN) describes their position on DNP program content and recommends that practice-focused doctoral programs include seven areas of content, to include:
Scientific underpinnings for practice
Advanced nursing practice
Organization and system leadership, quality improvement, and system thinking
Analytic methodologies related to evaluation of practice and application of evidence-based practice
Utilization of technology for the improvement of healthcare
Health policy development, implementation, and evaluation
Interdisciplinary collaboration for improving population and individual healthcare outcomes
Choosing a DNP Program
When selecting a DNP program, many factors should be considered. The choice is very individualized, based on the nurse's home and work schedule as well as financial needs. There are two accredited DNP programs based in Oregon, and the following considerations may assist students in selecting the one that is right for them.
What to Consider When Choosing a DNP Program
Cost– One DNP program in Oregon costs around $600 per credit, while the other charges $1221 per credit. These figures do not represent the total cost- university fees and other expenses are not included. Both schools offer financial aid options, and some DNP tracks allow for part-time study which may assist in offsetting the costs.
Online Option– Both schools offer online or hybrid learning. It is understood that most nurses must still work while attending school, so schools strive to make earning a DNP as achievable as possible by offering distance learning to students. When campus visitation is required, classes are often in "intensive" formats, so students only need to visit campus once or twice a semester.
Accreditation– The two nationally-recognized accreditation bodies for nursing programs in the United States are the Commission for Collegiate Nursing Education (CCNE) and the Accreditation Commission for Education in Nursing (ACEN). Accreditation by one of these entities ensures the highest educational standards are met and ensures the graduate meets licensing requirements for the state of Oregon. Both DNP programs in Oregon are accredited by the CCNE.
Residency Options– To meet DNP requirements; students must complete a minimum of 1,000 practice hours before graduating. MSN-DNP students may be able to carry over clinical hours from their MSN program (depending on the school). Students must also complete a DNP project that identifies a clinical or healthcare-related concern and proposes evidence-based solutions.
Another type of residency option available to DNP graduates in Oregon is a post-graduation clinical residency at the Yakima Valley Farm Workers Clinic. Those who graduated from a DNP-FNP track are eligible. It is a 12-month, salaried program. Five slots are open to FNPs, and it has two locations.
The University of Portland offers a hybrid DNP program to both BNS and MSN-prepared nurses. The DNP-FNP program is 78 credits and is usually completed in nine semesters (based on full-time status). The school offers online learning as well as "immersions" on certain weekends throughout the semester. For students who enter the DNP program with an MSN, 45 credits are needed to graduate. For more information, prospective students are encouraged to visit the university's website.
Admission & State Licensing or Certification Requirements
Admission
Admission requirements for the two DNP programs in Oregon vary. Admission criteria depend on the student's entry point (i.e., BSN or MSN applicants), specialty track of interest, and residency/ licensure status. General admission requirements may include:
An MSN or BSN degree from an accredited school
RN or APRN license
GPA of 3.0 or higher (specific requirements may vary)
Letters of recommendation
Resume/CV
Interview with faculty
Writing sample (such as a statement of purpose or essay)
Certification
Specialty certification is required for APRN licensure in Oregon. Graduates of DNP programs, if not already certified and depending on their learning track, are eligible to sit for certification exams. Oregon recognizes the following NP specialties in which graduates can be certified:
Acute care
Adult/Gerontology (acute and primary care)
Adult
Family
Geriatric
Neonatal
Nurse-midwife
Pediatric (acute and primary care)
Psychiatric/Mental Health
Women's Health
Additionally, Oregon recognizes Certified Registered Nurse Anesthetists and Clinical Nurse Specialists as well. However, it's important to note that not all DNP graduates choose clinical practice as their specialty. Some may choose Informatics or administration. While not required for licensure, non-practitioner DNP graduates can become board certified in areas such as:
Informatics Nursing
Nurse Executive
Nurse Executive-Advanced
Public Health Nursing-Advanced
The American Nurses Credentialing Center (ANCC) provides examples of specialty certification in both practice and non-practice roles.
Licensing
Not all DNP graduates need to be licensed. For example, MSN-DNP graduates, unless changing their specialty or practice, do not require re-licensing. New practitioners must become licensed. As stated earlier, specialty certification may be one requirement for APRN licensure in Oregon. Other requirements include:
Current RN or APRN license
Provide proof of graduation from a DNP program (must be within two years of application)
Possess an MSN or DNP degree
Complete an application/ pay any fees
Complete application for prescriptive authority
Oregon BSN to DNP Program Options
Both DNP programs in Oregon offer BSN-DNP options. The course of study is around three to four years, and students must complete around 78 credits. A master's degree is earned along the way, while the last part of the program focuses on DNP outcomes.
The Oregon Health & Science University offers BSN students options to earn a DNP while becoming advanced practitioners. The school offers tracks in:
Family Nurse Practitioner
Nurse Midwifery
Psychiatric/Mental Health Nurse Practitioner
Pediatric Nurse Practitioner
Adult/Gerontology Acute Care Nurse Practitioner
For more information, students are encouraged to visit their website or review the current student handbook.
Related Education Paths
Helpful DNP Agencies and Organizations in Oregon
List of Campus and Online DNP Programs in Oregon
Portland, OR
3147 SW Sam Jackson Park Rd
Portland
,
OR
97239
(503) 494-8311
5000 N. Willamette Blvd.
Portland
,
OR
97203
(503) 943-8000
Are we missing your school's program or need to update information listed? Please contact us so we can make the necessary changes.
Find DNP Programs By City: