MSN Degree Programs in Iowa
The Midwest state of Iowa is a great place to study and work in nursing. Those who already work as Registered Nurses will find opportunities to take their careers to the next level with a relevant Master of Science in Nursing (MSN). MSNs open more doors for nurses than they will have available with an ADN or BSN. They permit niching and specialization among other benefits.
Iowa based nursing schools have many choices for you to study an MSN, both campus and fully online, with direct entry and standard study.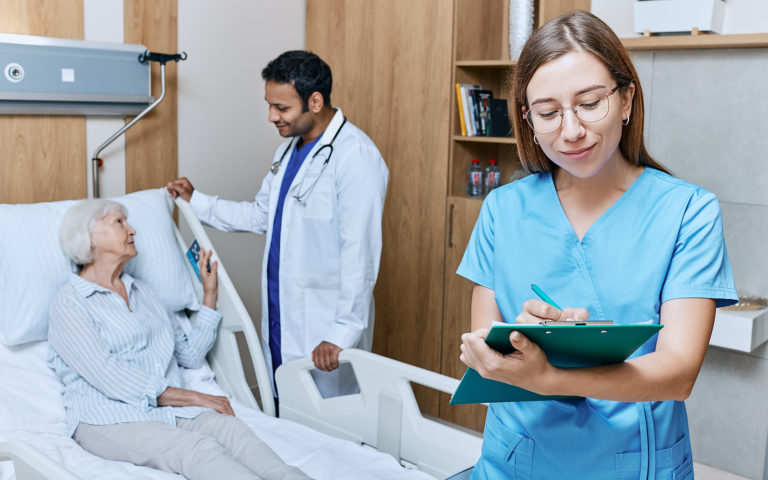 RN to MSN and BSN to MSN Programs
Two pathways are available to earning an MSN. Both depend on your current qualifications and background. The first is the RN to BSN for graduates with an Associate Degree. The second is a BSN to MSN degree. While the outcomes are the same for both types, the RN to MSN type requires more work and will take longer to bring ADN graduates up to the level of BSN graduates first. You will find online programs (remote working), offline (on-campus), and some hybrids that mix the best elements of both.
Typical Program Length
The normal program length for a BSN to MSN is four semesters
The normal program length for an RN/ADN to MSN to six semesters
Typical Admission Requirements
A current license to practice as a Registered Nurse (in good standing)
A regionally accredited ADN or BSN
A GPA score of 3.0 on the 4.0 scale on all academic work
Three clinical recommendation letters or a resume with your practice nursing experience listed
CPR certification
Minimum pass grade achieved on all listed prerequisite courses
Accelerated & Master's Entry Nursing Programs
Accelerated Nursing Programs, also known as Direct Entry or Entry into Practice for Nursing and other names, are for non-nursing college graduates to switch careers. They are rapid and intense courses usually taken over one to two years to take advantage of your bachelor's experience and apply to a new career. University of Iowa College of Nursing offers a Master of Science in Nursing: Entry into Practice program. In the end, students may practice as an RN and may work towards certain specializations.
Typical Program Length:
You will complete the University of Iowa's Entry into Practice Nursing Master's in 20 months at a full-time pace. No part-time options are currently available.
Typical Admissions Requirements:
First degree must be from an accredited university or college
No existing Nursing License
Pass all prerequisite courses – including Statistics, Natural Sciences, and Social Sciences (choices available)
A GPA of 3.0 on the 4.0 scale
Submit to background checks
International students who do not speak English as a first language and do not come from a country with a waiver program must submit English proficiency scores. Minimums are: TOEFL 81, IELTS 7 with no sub-score of 6, DuoLingo 105. You must then sit an internal EPE and acquire a score of 100 or higher
2023 List of MSN Programs in Iowa
Full-time and part-time options are available at Iowa institutions that offer RN to MSN programming. Nurses that obtain their MSN degree have been known to find careers in an array of different fields including home health care, clinics, health administrator roles and more, and having an MSN degree can give each graduate the ability to diversify your career.
MSN Programs By City:
Cedar Rapids, IA
Iowa City, IA
Lamoni, IA
Sioux City, IA
Waterloo, IA
Are we missing your school's program or need to update information listed? Please contact us so we can make the necessary changes.