MSN Degree Programs in Maryland
Colleges and universities in Maryland provide some fantastic opportunities for practicing nurses to take their careers to the next level. A Master of Science in Nursing (MSN) opens a wide range of career doors in nursing practice and management, and to specialize in niche nursing areas. Whatever your career aims, the MSN is an ideal qualification here.
There are several paths to earning a Master of Science in Nursing. Students in Maryland can access both RN to MSN and BSN to MSN, part-time and full-time. Accelerated Masters Entry programs are also available.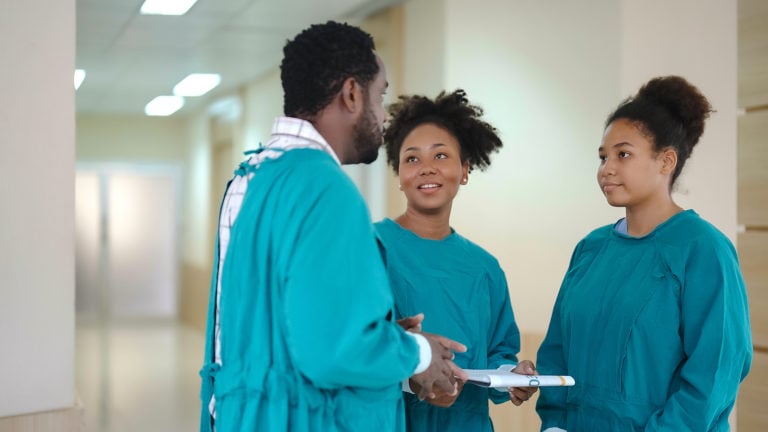 RN to MSN and BSN to MSN Programs
Registered nurses in the US typically have one of two types of degrees. The first is the ADN (Associate degree in Nursing); the second is the BSN (Bachelor of Science in Nursing). Both types permit you to study an MSN, though your pathways will be different. For the former, you should look at RN to MSN degrees. For the latter, a BSN to MSN. They cover the same material but there is one key difference – the BSN to MSN is shorter as BSN graduates have more background to prepare them for further study.
Typical Program Length
The RN to MSN graduate program is six semesters – or two years
The BSN to MSN graduate program is four semesters – or one year to fifteen 15 months
Typical Admission Requirements
Registered Nursing license
An ADN or BSN (as stated)
Minimum GPA of 3.0 on the 4.0 scale
Letters of recommendation – normally two or three. However, some may simply request a clinical resume instead
CPR certification
Completion of all required prerequisite courses (see university websites for details)
Accelerated & Master's Entry Nursing Programs
Master's Entry Nursing Programs, also known as MEPNs, Accelerated Nursing, Entry into Practice Masters, are different from other master's degrees. They are designed for people who do not have a background in the subject but have a bachelor's elsewhere, to join nursing as a profession. University of Maryland Clinical Nurse Leader allows those with other relevant degrees to transfer and practice in nursing.
Typical Program Length:
University of Maryland's Master's Entry into Nursing Practice is a minimum two-year program.
Typical Admissions Requirements:
Submit copies of transcripts – an admissions counselor will then advise what else you need to do to be eligible for application
A number of prerequisite courses no longer ago than ten years before your application
Two science prerequisite courses from the following: chemistry with lab, anatomy and physiology I and II (with lab), microbiology (with lab)
$75
Acquire an academic recommendation
Resume or CV
Demonstrate English proficiency if your bachelor's degree comes from outside the US and is not part of the waiver program
2023 List of MSN Programs in Maryland
Maryland offers MSN nurses the opportunity to earn more than $100,000 per year when they have graduated from an MSN degree program. The job prospects upon graduation are countless, but a few of those options could be clinical nurse leader, private practice, community health care, or other similar roles. These types of jobs can be attained when you graduate from one of the 5 or so RN to MSN programs offered throughout the state.
MSN Programs By City:
Baltimore, MD
Bowie, MD
Salisbury, MD
Takoma Park, MD
Are we missing your school's program or need to update information listed? Please contact us so we can make the necessary changes.