MSN Degree Programs in Wisconsin
Known for its cheese and frigid winters, the state of Wisconsin has a need for nurses and qualified healthcare providers. RNs who feel they are ready to take on the challenges and rewards of becoming advanced practice nurses have several ways to attain a Master's of Science in Nursing degree. 
In Wisconsin, there are various approaches to obtaining an MSN degree, including accelerated or bridge options (RN/BSN to MSN) and direct-entry MSN programs.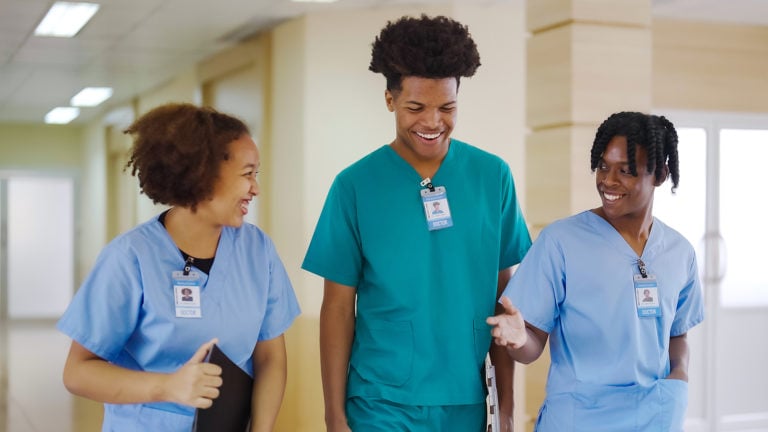 RN to MSN and BSN to MSN Programs
In order to enable rapid degree completion and get RNs to become advanced practice nurses in less time, Wisconsin universities offer bridge RN to MSN or BSN to MSN programs. Thanks to advances in technology and new mindsets about work and returning to school, nurses have more opportunities than before to attain an advanced degree. When students can attend class remotely from wherever they are, they are able to make room for their studies. By making the most of previously earned credit and allowing some bachelor's level coursework to count for master's level credit, such bridge programs get students to where they want to go in less time. 
Typical Program Length:
About 5 full-time semesters for an RN to MSN
At least 3 full-time semesters for a BSN to MSN
Typical Admissions Requirements:
ADN or BSN from an accredited university (degree level may vary by program)
Minimum GPA of 3.00
Completed application
Current, unencumbered license as an RN
Some clinical experience
Resume and personal statement or essay
Accelerated & Master's Entry Nursing Programs
Switching careers is rarely an easy endeavor, but Alverno College in Wisconsin has removed barriers to accomplishing this goal. Its direct-entry Master of Science in Nursing program is geared toward those with bachelor's in a field that isn't nursing. By leveraging an "abilities-based approach" the one-of-a-kind program lets students complete a BSN and then MSN in rapid sequence. The full-time-only offering incorporates hands-on clinicals so students are also readied to sit for the NCLEX-RN. Within the program, students can have experiences in critical care and home care settings so they are prepared to serve in a range of nursing situations. 
Typical Program Length:
At least 18 months of continuous full-time study
Typical Admissions Requirements:
Bachelor's degree from an accredited university in a non-nursing field
GPA of 3.0 or higher and submission of official transcripts
Completion of prerequisite courses in science and statistics
Application and letters of recommendation
Completion of Basic Life Support Training
2023 List of MSN Programs in Wisconsin
Wisconsin offers the RN to MSN program in more than 5 different colleges throughout the state and with varying degrees of accessibility; for example, these programs are offered full-time, part-time, online and combination learning style. Working while earning your degree is a definite possibility with a number of these programs because of the flexibility of delivery methods. Upon graduation from one of these programs, you could find yourself working in clinical administration, nurse educator or possibly the mental health field.
MSN Programs By City:
Eau Claire, WI
Fond du Lac, WI
Green Bay, WI
Mequon, WI
Milwaukee, WI
Oshkosh, WI
Are we missing your school's program or need to update information listed? Please contact us so we can make the necessary changes.