DNP Salary – Here is What to Expect
Earning a doctorate-level nursing degree opens doors to expanded responsibility, research opportunities, and clinical decision-making. A higher salary also comes along with this prestigious degree type. Learn more about DNP nursing salaries by specialty, location, and more.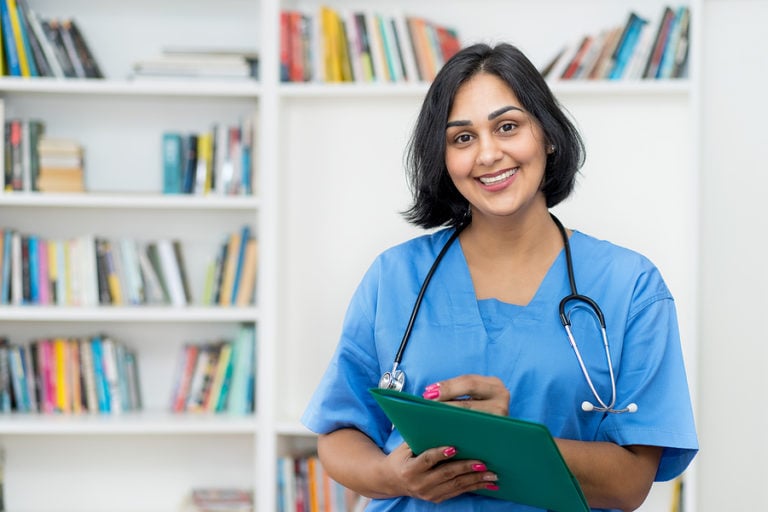 The Doctor of Nursing Practice (DNP) degree is a terminal degree in nursing – the highest possible education level for nurses in the U.S. With the highest degree attainable, nurses with their DNP earn the highest salaries of nurses across the country. While specific salary levels will vary based on geographic location, type of employer and nursing specialty, the average salary for DNP-educated nurses is $101,000 according to PayScale.com.
Salary Comparison Tool
This tool will allow you to easily search and compare the average salaries of nurses for many cities and locations across the U.S. You can search by city and state. Salary data is provided through the BLS.
Select Career Type
Select State
Select City
How Much Do DNP Nurses Make?
There are a number of factors that can influence a DNP-educated nurse's salary levels, including:
Geographic Location
As with any career, geographic location and local cost of living impact salary levels. According to the U.S. Bureau of Labor Statistics (BLS), California is the top paying state for nurse practitioners as of May 2018, and Alabama had the lowest annual salary levels in the country.
Type of Employer
DNP degree nurses work in a number of different healthcare settings, including private practices, hospitals, government agencies and outpatient care centers. According to data collected by the Bureau of Labor Statistics, advanced practice nurses who work in hospitals have the highest average annual salaries, followed by those who work in outpatient care centers.
Nursing Specialty
DNP degrees prepare nurses for a variety of advanced practice career paths, including as various nurse practitioner specialties, nurse educators at the college/university level, nurse anesthetists, healthcare administrators and CEOs, nurse directors, and nurse midwives. Salary levels vary widely depending on the specialty chosen. For example, family nurse practitioners make an average salary of $97,000 per year according to PayScale, while nurse anesthetists make an average of $144,000.
DNP Salary Per Hour
On an hourly basis, the average salary for DNP nurses is $50 per hour according to PayScale.com. As outlined above, a number of factors can influence hourly salary levels including specialty / practice area. For example, nurse anesthetists make an average of $81.47 per hour as of May 2018, nurse practitioners earn $52.90 per hour and nurse midwives earn $49.23 per hour on average, according to the BLS.
Salaries of DNP Specialties
DNP nurses can pursue a number of high-paying career paths, including advanced practice nursing roles administrative and leadership positions, healthcare policy-making jobs and careers educating the next generation of nurses. Nurses with their DNP degrees have the power to shape the future of healthcare by improving patient outcomes, shaping policy decision and leading their fellow nurses. Popular career options for DNP nurses include:
Nurse practitioners diagnose and treat patients' chronic or acute illnesses and conditions as part of a healthcare team or independently. There a number of specialties for NPs to choose from including family nurse practitioner, acute or primary care adult/gerontology nurse practitioner, psychiatric/mental health nurse practitioner, pediatric nurse practitioner, and women's health nurse practitioner. Nurse practitioner salaries range from $74,000 to $114,000 annually, with an average annual salary of $93,000.
Nurse anesthetists administer anesthesia, monitor a patient's vital signs and help patients recover from anesthesia. One of the higher paying DNP specialties, nurse anesthetist salaries range between $98,000 and $191,000 per year with an average annual salary of $144,000.
Certified Nurse Midwives (CNM) oversee and coordinate the birthing process, as well as provide gynecological check-ups, prenatal care, and post-delivery care. Certified nurse midwives salaries range from $75,000 per year to $11,000 per year, and a median annual salary of $92,000.
Nursing Educator/Professor
Many DNP nurses choose to pursue careers educating the next generation of nurses. As teachers at the college level, these DNP nurse educators perform research and public findings, advise students, and prepare and teach nursing courses. Salaries for professors can vary widely from school to school, but the average associate college professor earns between $51,000 and $124,000 per year, with an average annual salary of $76,000.
Chief Nursing Officer
Chief Nursing Officers oversee the entire nursing staff of a hospital or organization, developing and enacting important safety and quality control policies, acting as a liaison between hospital administration and nursing staff, managing budgets and overseeing training programs. Average salaries for CNOs range from $98,000 annually to $198,000 with a median salary of $126,000 per year.
Nursing Director
Nursing directors supervise all personnel who provide nursing services to patients in a particular department or facility, participate in hiring, training and evaluating nurses and help develop budgets. The salary range for nursing directors is $63,000 to $129,000, with an average annual salary of $89,000.