Nurse Midwife Salary
As the demand for highly skilled nurses has begun leading many RNs to pursue higher degrees, the certified nurse midwife (CNM) career has become a popular advanced nursing pathway. Those with a passion for women's health, infants, and the child-birthing process can find much success in the role. With advanced practice nurses regularly making six-figure salaries, RNs interested in both a rewarding and lucrative career option are increasingly turning to the certified nurse midwife option.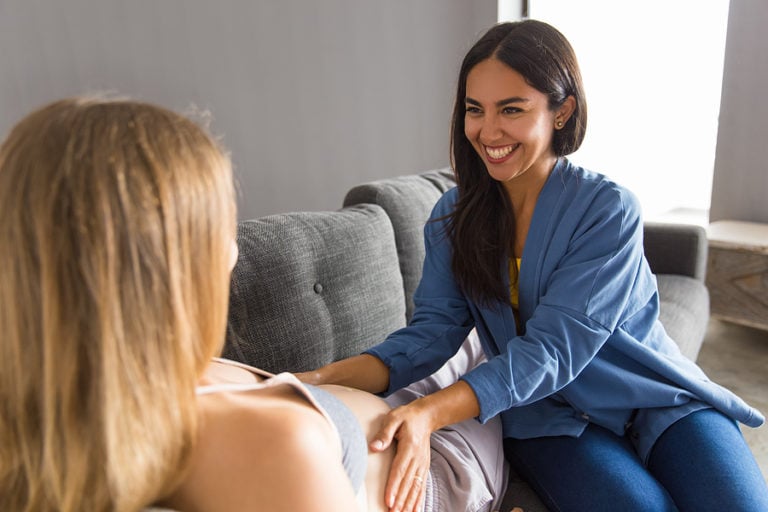 Salary Comparison Tool
This tool will allow you to easily search and compare the average salaries of nurses for many cities and locations across the U.S. You can search by city and state. Salary data is provided through the BLS.
Select Career Type
Select State
Select City
How Much Does a Certified Nurse Midwife Make?
There are a few factors that will determine a CNM's salary:
Type of Employer
Certified nurse midwives can work in physicians' offices, hospitals, outpatient care centers, alternative birthing centers, private practice, and more. Each of these employers has a different payscale, so CNM salaries can vary widely from one to the other. Outpatient care centers tend to pay on the higher range of the spectrum, with an annual mean wage of $115,070.
Location
City and state play a large role in CNM salary averages. Urban and highly populated areas (including large cities) tend to pay more than rural areas. California is one of the highest ranking states for certified nurse midwife annual salaries, paying their CNMs an average of $132,950 per year. The national median annual wage for certified nurse midwives is $102,390.
Experience & Degree Level
RNs can become certified nurse midwives with either a Master's of Science in Nursing (MSN) or a Doctor of Nursing Practice (DNP) degree. While an MSN degree is most common for CNMs, those with a higher-level DNP may have access to the most prestigious positions in the field. Certifications and credentials can also lead to higher salaries, as employers often base salary amounts on the level of training and experience a CNM can demonstrate.
Research available midwifery schools and DNP salary.
Certified Nurse Midwife Salary Per Hour
From state to state, the average hourly salary for certified nurse midwives will fluctuate. However, according to the Bureau of Labor Statistics (BLS), the national average hourly wage for CNMs lands at $49.23 as of May 2016 (latest available data). Depending on factors such as experience, location, and more, CNMs can generally expect to earn between $46.00 and $57.00 per hour.
A few of the national top-paying industries for CNMs are as follows:
Outpatient care centers, with an hourly mean wage of $55.32
General medical and surgical hospitals, with an hourly mean wage of $50.82
Offices of physicians, with an hourly mean wage of $49.69
Nurse Midwife Salary Table
| Location | Total Employment | Annual Salary |
| --- | --- | --- |
| United States | 7,950 | $120,880 |
| Alaska | 80 | $116,950 |
| Arizona | 130 | $109,380 |
| California | 910 | $177,800 |
| Colorado | 130 | $107,380 |
| Connecticut | 240 | $118,730 |
| Delaware | 70 | $111,860 |
| District of Columbia | 70 | $84,480 |
| Florida | 500 | $105,930 |
| Georgia | 340 | $121,370 |
| Hawaii | - | $165,480 |
| Idaho | 70 | $52,160 |
| Illinois | 280 | $125,670 |
| Indiana | 120 | $111,540 |
| Iowa | 30 | $112,420 |
| Kansas | 60 | * |
| Louisiana | 40 | $121,530 |
| Maine | 60 | $120,200 |
| Maryland | 180 | $123,060 |
| Massachusetts | 290 | $136,180 |
| Michigan | 290 | $121,100 |
| Minnesota | 340 | $115,210 |
| Missouri | 130 | $112,180 |
| New Hampshire | 50 | $110,450 |
| New Jersey | - | $126,740 |
| New Mexico | 80 | $116,250 |
| New York | 790 | $127,360 |
| North Carolina | 280 | $119,020 |
| Ohio | 180 | $130,270 |
| Oregon | 150 | $133,470 |
| Pennsylvania | 260 | $118,640 |
| Rhode Island | 50 | $127,390 |
| South Carolina | 80 | $96,730 |
| Tennessee | 180 | $93,600 |
| Texas | 490 | $105,360 |
| Utah | 110 | * |
| Vermont | 50 | * |
| Virginia | - | $97,390 |
| Washington | 150 | $134,770 |
| West Virginia | - | $179,860 |
| Wisconsin | 200 | $117,310 |
Table data taken from 2022 BLS (http://www.bls.gov/oes/current/oes291161.htm)
Helpful Links