Emergency Nurse Practitioner Programs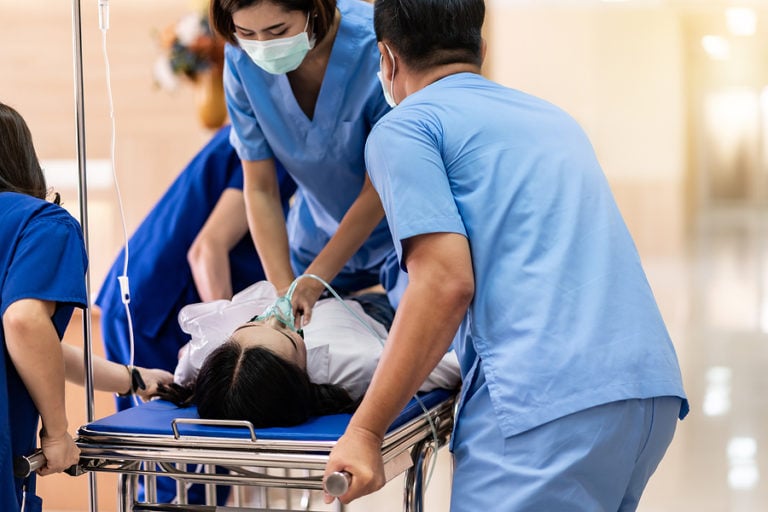 Nurses in the field of urgent and emergency care looking to advance in the specialty have the option of becoming an emergency nurse practitioner. This advanced-practice nurse is a leader in critical care and emergency medicine, treating patients with a variety of acute conditions. There are specialized advanced practice programs designed specifically for this fast-paced and rewarding career.
Choosing an Emergency Nurse Practitioner Program
There are a few things students should consider when researching emergency nurse practitioner programs:
Accreditation
Proper accreditation, through national organizations like the Commission on Collegiate Nursing Education (CCNE) and the Accreditation Commission for Education in Nursing (ACEN) are essential in choosing a good emergency nurse practitioner program. Local and regional accreditations may also be available.
Program Cost
Emergency nurse practitioner programs usually list their tuition per credit hour. Most programs in the specialty charge between $800 and $1,000 or more per credit, for both master's and doctoral pathways. Keep in mind that tuition costs don't typically include additional expenses such as program fees, course materials, and other mandatory costs.
Program Length
MSN-level emergency nurse practitioner programs generally require around 55 credits in order to graduate, meaning that students can usually finish in 4-7 semesters, depending on part-time or full-time study. DNP emergency nurse practitioner programs require roughly 77 credits to graduate, and are sometimes combined with a family nurse practitioner subspecialty. Students in a doctoral program typically finish with 3-4 years of dedicated study.
Internship/Externship Opportunities
Clinical hours are required with either degree level of the emergency nurse practitioner program. Many schools have relationships with local hospitals and medical centers in which students can complete their hands-on training; prospective students can inquire with their school of choice.
Online/Campus Options
Many programs now offer both online and campus-based emergency nurse practitioner programs. Some schools even offer a "hybrid" program, allowing students to take many courses online but also offering classroom-based lectures and labs.
Emergency Nurse Practitioner Degree Levels Offered
Students have the choice of entering a master's or doctoral degree to become an emergency nurse practitioner. While MSN degrees are more common for this specialty, DNP programs are available, many in conjunction with another nurse practitioner specialty, such as the family nurse practitioner (FNP).
MSN Programs
MSN-level emergency nurse practitioner programs are cropping up all over the country. Students enrolled in this type of program take courses such as Introduction to Clinical Specialty: Emergency Nurse Practitioner, Management of Acute and Chronic Illness, and Health Care Quality and Patient Safety. In addition to the coursework, students will also be required to complete a minimum number of clinical hours in the field. Emory University, as an example, offers an accredited MSN Emergency Nurse Practitioner program.
DNP Programs
Doctoral emergency nurse practitioner programs are most commonly paired with a family nurse practitioner specialty. Students enrolled in this type of program can expect to take courses like Social Determinants of Health, FNP in Emergency Care Theory, Leadership for the Doctor of Nursing Practice, and more. The DNP curriculum goes beyond the master's degree to emphasize leadership within the practice. Rutgers School of Nursing offers a Family Nurse Practitioner in Emergency Care DNP program.
Learn about post-master's emergency nurse practitioner certificate programs.
Online Emergency Nurse Practitioner Programs
Online emergency nurse practitioner programs are steadily growing in popularity, and schools are beginning to offer more of these distance-learning options. Be aware that some online programs still require a few on-campus experiences, and all students will still need to complete their clinical rotations in person.
Advantages of an Online Program
Students with busy lifestyles and hectic schedules appreciate the convenience and flexibility of online coursework, as they are able to complete classes from the comfort of home. This is also an invaluable resource for those who live in rural areas and may not have a university nearby. Online emergency nurse practitioner students also have the advantage of reduced transportation costs, such as gas and parking fees.
Program Accreditation
Like their classroom-based counterparts, online emergency nurse practitioner programs should be fully accredited. ACEN or CCNE accreditation is indicative of a quality program.
Costs and Length
Distance-based emergency nurse practitioner programs require the same amount of credits as campus-based programs do, but generally offer more flexibility regarding when and where the coursework is completed. This means that program length can fluctuate more for online programs. Tuition can also be similar to campus programs, although online students won't have to worry about transportation expenses. For example, Drexel University offers an online emergency nurse practitioner program with a tuition cost of $1,044 per credit.
What Are the Admissions and Certification Requirements?
Admissions requirements for most emergency nurse practitioner programs include:
BSN or MSN from an accredited university
GPA of 3.0 or above
Current, unrestricted United States RN license
1-2 years applicable professional experience may be required
Two professional letters of recommendation
Personal statement/essay
ACLS, BLS, PALS certifications
The American Academy of Nurse Practitioners Certification Board offers an ENP certification by examination. Current Family Nurse Practitioners who wish to specialize as ENPs can take the exam if they meet one of the eligibility options outlined below.
Option 1:
Minimum of 2,000 direct, emergency care clinical practice hours as a Family NP in the past 5 years
Evidence of 100 hours of continuing emergency care education
Minimum of 30 continuing emergency care education hours in emergency care procedural skills within those 5 years
Option 2:
Completion of an academic emergency care graduate/post-graduate NP program from an accredited nursing program, OR
Completion of a dual FNP/ENP graduate/post-graduate certificate program from an accredited nursing program
Option 3:
Completion of an approved emergency fellowship program
List of Emergency Nurse Practitioner Programs
There are a variety of emergency nurse practitioner programs available including the following schools below.
Are we missing your school's program or need to update information listed? Please contact us so we can make the necessary changes.