Post-Master's Emergency Nurse Practitioner (ENP) Certificate Programs
Master's-prepared nurses are not limited to one specialty field. They can move to various practices and disciplines, sometimes without having to earn a doctorate in nursing. One of the perks of nursing is that there are so many disciplines to choose from; one can gain knowledge in additional population care areas to enhance their practice or decide to focus on an entirely different specialty.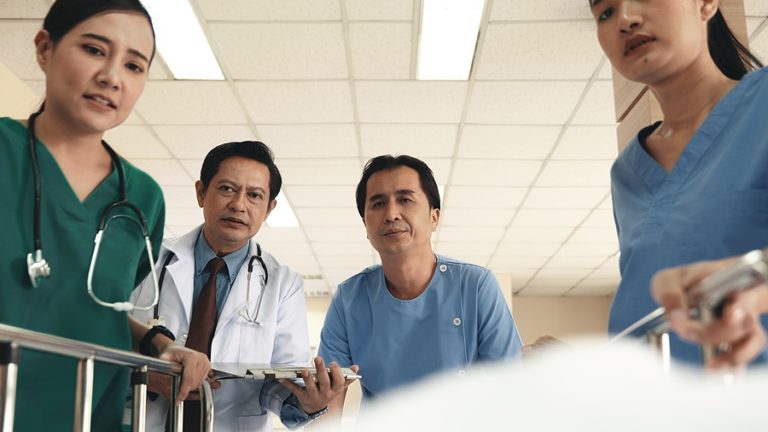 Post-master's certificate programs are a wise choice for nurses looking to build upon their current knowledge base and practice or if a career change is an ultimate goal. A nurse practitioner (NP) who is working in primary care, for example, may elect to work in an entirely different setting, such as the emergency room. Alternatively, a primary care NP may choose to earn a post-master's certificate in emergency medicine to be equipped to handle patient care emergencies that arise in primary care or to work in urgent care centers or ERs. The options are plentiful.
Choosing a Post-Master's Emergency NP Graduate Certificate Program
Several factors need consideration when choosing a post-master's emergency NP certificate program:
Accreditation– Ensuring legitimate certification is crucial when selecting a post-master's degree program. Proper accreditation ensures licensure in a state (as well as becoming licensed in other states in the future). There are two nationally-recognized accreditation agencies in the United States: the Commission on Collegiate Nursing Education (CCNE) and The Accreditation Commission for Education in Nursing (ACEN). Looking for accreditation by one of these two entities ensures the program meets strict educational standards.
Cost– Higher education is expensive, and the cost to complete a post-master's certificate program doesn't come cheap. Cost can sometimes be the deciding factor when choosing a school, but students should not just look for the least expensive option. Other factors, such as accreditation and residency options should also be considered. Students should be aware that tuition is only one of the costs associated with post-master's degree programs. University fees, technology fees, and supplies are additional. However, most schools offer part-time courses of study as well as financial aid options.
Program Length– The amount of time it takes to complete a post-master's emergency NP program can vary. It depends on the nurse's starting point (i.e., if prerequisite courses were already taken in the master's program), if the student attends full or part-time, and the school. Some programs boast "fast completion," but prospective students should ensure that the curriculum is sufficient for licensure.
Online Options– Online degree programs are incredibly convenient for students, and nurses are no exception. Nurses work around the clock, so the school must be flexible to allow for study time as well as clinical rotations. Online programs not only allow for increased flexibility but also allows students to study at their own pace and by their methods. Most schools are very clear about their online programs and what that entails, as well as if any campus visits are required.
Internship/Externship Opportunities– Students interested in the post-master's emergency NP certificate program should try to identify schools who contract with hospitals that will meet their learning needs. For example, a school that contracts with a large trauma center would be a good choice for students interested in emergency medicine. Some schools allow students to choose where to practice the skills learned in the program, which allows for more flexibility.
Online Post-Master's Emergency NP Graduate Certificate Programs
There are more and more online programs being developed for students. Modern technology allows for students to study, listen to lectures, consult with peers, and correspond with instructors, all within the comfort of one's home. For those nurses who have been out of school for a while, they should consider the pros and cons of online programs.
Online vs. Classroom-Based Post-Master's Emergency NP Certificate Programs
One of the most significant advantages is the flexibility that online programs offer. As stated earlier, students can learn and study from the comfort of their home. Nurses work varied shifts, and learning can take place at any time. Most master's prepared nurses must continue to work while returning to school, and online learning offers the flexibility to be able to meet the needs of their employer as well as family. Additionally, nurses can learn by the methods most effective for them. This advantage leads to a higher success rate for students.
One of the disadvantages of online learning is the cost associated with technology. A computer, internet access, webcam, and other equipment is required. Additionally, some students are not as savvy with technology as others. Navigating through an online program may be difficult for some. As far as learning style, some students enjoy the classroom setting and the dialogue that occurs during a group lecture. Face-to-face instruction may be a more effective method of learning for some nurses. Also, students may find they miss the level of camaraderie one has with other students when attending classes in-person.
Post-Master's Emergency NP Graduate Certificate Admission Requirements
Admission requirements for a post-master's emergency NP certificate may vary between schools, but students may be required to:
Possess an active, unencumbered RN or APRN license
Hold an MSN from an accredited university
Submit any official transcripts
Draft a written goal statement, or statement of purpose
Provide a resume/CV
Be up-to-date on CPR/ACLS/PALS/NALS
Carry professional liability insurance
Be up-to-date on immunizations and have TB clearance
Have prior clinical experience in emergency medicine, intensive care, or acute care
Post-Master's Emergency NP Graduate Certificate Curriculum
As with admission requirements, the curriculum for a post-master's emergency NP certificate may also vary slightly between institutions. The curriculum may include:
Advanced physiology, pharmacology, and health assessment (if not already completed in a master's degree program)
Concepts in advanced emergency care
Trauma care
Emergency medicine – diagnosis and management
In addition to the above curriculum, students must complete a required number of supervised clinical hours in which they apply learned concepts to the emergency care setting.
Helpful Resources
Other Degree Programs
List of Post Master's Certificate Emergency Nurse Practitioner Programs
Are we missing your school's program or need to update information listed? Please contact us so we can make the necessary changes.