Nurse Practitioner Schools in California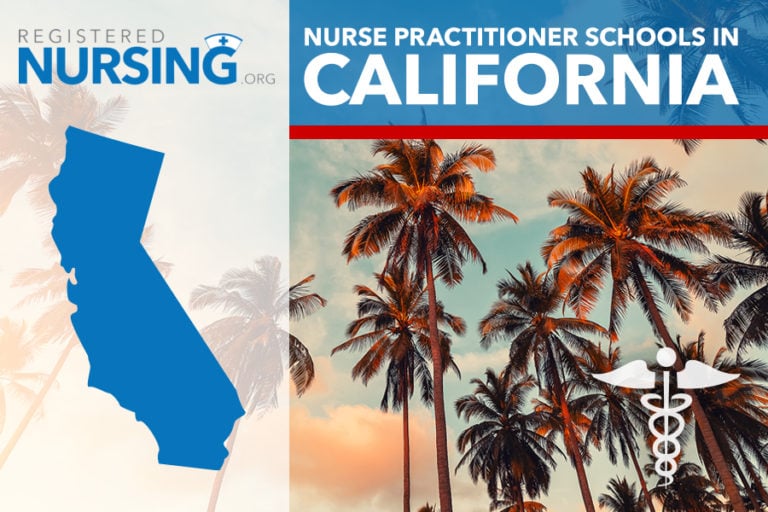 Earning a Master's of Science in Nursing (MSN) or Doctor of Nursing Practice (DNP) can lead ambitious California nurses to a rewarding career as a nurse practitioner (NP). This advanced practice nursing role allows nurses to take on leadership duties within their scope of practice, which can include specialties such as pediatrics, women's health, and more. With online and campus-based program options, entering this in-demand career pathway is a very real possibility.
Choosing a California Nurse Practitioner Program
Keeping the following key items in mind when researching nurse practitioner programs can help prospective students find the right fit:
Accreditation – Approved nurse practitioner programs will be accredited by well-respected organizations such as the Accreditation Commission for Education in Nursing (ACEN) or the Commission on Collegiate Nursing Education (CCNE). Proper accreditations show that these programs are held to rigorous academic standards.
Program Cost – MSN and DNP nurse practitioner programs in California run approximately $600-$800 per credit hour, on average. This number can fluctuate based on location, school, specialty, and more. Aside from tuition, students will also need to factor in additional costs for things like textbooks, program fees, and other mandatory expenses.
Program Length – As most NP programs require students to have already completed a BSN, master's level degrees can take roughly 2-3 years to complete. DNP programs will take closer to 4 years, though part-time or full-time attendance can significantly affect the total program length for both degree types.
Internship/Externship Opportunities – Nurse practitioner programs require that students complete a minimum number of clinical hours. Many schools help students secure the internship/externships needed to fulfill this requirement, and can provide students with a pre-approved list of area hospitals and facilities.
Online/Campus Options – Online advanced nursing programs have been steadily rising in popularity due to the busy schedules of today's nurses. Traditional, campus-based programs are also available, as are 'hybrid' programs which allow students to take a select portion of the coursework online.
Admission and Certification Requirements
Students will typically find the following admissions requirements in California:
BSN degree from an accredited college/university
Official copies of all undergrad transcripts
Minimum GPA of 3.0
Copy of active RN license
Current resume
A written statement of educational and professional goals
Three professional letters of recommendation
Licensing / Certification
Certification for most of the nurse practitioner specialty areas can be obtained through the American Nurses Credentialing Center (ANCC). Generally, applicants must hold an active RN license and have completed a graduate-level nursing program in an applicable specialty.
The California Board of Registered Nursing certifies advanced practice nurses, to include nurse practitioners. Eligibility requirements include:
Hold a current California RN license
Have graduated from an accredited nurse practitioner program
California Nurse Practitioner Agencies and Organizations
California NP Programs by Specialty
While you can find a complete list of California NP programs below some folks would find it useful to search by specialty. Please consider the following California NP program specialties:
Schools That Offer Nurse Practitioner Programs in California
California is an excellent state to enter an advanced nurse practitioner program, as it has numerous options for both MSN and DNP pathways. With the profession expected to grow by 31% through 2024, gaining a graduate-level nursing education is a great way for nurses to fulfill the demand for highly skilled nurse practitioners.
Azusa, CA
Bakersfield, CA
Carson, CA
Fresno, CA
Fullerton, CA
Irvine, CA
Loma Linda, CA
Long Beach, CA
Los Angeles, CA
Oakland, CA
Pomona, CA
Riverside, CA
Rohnert Park, CA
Sacramento, CA
San Diego, CA
San Francisco, CA
San Jose, CA
San Marcos, CA
Are we missing your school's program or need to update information listed? Please contact us so we can make the necessary changes.