Nurse Practitioner Schools in Colorado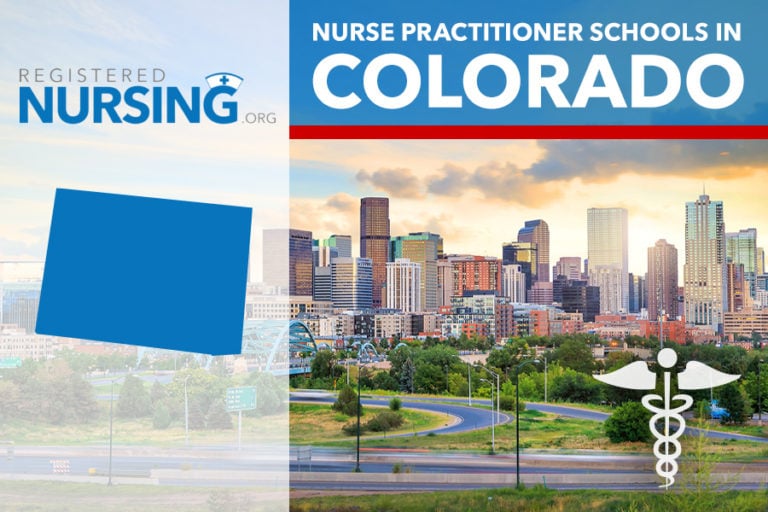 For those individuals looking to further their nursing career in the state of Colorado, becoming a Nurse Practitioner and obtaining a Master of Science in Nursing or a Doctorate of Nursing Practice is a great option to further your education and enhance your career.
A Master of Science in Nursing (MSN) will allow for a nurse to specialize in a specific field of nursing such as family practice, adult care, acute care, OB GYN, psychiatrics, geriatrics, or pediatrics.
A Doctorate of Nursing Practice (DNP) is an advanced degree that is the highest level of clinical practice offered to nurses. This is for students who hold an MSN or a BSN degree.
Choosing a Nurse Practitioner Program
Accreditation- It is important to know the school you select has a MSN or DNP program that is accredited by the Commission on Collegiate Nursing Education (CCNE). This accreditation ensures the program meets requirements to ensure the quality and integrity of nursing programs.
Program Length- MSN program length is approximately 2 years. Many programs offer full-time or part-time student status that affects the length of time for completion. DNP program length averages 1.5-2 years for MSN-DNP and approximately 3-4 years for BSN-DNP
Program Cost and Credits- The average cost for MSN/DNP program is $600-$700 per credit. The tuition is higher for those students from out of state though many programs offer some sort of financial assistance for qualified applicants

MSN total credits: 40-50 credits with 500+ clinical hours
DNP total credits: 30 credit hours after Master's degree completion with 1000+ clinical hours

Online options: Many schools in Colorado have the option to complete coursework online with weekly, monthly or quarterly campus meeting with clinical sites local to the student. This allows coursework to be completed at home with less classroom hours making programs more accessible to students
Learn about Colorado FNP programs.
Admission Requirements
To enter a MSN program in the state of Colorado, the requirements are as follows:
BSN from accredited nursing program with GPA of 2.75 or better (some require 3.0)
Active RN license in the state of Colorado
Minimum one-year RN experience (acute care preferred)
In general, the GRE is not required
To enter a DNP program in the state of Colorado, the requirements are as follows:
BSN (for BSN-DNP program) or MSN (for MSN-DNP program)
Active RN or MSN license in the state of CO
GRE for BSN-DNP
Minimum two years working as BSN or MSN
There are many specialties in MSN programs and DNP programs, some of which include:
Family Nurse Practitioner (FNP)
Neonatal Nurse Practitioner (NNP)
Pediatric Nurse Practitioner (PNP)
Women's Health Nurse Practitioner (WHNP)
Adult/Gerontology Acute Care Nurse Practitioner (AGACNP)
Psychiatric-Mental Health Nurse Practitioner Emphasis (PMHNP)
Nurse Educator
Leadership in Healthcare Practice
Master of Public Health
Healthcare Informatics
Upon completion of the program, the graduate will have to complete a thesis or capstone project. An exam is required to obtain credentials specific to their field of study. Upon successfully passing the exam, the graduate obtains the credentials to begin working with as an Advanced Practice Nurse.
Colorado Nurse Practitioner Agencies and Organizations
Schools That Offer Nurse Practitioner Programs in Colorado
Aurora, CO
Denver, CO
Grand Junction, CO
Greeley, CO
Pueblo, CO
Are we missing your school's program or need to update information listed? Please contact us so we can make the necessary changes.