Nurse Practitioner Schools in Illinois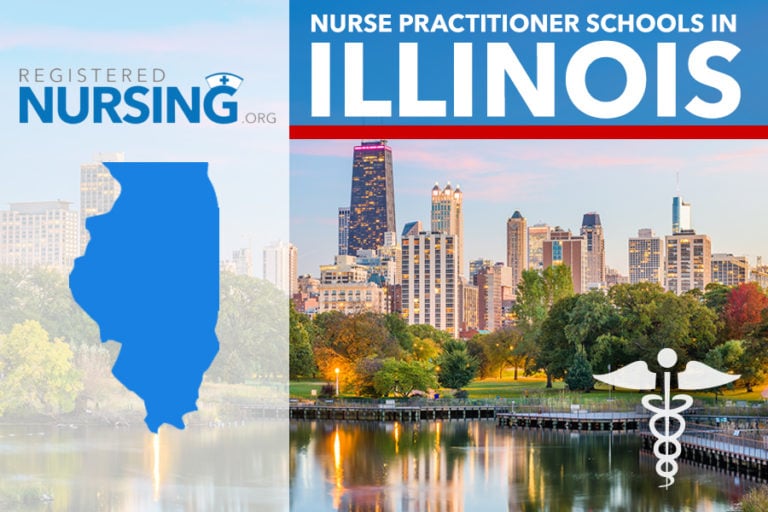 Centrally located, Illinois contains one of the largest cities in all of the USA and to the northeast borders lake Michigan. For nurses interested in obtaining Master of Science in Nursing (MSN) or a Doctorate of Nursing Practice (DNP), the state of Illinois contains many exceptional programs to choose from. For select programs in Illinois, the student does not have to be in the state to enroll and may even complete clinicals in their home state. The eclectic array of programs offered in Illinois make extensive research necessary to choose a program that is a great fit.
Choosing a Nurse Practitioner Program
Accreditation
It is an absolute must to select a program that is accredited by the Commission on Collegiate Nursing Education (CCNE) or the Accreditation Commission on Education in Nursing (ACEN) while deciding on a program in the state of Illinois.
Program Length
MSN program length is two to three years at full time status. Some programs offer the option to complete as part-time status. DNP program length averages two years for MSN-DNP and approximately four years for BSN-DNP.
Program Cost and Credits
The average cost for MSN/DNP program is $700 per credit. This is including programs that offer only online coursework and a combination. Some universities such as Rush University in Chicago charge $1,066 per credit for DNP program.
MSN total credits: average 45 credits
DNP total credits: average 55 credits
Online options
There are many program options, specifically Rush University that allow 100% of the course to be completed online, clinicals may be found locally in some cases as well. Many programs offer some combination of campus meeting and distance learning allowing students to be able to work as well as be a student.
Admission Requirements
To enter a MSN program in the state of Illinois, the requirements are as follows:
BSN from accredited nursing program with GPA of 3.0
Active, unrestricted RN license in the state of Illinois
Minimum one year of RN experience (acute care preferred/required)
GRE required for some programs if GPA <3.0, other programs GRE is not required
To enter a DNP program in the state of Illinois, the requirements are as follows:
BSN (for BSN-DNP program) or MSN (for MSN-DNP program)
Active RN or MSN license in the state of Illinois
GRE for BSN-DNP
Minimum two years working as BSN or MSN
There are many specialties in MSN programs and DNP programs, some of which include:
Family Nurse Practitioner (FNP)
Adult/Gerontology Acute Care Nurse Practitioner (AGACNP)
Psychiatric-Mental Health Nurse Practitioner (PMHNP)
Neonatal Nurse Practitioner (NNP)
Pediatric Nurse Practitioner- acute or primary care (PNP)
Nursing Management Leadership (NML)
Nurse Educator
It is important to note that in the state of Illinois, Nurse Practitioners practice under a more limited scope. This is not the case in all states. However, in Illinois Nurse Practitioners need to collaborate with a physician to carry out their work.
After successful completion of the program, the nurse must submit a request to the Illinois Department of Financial and Professional Regulation for an Advanced Practice Nurse (APN) license. They may take up to three years to submit all the requirements for licensure.
Illinois Nurse Practitioner Agencies and Organizations
Schools That Offer Nurse Practitioner Programs in Illinois
If you like the big city there are programs in Chicago or if you prefer a quiet pace, there are programs offered in smaller communities as well!
Chicago, IL
Edwardsville, IL
Joliet, IL
Normal, IL
Peoria, IL
Rockford, IL
Romeoville, IL
Are we missing your school's program or need to update information listed? Please contact us so we can make the necessary changes.