Nursing Programs in Chicago, IL
Chicago is a fantastic city in which to begin your career in nursing. With one of the highest employment rates of nurses in the country and an average salary of $77,430 according to the U.S. Bureau of Labor Statistics, Chicago also has a plethora of nursing training programs for students to choose from. From entry-level programs aimed at those new to the nursing field to career advancement programs for experienced nurses, Chicago has a program that fits your career goals.
To get started in nursing or to advance your nursing career, check out our accredited program listings sections below: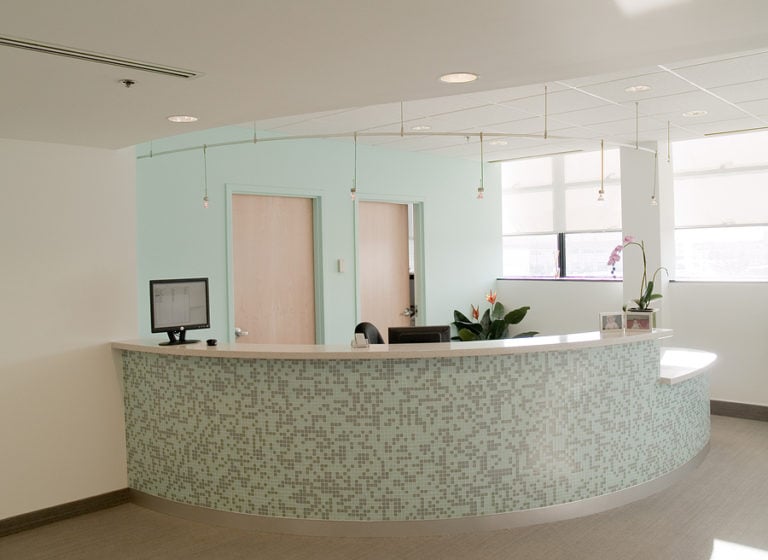 Entry Level ADN, BSN, & MSN Programs in Chicago, IL
In the Chicago area, there are a number of entry-level training programs for students who want to become registered nurses. These programs all prepare students to take the NCLEX RN licensing exam for their first jobs as RNs. Program options include LPN to RN bridge programs that help licensed practical nurses become RNs, Associate Degree in Nursing (ADN) programs, Bachelor of Science in Nursing (BSN) programs and direct-entry Master of Science in Nursing (MSN) programs.
LPN to RN Programs
Transitioning to an RN role is a popular career path for experienced LPNs, and some schools offer special LPN to RN bridge programs to help LPNs take the next step in their careers. Many of these programs provide course credit or proficiency credit for prior LPN coursework, which makes these bridge programs faster to complete than a traditional ADN or BSN program. The LPN to RN program at Ambria College of Nursing is one example of a Chicago area school that provides credit for prior coursework.
ADN Programs
ADN programs are offered at many community colleges and vocational schools and provide a foundational education in nursing in around two years of study. Oakton Community College's ADN program has coursework in nutrition, pharmacology, nursing care concepts, and pediatric nursing.
Direct-Entry BSN Programs
Another option for entry-level nursing programs for students new to nursing are traditional BSN programs. BSN programs are typically four-year bachelor's programs that include liberal arts general education courses in addition to nursing major courses. The BSN program at Robert Morris University in Chicago includes general education and career management coursework in addition to classwork in anatomy and physiology, organic chemistry, microbiology, pharmacology, healthcare research and the fundamentals of nursing career across the lifespan, community nursing and leadership.
Find out more about Illinois Accelerated BSN Programs.
Direct-Entry MSN Programs
A less common pathway to becoming a registered nurse is a direct-entry MSN program, which allows students with a bachelor's degree in a non-nursing subject the opportunity to earn a master's in nursing. These programs are a good fit for students who want to transition careers into nursing and would like to earn an advanced degree. The direct-entry MSN program at DePaul University is a two-year accelerated program that prepares students for administrative, educational or advocacy roles in nursing.
Find out more about Illinois Accelerated MSN Programs.
Chicago RN Program NCLEX-RN Pass Rates
Top Ranked Accredited Nursing Programs in Chicago
Listed below are the top nursing schools in Chicago based on our RegisteredNursing.org RN program rankings for Illinois out of 80 other accredited programs offered in the state:
Ambria College of Nursing - #4
College of DuPage - #16
Dominican University - #18
Harper College - #20
Lewis University - #5
Oakton Community College - #14
Rush University - #3
Trinity Christian College - #1
RN to BSN/MSN Programs in Chicago, IL
Many ADN-educated nurses decide to go back to school to pursue a bachelor's degree or master's degree in order to earn a higher salary and move into more senior nursing positions. The best option for these nurses is a special RN to BSN or RN to MSN bridge program that builds on their previous nursing coursework and experience to deliver a higher degree in less time.
RN to BSN Programs
RN to BSN bridge programs help nurses with their associate's degree earn their bachelor's degree in nursing. Many of these programs are offered online, including the RN to BSN program at Chamberlain University, which can be completed in as little as three semesters of full-time study.
Find out more about Illinois RN to BSN Programs.
RN to MSN Programs
Another option for ADN-educated nurses is an RN to MSN program that provides a master's degree in nursing without a BSN as a pre-requisite. The curriculum in these programs includes bachelor's level coursework in addition to MSN courses. The RN to MSN program at DePaul University is open to ADN-educated nurses with their bachelor's degree in a non-nursing subject and includes only three bachelor's level nursing courses before allowing students to progress to masters-level work.
Find out more about Illinois RN to MSN Programs.
APRN & Nurse Practitioner Programs in Chicago, IL
For nurses who want to advance beyond their bachelor's degree and seek leadership positions and advanced certifications, an advanced practice nursing program is the next step. APRN programs in the Chicago area include traditional MSN programs, post-graduate certificate programs, and doctoral programs.
MSN Programs
Traditional MSN programs are designed to prepare nurses with their BSN for advanced practice careers such as nurse practitioners, nurse educators, administrators, and clinical nurse leaders. Most MSN programs allow students to concentrate their studies in a particular practice area and prepare students to take the relevant certification exam for that specialty. Lewis University offers an MSN program with specialties in nursing education, healthcare systems leadership, adult/gerontology acute care and primary care nurse practitioners, clinical nurse specialist, family nurse practitioner, psychiatric/mental health nurse practitioner and school nurse.
Find out more about Illinois Nurse Practitioner Programs.
Post-Master's Certificate Programs
Graduate certificate programs are designed to help BSN and MSN-educated nurses become certified in a new specialty of advanced practice nursing. For instance, Loyola University Chicago has graduate certificate programs for BSN-educated nurses in oncology nursing and infection control, as well as APRN programs for nurses with their master's degrees who would like to be certified as a particular type of nurse practitioner or clinical nurse specialist.
Find out more about Illinois Post-Master's Certificate Programs.
DNP & Ph.D. Programs
Doctoral programs in nursing are the highest level of education available to nurses. In the Chicago area, nurses can choose from Doctor of Nursing Practice (DNP) programs and Doctor of Philosophy (Ph.D.) depending on their career goals. DNP programs prepare nurses for independent practice and other leadership roles, and Ph.D. programs prepare nurses for careers in nursing research or academia. Chicago's Rush University offers a variety of DNP specialty programs, as well as a Ph.D. program for interested students.
Find out more about Illinois DNP Programs.