Nurse Practitioner Schools in Missouri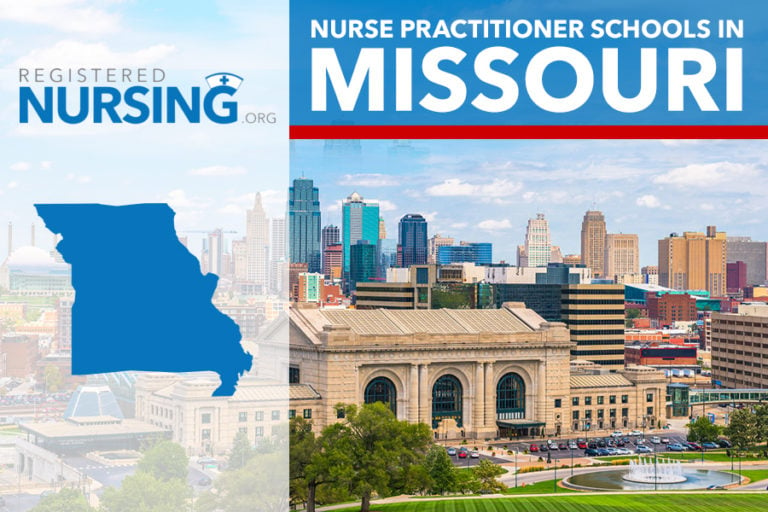 Registered nurses looking to advance their degree can earn either a master's or doctoral degree in nursing. In doing so, they can become registered nurse anesthetists, clinical nurse specialists, nurse midwives, or nurse practitioners.
Nurse practitioners are unique in that they can carry a panel of patients, maintaining their overall health from birth to adulthood. In Missouri, nurse practitioners can act as primary care providers, but they need to establish a collaborative agreement with a physician to prescribe medications, diagnose, and treat.
Choosing a Nurse Practitioner Program
After deciding to earn a higher degree, many nurses wonder where to begin looking for a program. When considering graduate school, the following should be considered:
Accreditation- National accreditation is required for licensure in most states. Accreditation agencies may include the Commission on Collegiate Nursing Education (CCNE) or the Accreditation Commission for Education in Nursing (ACEN). Missouri has seventeen accredited NP programs.
Program Cost-The average cost to attend graduate school in Missouri is around $750 per credit for state residents. Tuition does not usually include books, additional university fees, or living expenses. Many schools have financial aid options available such as payment plans, scholarships, grants, and loans.
Program Length- BSN to MSN can take around three to four years if attending full time. BSN to DNP takes about four to five years, as more credits are required. For nurses who need to earn a BSN, an additional year or so is required.
Internship/Externship Opportunities-Nurse practitioner students must complete supervised clinical hours as part of the program. This requirement allows then to gain necessary real-world experience to be able to practice independently. A minimum of 500 clinical practicum hours is the usual requirement, but specific hours may vary between schools. In addition to the program requirements, there are nurse practitioner residency programs that, although optional, allow NPs to further their on-the-job experience. Missouri had one residency program available for NPs in the specialty of Pediatrics.
Online/Campus Options- Online/distance learning is a great option for students. Many need flexibility with time as they must still work while attending school. Missouri has several online options with up to 100% distance learning available.
Admission and Certification Requirements
Admission requirements for graduate programs in Missouri may vary between schools, but common requirements include:
A BSN from an accredited school
Active RN license
Transcripts sent directly to the school from prior educational institutions
GPA of 3.0 or higher
Previous clinical experience as an RN
Submit a resume/ CV
Provide a written statement of purpose or goal statement
Complete faculty interviews
Students are highly encouraged to review the school of interest's website to determine specific admission criteria before enrolling.
Licensing/ Certification
Specialty certification is required for licensure in Missouri. However, the applicant can send a notarized application just before or immediately after taking the exam. The Board specifies the recognized credentialing agencies on its website. Specialty certification can be in specific population areas such as:
Adult acute or primary care
Geriatrics
Pediatric acute or primary care
Women's Health
Psychiatric/Mental Health
Other requirements for licensing include:
Active, unrestricted RN license
Complete the Authorization to Release Confidential Information (for certification verification)
Establish a collaborative agreement with a physician to provide health services and prescribe medications
Complete the Controlled Substance Prescriptive Authority Application (if applicable)
Missouri Nurse Practitioner Agencies and Organizations
Schools That Offer Nurse Practitioner Programs in Missouri
Nurse Practitioners have a promising future. Due to the nationwide physician shortage, higher demand for health care services, and an aging population, employment opportunity for advanced-practice nursing is expected to increase 31% by 2024. Additionally, Joplin, Missouri has the fourth highest concentration of jobs for advanced-practice nurses, making the role of nurse practitioner a wise career choice for Missouri RNs.
Cape Girardeau, MO
Columbia, MO
Kansas City, MO
Saint Louis, MO
Springfield, MO
St. Louis, MO
Warrensburg, MO
Are we missing your school's program or need to update information listed? Please contact us so we can make the necessary changes.