Nurse Practitioner Schools in Oklahoma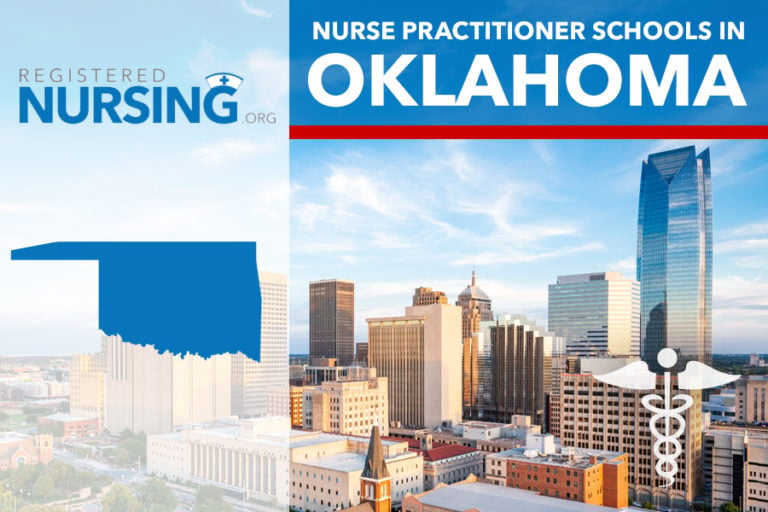 Registered nurses seeking to advance their practice can go on to earn either a master's degree in nursing (MSN) or doctoral degree in nursing (DNP). Within these degree programs, they can choose to complete a nurse practitioner track so they can diagnose and treat acute and chronic illnesses, and manage patients' overall health.
In Oklahoma, nurse practitioners can act as primary care providers and diagnose and treat independently of physicians, but they must establish a collaborative agreement with a physician to prescribe medications.
Choosing a Nurse Practitioner Program
Certain factors should be taken into consideration when selecting a nurse practitioner program, including:
Accreditation-Graduate programs should be accredited by either the Accreditation Commission for Education in Nursing (ACEN) or the Commission on Collegiate Nursing Education (CCNE). Accreditation by these agencies ensures the programs meet or exceed the educational standards needed for advanced-practice nursing. Oklahoma has seven advanced-degree schools for nurses.
Program Cost-Oklahoma residents can expect to pay an average of $450 per credit for a graduate nursing program. Out-of-state residents will pay higher tuition fees. Additional costs including books, university fees, and supplies are not included in this average. Graduate nursing students must complete between 35 and 50 credits to earn an MSN/DNP.
Program Length- If attending full time, students can spend around two years in school if enrolled in an MSN program. DNP programs can take three to four years. This time frame is assuming the nurse already has a bachelor's degree. If the nurse must earn a bachelor's degree, an additional one or two years may be required.
Internship/Externship opportunities- Nurse practitioner students are required to complete a specific number of supervised clinical hours to gain the necessary skills needed to practice independently (usually around 500-600 hours, but this may vary between schools). However, there are also nurse practitioner "residency" programs that allow for extended clinical learning. Oklahoma currently does not have any formal residency programs for nurse practitioners, but neighboring Texas has
Online/Campus options- As of 2015, Oklahoma has two accredited universities with distance education available. Students are encouraged to visit the schools' websites to determine any campus visitation requirements.
Admission and Certification Requirements
Prerequisites for nurse practitioner programs in Oklahoma may vary between schools, and students should always check the schools' websites before enrolling. Requirements may include:
Have a current RN license
Have a BSN from an accredited school of nursing
Transcripts must be submitted directly from the baccalaureate program
Letters from professional references
Written goal statement
Submit a CV/Resume
GPA of 3.0 or higher (specific GPA requirements may vary)
Previous clinical experience as an RN
Provide proof of English proficiency
Completion of the GRE
Completion of a statistics course
Licensing/Certification
In many states (including Oklahoma), specialty certification is required for licensure as a nurse practitioner. Nurse practitioner graduates can be certified in the following population foci:
Adult-Gerontology (acute or primary care)
Pediatric (acute or primary care)
Women's Health
Psychiatric-Mental Health
Emergency Medicine
Critical Care
The Oklahoma Board of Nursing specifies which certification programs are accepted for licensure as a nurse practitioner.
Other than specialty certification, requirements for licensure in Oklahoma include:
Current, unrestricted RN license
Completion of an accredited graduate program
Agree to a criminal background check
Completion of a separate application for prescriptive authority (if prescribing medications)
Payment of any required fees
Submission of fingerprints
Oklahoma Nurse Practitioner Agencies and Organizations
Schools That Offer Nurse Practitioner Programs in Oklahoma
Deciding to become a nurse practitioner is a big step in one's career. However, many schools are flexible regarding schedules as well as financial aid. Prospective students are highly encouraged to spend time researching schools to find the program that is right for them.
Oklahoma City, OK
DNP ProgramsGraduate Certificate Programs
2501 N Blackwelder
Oklahoma City
,
OK
73106
(405) 208-5000
1100 N Stonewall Ave
Oklahoma City
,
OK
73117
(405) 325-0311
Graduate Certificate Programs
1100 N Stonewall Ave
Oklahoma City
,
OK
73117
(405) 271-2428
Tulsa, OK
800 S Tucker Dr
Tulsa
,
OK
74104
(918) 631-2000
Are we missing your school's program or need to update information listed? Please contact us so we can make the necessary changes.