Nurse Practitioner Schools in South Carolina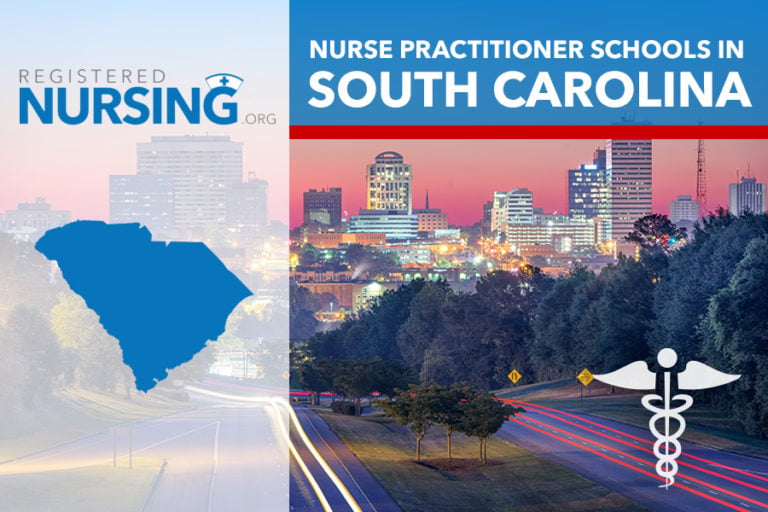 Registered nurses who wish to advance their degree and earn either a master's degree in nursing (MSN) or doctoral degree in nursing (DNP) can further their career options by becoming licensed as a nurse practitioner.
Nurse practitioners can diagnose, treat, prescribe, and manage chronic and acute illnesses. They can specialize in many different population focus areas such as:
Adult-Gerontology
Pediatrics
Psychiatric-Mental Health
Acute Care
Women's Health
In South Carolina, nurse practitioners are required to establish a collaborative agreement with a physician to prescribe medications and must be supervised by a physician.
Choosing a South Carolina Nurse Practitioner Program
When selecting a nurse practitioner program, prospective students are encouraged to consider the following:
Accreditation -The graduate program should be accredited by a national agency such as the Commission on Collegiate Nursing Education (CCNE) or the Accreditation Commission for Education in Nursing (ACEN). With accreditation from these entities, it has been determined that the school has met or exceeded strict educational standards. There are seven accredited MSN/DNP programs in South Carolina.
Program Cost – Cost may be a deciding factor when deciding to attend graduate school. However, most schools have financial aid, scholarships, and payment options for students. In-state tuition is usually less expensive out-of-state tuition. Students in South Carolina can expect to pay an average of $700 per credit, not including fees, books, supplies, or living expenses.
Program Length – Depending on the degree, students will need to complete up to 78 credits to graduate. If attending full time, this means around four years. Less time is required for MSN than DNP. If a bachelor's degree is needed, it may take an additional year or two.
Internship/Externship Opportunities – Students enrolled in the MSN program are required to complete a specific number of clinical hours before graduating. This requirement is to ensure the future nurse practitioner has gained an adequate amount of on-the-job experience to practice safely. However, many nurse practitioners opt to attend a nurse practitioner "residency" program to expand their clinical knowledge base further. These residency programs are a relatively new concept but are becoming more popular among NPs. South Carolina has one residency program for NPs with different specialties/ sub-specialties offered.
Online/ Campus Options- Online education is ideal for nurses who need to work and care for a family while attending school. It allows for students to learn at their own pace and by their direction. Four of South Carolina's accredited graduate programs allow for distance learning, three of which are up to 99%-100% online curriculum.
Admission and Certification Requirements
Each school has slightly differing admission criteria, but students enrolling in an MSN/DNP program may be required to:
Have a BSN/ MSN (for DNP applicants)
Have a current RN license
Provide all college transcripts to the graduate program
Maintain a GPA of 3.0 or higher
Submit three letters of reference from a medical professional (i.e., MSN-RN or physician)
Submit a resume/ CV
Provide a written statement of purpose/ goal statement
Completion of a statistics course
Graduate Record Examination may be required
Students are urged to check each school's admission requirements for specifics on enrollment.
Licensing / Certification
Specialty certification (i.e., Adult-Gerontology, Women's Health, Pediatrics, etc.) is necessary for licensure in South Carolina. The South Carolina Board of Nursing lists the approved certifying agencies that are accepted for licensure.
Additional licensing requirements include:
MSN or higher from an accredited university
Current RN/APRN license
Declare on the application the specialty area of focus (i.e., Adult-Gerontology, Pediatrics, FNP, etc.)
Submit official transcripts from the graduate program (must be sent directly from the program)
Obtain and provide all supervising physician signatures and license numbers
Provide documentation of 45 continuing education hours on pharmacotherapeutics (list of board-approved courses can be found here)
Complete the Prescriptive Authority Application
Fill out the Affidavit of Eligibility
Submit fingerprints and complete a criminal background check
Pay applicable application fees
South Carolina Nurse Practitioner Agencies and Organizations
South Carolina NP Programs by Specialty
While you can find a complete list of South Carolina NP programs below some folks would find it useful to search by specialty. Please consider the following California NP program specialties:
Schools That Offer Nurse Practitioner Programs in South Carolina
South Carolina's educational opportunities are both robust and convenient. The online options available allow for students in the far reaches of the state to achieve their dreams of becoming an advanced-practice nurse.
Anderson, SC
Clemson, SC
Columbia, SC
Florence, SC
Greenville, SC
Are we missing your school's program or need to update information listed? Please contact us so we can make the necessary changes.