Nurse Practitioner Schools in Wisconsin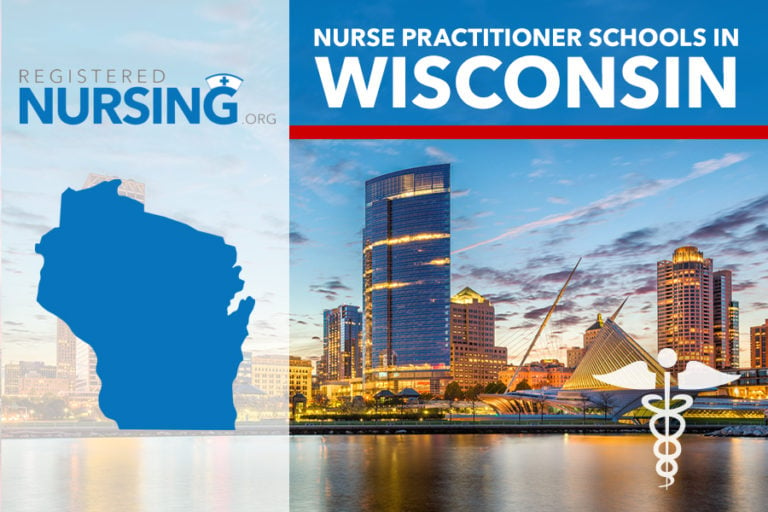 A nurse practitioner (NP) career is a natural next step for RNs who want to enter higher nursing practice. This advanced pathway can be achieved in Wisconsin via one of the state's MSN or DNP level nurse practitioner programs. With both online and classroom-based programs, this highly respected and in-demand career field is just a degree away for many ambitious nurses. Popular NP specialties include Family Nurse Practitioner, Certified Nurse Midwife, and Nurse Anesthetist, among others.
Choosing a Nurse Practitioner Program
There are a few things for prospective students to consider to ensure that a nurse practitioner program is worthy of their time and money. They include:
Accreditation- Wisconsin students should take notice of schools that offer programs accredited by the Accreditation Commission for Education in Nursing (ACEN) and/or the Commission on Collegiate Nursing Education (CCNE). Properly accredited programs are trustworthy and likely to be highly respected.
Program Cost- Tuition for both MSN and DNP level nurse practitioner programs are typically listed by credit. Wisconsin programs tend to fall in the $500-$700 per credit range, although this can vary based on location, school, and degree level. Tuition rates usually do not include extra expenses, such as mandatory fees, course materials, and more.
Program Length- Generally speaking, master's level NP programs take 2-3 years to complete, depending on part-time or full-time study, while doctoral programs require more credits and can take up to 4 years to finish. Online programs typically offer flexible schedules, so total length is dependent on the student's chosen schedule.
Internship/Externship Opportunities- Both MSN and DNP nurse practitioner programs require hands-on clinical hours in order to complete the degree. Internships/externships are typically arranged by the school, although some schools allow students to choose their own preceptor sites.
Online/Campus Options- Those wanting maximum flexibility may opt for an online program, which have grown in popularity over the years. Otherwise, traditional campus-based programs are the norm. Hybrid programs are also gaining steam, allowing students to complete some coursework online and some in the classroom.
Admission and Certification Requirements
Nurse practitioner programs in Wisconsin typically require the following before admission is granted:
Baccalaureate degree from a nationally accredited nursing program
GPA of 3.0 or higher
Official transcripts from all universities/colleges attended
Undergrad coursework in statistics
2-3 references
Resume or CV
Personal essay
Wisconsin RN licensure
Licensing/Certification
Certification for most of the nurse practitioner specialty areas can be obtained through the American Nurses Credentialing Center (ANCC). Applicants must have an active RN license and have completed a graduate-level nursing program in an applicable specialty.
To obtain licensure and certification as an advanced practice nurse prescriber through the Wisconsin Board of Nursing, the following requirements must be met:
Must have a Wisconsin RN license
Must complete all educational requirements
Must become certified by national certifying body approved by the board as a nurse practitioner, certified nurse midwife, certified registered nurse anesthetist, or clinical nurse specialist
Must pass the required examinations
Wisconsin Nurse Practitioner Agencies and Organizations
Schools That Offer Nurse Practitioner Programs in Wisconsin
An in-demand career expected to grow by 31% through 2024, nurse practitioners enjoy higher salaries, rewarding duties, and a sense of leadership in their roles. With Wisconsin's nurse practitioner programs, it's an easy choice for any nurse in the state to gain the education needed to fill this advanced nursing role.
Eau Claire, WI
Fond du Lac, WI
Green Bay, WI
Madison, WI
Mequon, WI
Milwaukee, WI
Oshkosh, WI
Are we missing your school's program or need to update information listed? Please contact us so we can make the necessary changes.