Getting Your Ph.D. in Nursing
What Is a Ph.D. Nurse?
A Ph.D. nurse is one who has completed a Doctor of Philosophy in Nursing degree. A Ph.D., or doctoral degree, is the highest level of education a nurse can achieve. Different from a Doctor of Nursing Practice (DNP) degree, which focuses on advanced clinical practice, a Ph.D. in Nursing program is a research and science-focused degree that prepares nurses for careers conducting important medical research that will advance the entire nursing profession and for teaching nursing at the college level.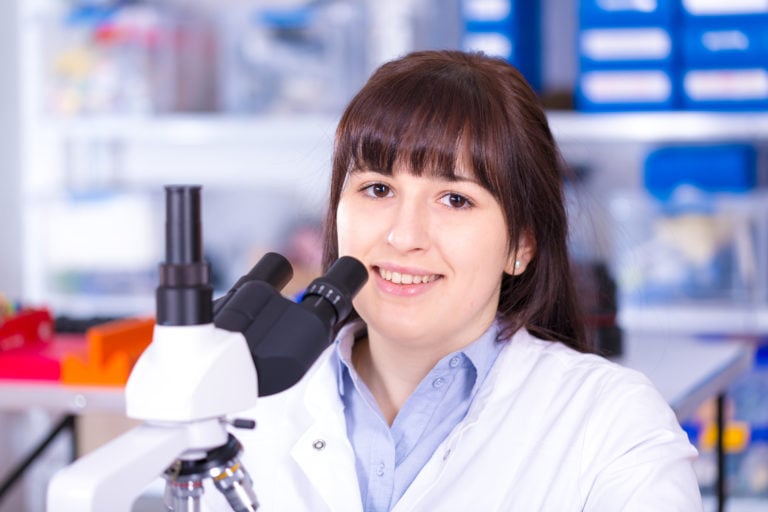 Becoming a Ph.D. Nurse
In order to become a Ph.D. nurse, of course, nurses must complete a Ph.D. in nursing program, which generally takes 4 to 6 years to finish. An aspiring Ph.D. nurse must have a strong interest in conducting medical research and/or teaching future nurses. Strong leadership skills are also important, as many Ph.D. nurses go on to supervise and mentor other nurses, whether they work in scientific research, management, or teaching capacity.
What Are the Educational Requirements For a Ph.D. Nurse Program?
A Ph.D. in Nursing program is known as a terminal degree, meaning it is the highest level of education for the nursing profession (in addition to the DNP degree, another separate nursing doctorate program track). Prior to entering a Ph.D. program, nurses must complete a Bachelor of Science in Nursing (BSN) degree and pass the NCLEX-RN exam. In some cases, applicants to a Ph.D. in Nursing program must also complete a Master of Science in Nursing (MSN) degree, which provides advanced education in nursing practice with courses in pharmacology, pathophysiology, and clinical practice.
Educational Prerequisites
Specific requirements to complete a Ph.D. in Nursing program will vary slightly from school to school. Schools offer Ph.D. in Nursing programs in traditional classroom formats, as well as online and hybrid styles that combine in-person study with online coursework. In addition to a variety of formats for Ph.D. in Nursing programs, students can also sometimes opt to take these programs on a full-time or part-time basis to suit their personal schedules.
The curriculum for a Ph.D. in Nursing program is research-focused, with coursework in advanced scientific research principles, data analysis, and statistical measurement. Ph.D. programs generally culminate in a dissertation and original research project. As an example of Ph.D. curriculum, below is a selection of courses offered by the Medical University of South Carolina as part of their online Ph.D. in Nursing Science program:
Advanced Quantitative Research Methods
Qualitative Research Methods
Advanced Statistical Methods for Nursing Research
Advanced Study Design and Methods
Advanced Health Policy & Advocacy
Research Team Leadership
What Does a Ph.D. Nurse Do?
A Ph.D. nurse conducts scientific research that advances the nursing profession. The knowledge that Ph.D. nurses gather and present as a part of their scientific research powers positive change in the quality of patient care and outcomes in the entire nursing field. In addition to their role as nurse scientists, Ph.D. nurses also teach and mentor nurses at the college/university level, working to shape the next generation of nurses.
What Are the Roles and Duties of a Ph.D. Nurse?
The majority of Ph.D. nurses pursue careers in either the research or teaching fields, so their day-to-day duties will vary depending on which career track they have chosen.
For a nurse researcher, typical duties may include:
Identify research questions, and design and conduct scientific research in partnership with other scientists from various fields
Collect and analyze scientific data and publish reports detailing findings
Write proposals and apply for grants to help fund their research
Establish and maintain quality assurance programs to ensure the validity of their data findings
Train and supervise laboratory staff and other nurses or scientists
For a Ph.D. nurse educator who has chosen to pursue a faculty position, typical duties may include:
Plan, prepare, and revise curriculum and study materials for nursing courses
Deliver lectures to undergraduate and graduate level nursing students
Supervise students' laboratory and clinical work
Grade students' classwork, laboratory, and clinical performance
Mentor and advise students regarding their future work in the nursing industry
For faculty members who pursue department chair or administration roles, additional duties may include:
Hire, supervise and conduct performance reviews of faculty members
Assist with the scheduling of classes and professors
Oversee department curriculum and provide quality control as to the content and materials of given nursing courses
Workplace Settings
A Ph.D. nurse can work in a variety of settings, depending on the career path he or she has chosen. A Ph.D. nurse may find employment at a hospital, medical laboratory, research facility, or university as a research scientist, or may work at a nursing school, college, or university as a faculty member or department chair. In some cases, a Ph.D. nurse may also work as a public health nurse in a government setting, helping to develop research-based solutions to public health issues.
Ph.D. Nurse Salary & Employment
Salaries for Ph.D. nurses vary based on the type of employment a nurse seeks after graduation. Nurse researchers, a primary career path for Ph.D. nurses, can expect a median salary of $90,000 according to Payscale.com. For Ph.D. nurses who pursue a teaching position, the median annual wage for post-secondary nursing instructors is $77,440 according to the U.S. Bureau of Labor Statistics as of May 2021. Geographical location, career length, and experience level are all factors that can influence a Ph.D. nurse's annual salary.
The nursing profession as a whole has a particularly bright employment outlook, with the employment of registered nurses projected to grow 9 percent from 2020 to 2030 according to the BLS. In addition, a large number of healthcare facilities are looking for nursing professionals with higher degrees, which means the demand for Ph.D. and DNP level nurses will continue to grow. In fact, the Institute of Medicine's 2015 "The Future of Nursing Report" emphasized the need for more Ph.D. level nurses.
Ph.D. vs. DNP in Nursing
As there are two doctorate-level nursing program types to choose from, there may be some confusion as to the differences between a Ph.D. nursing program and a Doctor of Nursing Practice (DNP) degree. The primary difference between the two programs relates to nurses' career aspirations. A DNP program trains nurses to perform the highest level of nursing practice and to translate research into high-quality patient care, while a Ph.D. program prepares nurses to conduct cutting-edge research that will advance the science of nursing and patient care. In addition to research positions, a Ph.D. program prepares nurses for leadership and teaching positions at hospitals and colleges/universities. To simplify, a DNP is a nursing practice doctorate degree, while a Ph.D. is a research and teaching doctorate.
Other key differences between DNP and Ph.D. programs are curriculum and program length. A typical DNP program includes courses on advanced nursing practice, leadership, and management topics and requires patient care clinical hours as well as a final capstone project. A Ph.D. program includes coursework on research methodologies, data analysis, and healthcare leadership and policy, and requires students to complete original research and a dissertation. In general, a Ph.D. program takes longer to complete than a DNP program, with Ph.D. programs taking an average of 4 to 6 years to complete and a DNP program taking 3 to 4 years, but can be completed in as little as 2 years depending on the school and program chosen.
Helpful Organizations, Societies, and Agencies