Research Nurse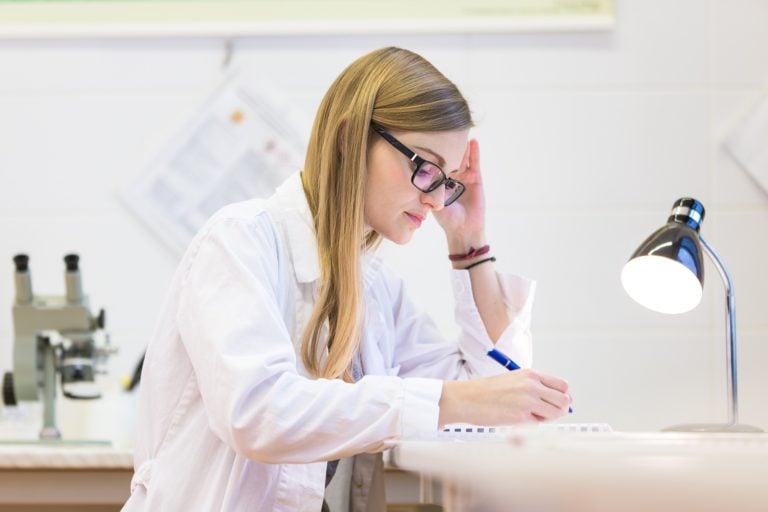 What Is a Research Nurse?
Research nurses conduct scientific research into various aspects of health, including illnesses, treatment plans, pharmaceuticals and healthcare methods, with the ultimate goals of improving healthcare services and patient outcomes. Also known as nurse researchers, research nurses design and implement scientific studies, analyze data and report their findings to other nurses, doctors and medical researchers. A career path that requires an advanced degree and additional training in research methodology and tools, research nurses play a critical role in developing new, potentially life-saving medical treatments and practices.
Becoming a Research Nurse
A highly specialized career path, becoming a nurse researcher requires an advanced degree and training in informatics and research methodology and tools. Often, research nurses enter the field as research assistants or clinical research coordinators. The first step for these individuals, or for any aspiring advanced practice nurse, is to earn a Bachelor of Science in Nursing degree and pass the NCLEX-RN exam. Once a nurse has completed their degree and attained an RN license, the next step in becoming a research nurse is to complete a Master's of Science in Nursing program with a focus on research and writing. MSN-level courses best prepare nurses for a career in research, and usually include coursework in statistics, research for evidence-based practice, design and coordination of clinical trials, and advanced research methodology.
A typical job posting for a research nurse position would likely include the following qualifications, among others specific to the type of employer and location:
MSN degree and valid RN license
Experience conducting clinical research, including enrolling patients in research studies, implementing research protocol and presenting findings
Excellent attention to detail required in collecting and analyzing data
Strong written and verbal communication skills for interacting with patients and reporting research findings
Experience in grant writing a plus
To search and apply for current nurse researcher positions, visit our job boards.
What Are the Education Requirements for Research Nurses?
The majority of nurse researchers have an advanced nursing degree, usually an MSN and occasionally a PhD in Nursing. In addition to earning an RN license, research nurses need to obtain specialized training in informatics, data collection, scientific research and research equipment as well as experience writing grant proposals, research reports and scholarly articles. Earning a PhD is optional for most positions as a research nurse, but might be required to conduct certain types of research.
Are Any Certifications or Credentials Needed?
Aside from a higher nursing degree, such as an MSN or PhD in Nursing, and an active RN license, additional certifications are often not required for work as a research nurse. However, some nurse researcher positions prefer candidates who have earned the Certified Clinical Research Professional (CCRP) certification offered by the Society for Clinical Research Associates. In order to be eligible for this certification, candidates must have a minimum of two years' experience working in clinical research. The Association of Clinical Research Professionals also offers several certifications in clinical research, including the Clinical Research Associate Certification, the Clinical Research Coordinator Certification and the Association of Clinical Research Professionals – Certified Professional Credential. These certifications have varying eligibility requirements but generally include a number of hours of professional experience in clinical research and an active RN license.
Where Do Research Nurses Work?
Nurse researchers work in a variety of settings, including:
Medical research organizations
Research laboratories
Hospitals
Universities
Pharmaceutical companies
What Does a Research Nurse Do?
A research nurse studies various aspects of the healthcare industry with the ultimate goal of improving patient outcomes. Nurse researchers have specialized knowledge of informatics, scientific research and data collection and analysis, in addition to their standard nursing training and RN license. Nurse researchers often design their own studies, secure funding, implement their research and collect and analyze their findings. They may also assist in the recruitment of study participants and provide direct patient care for participants while conducting their research. Once a research project has been completed, nurse researchers report their findings to other nurses, doctors and medical researchers through written articles, research reports and/or industry speaking opportunities.
What Are the Roles and Duties of a Research Nurse?
Design and implement research studies
Observe patient care of treatment or procedures, and collect and analyze data, including managing databases
Report findings of research, which may include presenting findings at industry conferences, meetings and other speaking engagements
Write grant applications to secure funding for studies
Write articles and research reports in nursing or medical professional journals or other publications
Assist in the recruitment of participants for studies and provide direct patient care for participants
Research Nurse Salary & Employment
The Society of Clinical Research Associates reported a median salary for research nurses of $72,009 in their SoCRA 2015 Salary Survey, one of the highest-paying nursing specializations in the field. Salary levels for nurse researchers can vary based on the type of employer, geographic location and the nurse's education and experience level. Healthcare research is a growing field, so the career outlook is bright for RNs interested in pursuing an advanced degree and a career in research.
Helpful Organizations, Societies, and Agencies