How to Become a Phlebotomist
Last Updated/Verified: Sep 5, 2020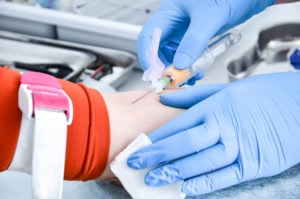 Phlebotomists draw blood for medical tests, but they are also medical professionals who can do more than most to put patients at ease about their care with thoughtful actions and demonstrated skill. There are lots of good jobs available for phlebotomists and opportunities are growing for phlebotomy technicians who are properly prepared.
Becoming a Phlebotomist
There are two basic routes to becoming a phlebotomist. Those who do not have previous experience in any medical field can take classes, including actual venipunctures (drawing blood from a vein) and skin punctures (doing procedures that penetrate the skin) under supervision. They can then take a test to get certified. The whole process takes just four to eight months in most cases. Those who have been certified for other medical professions such as nursing can be certified as phlebotomists after training and passing an exam.
RELATED: Entry-Level Nursing Career Options
What Are the Educational Requirements for a Phlebotomist?
Every phlebotomist needs to have graduated from high school or to have earned a G.E.D. In addition to general education, future phlebotomists who have not been working in a related medical field learn their profession in an eight- to twelve-week training program offered by a community college or a med tech training school. You can also learn phlebotomy in the military, or in a hospital-approved training program.
For example, Austin Community College offers a Phlebotomy Technician certificate program that takes just one semester to complete.
Any Certification or Credentials Needed?
Phlebotomy techs enter the field from many backgrounds, and certification requirements are flexible for applicants who can demonstrate the knowledge and skills to do the job. In the United States, there are seven certifying agencies that are recognized for employment all over the country.
Most phlebotomists are certified by one of these seven certifying agencies:
American Certification Agency (ACA) - To earn the ACA's CPT designation, you will need to have a year of experience in phlebotomy experience (usually in the military or in a foreign country) or completion of a phlebotomy training program or certification from a hospital or lab, and you will need to pass a test.

American Medical Technologists (AMT) - To receive their Registered Phlebotomy Technician (RPT) designation, you will need either to have completed a training program with at least 120 hours in the classroom or you will need to have done at least 1,040 hours of phlebotomy work at an approved facility over the last three years. You will also need to have done at least 50 venipunctures and 10 skin punctures on people.

American Society for Clinical Pathology (ASCP) - The American Society for Clinical Pathology is the largest professional organization for laboratory professionals in the world, and they offer the greatest number of routes to getting their Phlebotomy Technician (PBT) certification. You can qualify to take their certification test if you have completed any of seven different combinations of training and practical experience. The ASCP offers phlebotomist certification for nurses and for lab techs in addition to traditional routes to phlebotomy certification.

American Society of Phlebotomy Technicians (ASPT) - To get their CBT, you need six months of full-time experience or a year of part-time experience certified by your supervisor at work. You also need to complete a phlebotomy training program with at least five skin punctures and 75 venipunctures.

National Center for Competency Testing (NCCT) - If you have completed phlebotomy technician training in the U.S. military in the last five years, you may qualify for a National Certified Phlebotomy Technician (NCPT) designation upon paying a $135 application fee.

National Healthcareer Association (NHA) - The NHA is a certifying agency for people who already do phlebotomy as part of their work in a medical profession. Their Phlebotomy Technician (CPT) designation is available to people with at least one year of doing phlebotomy as part of other job duties. You must have done at least 30 venipunctures and 10 capillary sticks.

National Phlebotomy Association (NPA) - This program requires you to be a high school graduate or the holder of a G.E.D., to pass a drug and alcohol test, and to have an interview with the founder. Their certification is highly respected all over the United States.