Registered Nurse (RN) vs. Licensed Practical Nurse (LPN)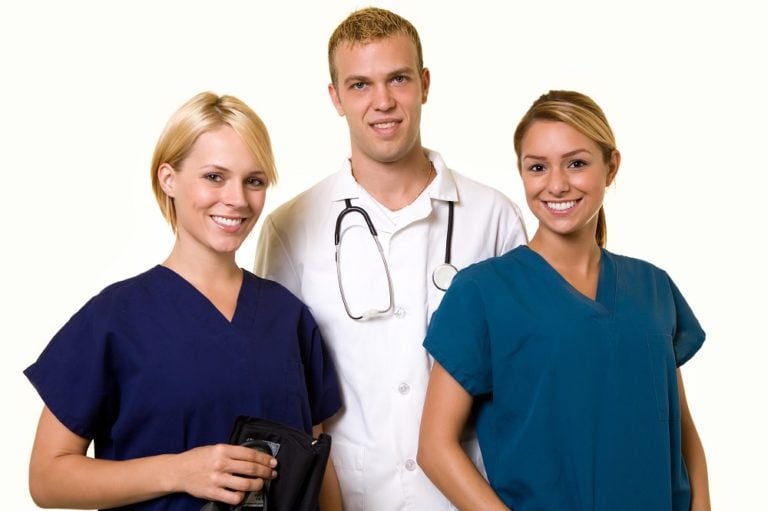 If you are like most people, you might not know the difference between a Registered Nurse (RN) and a Licensed Practical Nurse (LPN). Although they might sound relatively similar in name, they do not have much in common when it comes to things like job responsibilities, salary, and education. It is very important to understand the job responsibilities and career goals of both RNs and LPNs before beginning an educational journey.
KEY POINTS
RN make roughly 35% more than LPNs.
RN education is a longer and more expensive process than LPNs.
LPNs report to RNs in the professional setting.
What is the Difference Between RN vs. LPN Education?
One of the biggest differences between an RN and an LPN is the required education. LPN programs are much shorter in length than RN programs.
Registered nurses must earn a professional nursing degree. An RN degree program takes anywhere from 18 to 36 months to complete. The amount of time depends on the type of RN degree program one chooses. Some of the educational options for an RN include a BSN (Bachelor of Science in Nursing), an ADN (Associate Degree in Nursing), or a diploma from an accredited nursing program. However, the diploma program is unavailable in most, if not all States.
A BSN program will usually take about four years to complete, while ADN and diploma programs can take up to two years. Each program will vary, however, a common theme among most includes clinical experiences in several workplaces as well as classes in behavioral, social, and physical sciences. RN schooling also focuses on team leadership, pharmacology, research, as well as legal/ethical issues.
Licensed practical nurses are required to earn a Practical Nursing Diploma which may be completed in as little as 12 months. Most people complete LPN programs at community colleges or technical colleges. As a requirement, students must partake in supervised clinical experiences as well as take classes in nursing, pharmacology, and biology.
Learn more about considering RN school, LPN to RN Online, and LPN to BSN Online.
What is the Difference Between RN vs. LPN Salary?
RN and LPN salaries can vary greatly from state to state. This depends mostly on the cost of living and demand. According to the 2019 Occupational Outlook Handbook published by the U.S. Bureau of Labor Statistics, the median salary for an RN is $73,300 while the average median salary for an LPN is $47,480.
There are a variety of RN specializations and LPN specializations and pursuing a specialization in either position will garner you a higher salary. Generally, the more years of experience a nurse gains the more he or she will get paid. Critical care specialties such as the intensive care unit (ICU), emergency department (ED), labor and delivery (L & D), and the operating room (OR) are highly paid specialties in nursing. Generally, more positions are available to RNs in these areas than LPNs.
Use our RN salary comparison tool to learn more about RN salaries. You can also see a table of LPN salaries compared to RN salaries.
What is the Difference Between RN vs. LPN Job Duties?
Registered nurses and licensed practical nurses' job duties can vary greatly. By law, RNs are required to oversee LPNs. This model varies by healthcare setting. For example, in a hospital setting, one RN may be assigned seven patients on a medical floor, have one LPN assigned, and hopefully a CNA who may be assigned three times as many patients. The LPN, in this model, would assist the RN in medication administration (not including IV medications in most states), wound care, and activities of daily living (ADLs), while the RN worked on care plans, charting, updating physicians, and administering IV medications. In a skilled nursing facility setting, the LPN would perform all the tasks mentioned except IV medications while the RN oversees the entire facility and all the LPNs working.
However, in many states, the role of the LPN in the hospital setting is getting phased out and not replaced. RNs are responsible for all the LPN duties as well as RN duties.
LPN Job Duties
Some of the skills Licensed Practical Nurses are expected to be proficient in may include:
Administering oral, rectal, and topical medications
Administering intravenous (IV) medications (with IV certification in some states)
Monitoring IV sites
Performing physical assessments
Documenting physical assessments in the medical record
Measuring vital signs
Safely transfer patients into and out of bed and chair
Feeding, dressing, and performing hygiene
Changing or assisting with wound dressings
Collecting specimens such as capillary blood, stool, and urine
Inserting and caring for urinary catheters
Providing ostomy care
Caring for patients requiring kidney dialysis (state-dependent)
Caring for patients with ventilators and tracheostomy tubes
Inserting and caring for patients with nasogastric tubes
Providing feedings through nasogastric or gastrostomy tubes
Monitoring patients in long-term and in-patient settings
Recognizing changes requiring a call to appropriate physicians
Performing emergency CPR
Executing a nursing care plan formulated by a Registered Nurse
Communicating shift-change report
RN Job Duties
Including all LPN duties, some additional skillsets for an RN include:
Administer and monitor patient medications (including IV)
Perform and lead an emergency response using BLS (Basic Life Support), ACLS (Advanced Cardiac Life Support), and/or Pediatric Advanced Life Support (PALS)
Wound care as assessment
Administer chemotherapeutic and antineoplastic agents
Administer blood products
Manage fistulas
Manage and administer medications through central lines
Access implanted infusion devices
Develop a plan of care and wellness for each patient
Properly assess and manage all patient populations with appropriate intervention
Measure vital signs as well as recognize and address abnormalities
Take physician verbal orders
Admit and discharge patients safely and appropriately
Maintain accurate documentation
Supervise LPNs
Delegate to LPNs and CNAs per state regulations
Supervise RNs and specialized nursing units
Provide education for other nurses
Act in facility leadership roles
Ensure patient safety – usually known as "do no harm", or nonmaleficence
Read more about working as an RN.
RELATED: Difference in Workplace Roles of LPN's and RN's of Varying Education Levels
What is the Difference Between RN vs. LPN Licensing and Certification?
After completing a state-approved and accredited Practical Nursing program, prospective LPNs will need to take and pass the National Council Licensure Examination for Practical Nursing (NCLEX-PN). This exam must be passed in order to become licensed as an LPN and become employed.
Registered nurses are required to complete a state-approved and accredited nursing program as well as earning a passing status on the National Council Licensure Examination for Registered Nurses (NCLEX-RN). In some cases, RNs will choose to become certified in specialty areas such as critical care, emergency department, or labor and delivery. This is usually an option after working in a specialty for a certain amount of hours, usually about a year.
Learn more about the NCLEX-RN Exam for RNs and view NCLEX-RN Practice Test Questions
LPN & RN FAQs
Each facility should have a process for overseeing students and probationary employees which typically includes a checklist of skills. Once the preceptor, or person assigned to orient and train the student, has deemed the student capable of managing skills on their own, the preceptor can act as a resource to the student and no longer needs to oversee each task.
If the preceptor determines that the student is not able to manage the tasks on their own after appropriate instruction over time, the preceptor should consult with the charge nurse or manager so feedback can be provided to the school of the student's failure to perform at the expected standard level.
Students should refer to their school's policy or the policies of the institution for further clarification.

Latest posts by Amanda Bucceri Androus, RN, BSN
(see all)