Kentucky Post-Graduate Certificate in Nursing Programs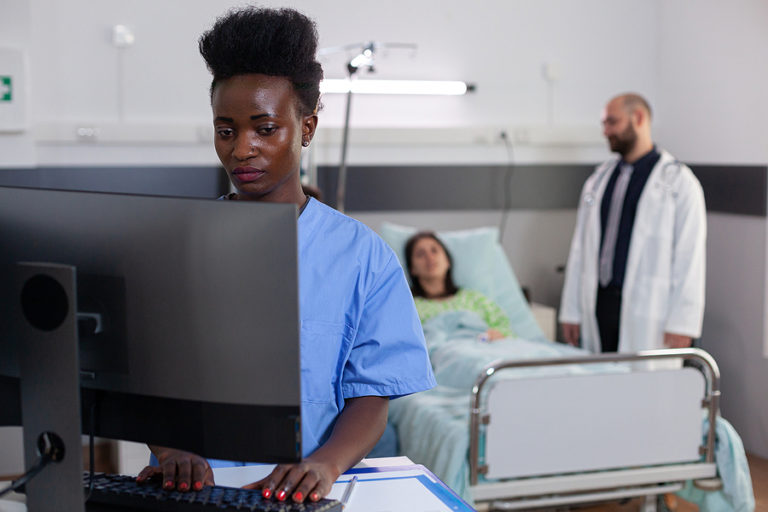 After securing their master's degree, many nurses advance their careers by exploring new specialties through post-graduate certificate in nursing programs. These programs allow nurses to transition into new areas of nursing or deepen their understanding of specialties related to their practice. Some nurses may also want to transition from RN clinical duty to education, research or administrative roles. Post-graduate certificate programs are a good way to obtain the qualifications needed for those alternative jobs.
With more advanced education, RNs and nurse practitioners may enhance their job opportunities. They may also earn raises and promotions without switching to new career fields. There are multiple nursing programs in Kentucky that offer post-graduate certificates for select nursing specialties.

Post-Graduate Certificate in Nursing Admission Requirements in Kentucky
All post-graduate certificate in nursing programs require students to complete their MSN first. Many schools will require a minimum GPA for the MSN program and completion of select courses prior to application. Recommendation letters from professionals in the field or essays are also required for admittance into select programs. It's also common for programs to request in-person interviews with candidates.
To give you an example of the admittance requirements for some post-graduate certificate programs in Kentucky, consider this list of requirements for the Family Nurse Practitioner Post-MSN Certificate at Western Kentucky University:
MSN from an accredited nursing program
RN license in Kentucky (at least an application)
Minimum MSN GPA of 3.0
Minimum 1 year clinical RN experience
500-700 word written goal statement
3 professional references
Professional resume
Candidates strongly considered for this program will receive an interview before acceptance is issued.
Post-Graduate Certificate in Nursing Classes and Courses
Every post-graduate certificate program in Kentucky will require the completion of different courses. It depends mainly on the specialty of focus for each program. Some type of clinical experience or observation is required for many programs.
As an example, consider the following course requirements for the completion of the Psychiatric Mental Health Nurse Practitioner Post-MSN Certificate from Eastern Kentucky University:
Advanced Pathophysiology
Advanced Pharmacology
Advanced Health Assessment
Advanced Practice
Rural PMHNP I
Applied Psychopharmacology
Rural PMHNP II
Rural PMHNP III
Rural PMHNP Internship
Most programs will give students credit for any courses previously passed at an accredited nursing school.
Program Length
Most Kentucky post-graduate certificate in nursing programs allow students to attend full or part-time. Most nurses maintain full-time employment as RNs or nurse practitioners while attending their certificate programs, so it's common for them to take one or two courses at a time.
Post-MSN certificate programs in Kentucky typically require up to 30 credit hours of study, but some may require up to 40 hours or a bit more. That may include time spent as an intern or completion of other clinical and observational requirements.
Tuition and Cost of Attendance
Kentucky nurses can expect to pay at least $400 per credit hour when attending a post-graduate certificate program in nursing. For instance, the Family Nurse Practitioner Post-MSN Certificate program at the Eastern Kentucky University requires $662 per credit hour.
Students should also consider additional fees that are charged by most nursing programs, which can significantly increase the overall cost of certificate completion. Depending on where you live, you may also need to consider transportation expenses on top of books and other needed supplies.
Online Post-Graduate Nursing Certificate Programs in Kentucky
Eastern Kentucky University and Northern Kentucky University currently offer online post-MSN programs for nurses ready to advance their careers. While options are limited for online study, nurses can benefit from learning away from campus. For students who don't live close to a school offering a certificate program of interest, the ability to study while working and caring for family members at home is a great advantage.
Not all online programs are conducted entirely online. Students should check the course requirements before accepting admission into a program.
Featured Online School
The online post-graduate nursing certificate programs at Northern Kentucky University are all offered online, but students are allowed to meet with faculty members if they have access to the campus. The certificates currently offered include:
Family Nurse Practitioner
Adult-Gero Nurse Practitioner
Adult-Gero Acute Care Nurse Practitioner
Psych Nurse Practitioner
Pediatric Nurse Practitioner
These programs range from 12 to 36 credit hours of study, depending on the specialty.
Post-Graduate Certificate in Nursing Career Pathways in Kentucky
The completion of a post-graduate certificate in nursing may or may not lead to a new job title for RNs in Kentucky. Some nurses may use certificate programs to deepen their understanding of their current field of practice while others want to move into nurse educator positions or go into research or administrative careers.
Once a post-MSN certificate is completed in Kentucky, nurses may take on the following job titles:
Post-Graduate Nursing Certificate Salary & Job Outlook
Nurse practitioners in the central Kentucky non-metropolitan area earn an average of $98,410 annually or about $47 per hour. This is one of the top five areas of the country in terms of concentration of nurse practitioner jobs. Kentucky nurses who earn additional certificates and explore careers as nurse practitioners may earn more than the average. RNs can also enhance their earnings by exploring post-MSN certificate in nursing programs.
List of Kentucky Post-Graduate Certificate in Nursing Programs
The following Kentucky nursing programs currently offer post-graduate nursing certificate programs. Specialties offered through each program will vary and may change at any time.
Bowling Green, KY
Hyden, KY
Lexington, KY
Richmond, KY
Are we missing your school's program or need to update information listed? Please contact us so we can make the necessary changes.