Post-Master's Nursing Informatics Certificate Programs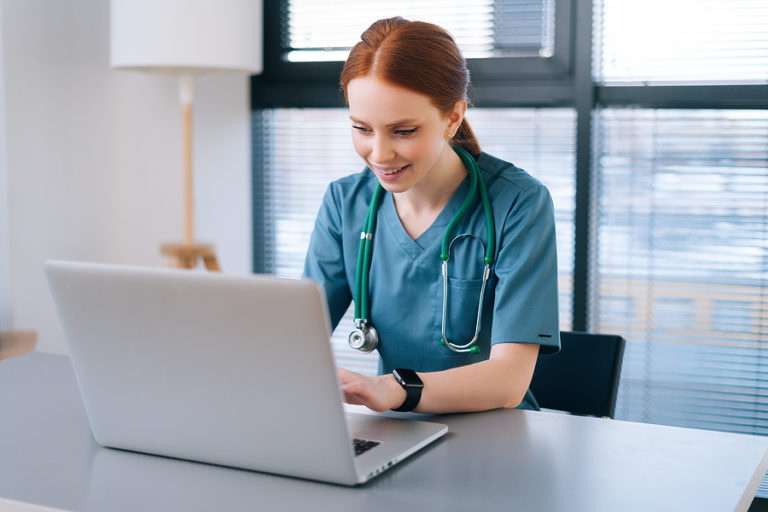 Nurse practitioners (NPs) and other high-level nurses may wonder if there are opportunities to specialize in nursing informatics without pursuing an additional degree. For those who have already completed a Master's of Science in Nursing (MSN), the solution may be the post-master's certificate in nursing informatics. This certificate program allows individuals to become nurse informaticists without having to obtain another degree, such as a doctoral-level nursing degree. NPs who go this route have the advantage of earning a quality education in their specialty of choice at a fraction of the price of a longer degree program.
Choosing a Post-Master's Nursing Informatics Certificate Program
Selecting the perfect post-master's nurse informaticist certificate program may seem challenging at first, especially if the nurse has not attended school in some time. There are a few key things to keep in mind when researching programs, and choosing the right fit can be made simple by considering the following:
Accreditation– Choosing a quality, properly vetted certificate program is extremely important. The Accreditation Commission for Education in Nursing (ACEN) and the Commission on Collegiate Nursing Education (CCNE) are two of the most respected and well-known agencies that accredit nursing programs in the United States. Students are encouraged to seek out programs that bear the mark of these organizations.
Cost– A main factor for most prospective students, tuition and fees for post-master's nurse informatics certificate programs can vary widely. Aside from these main costs, students need to account for textbooks and other supplies. Online students may need to purchase equipment such as a laptop, webcam, and/or special software. It's a wise idea to take into account the full cost of a certificate program, including incidental expenses, before making a decision, as this can make a seemingly inexpensive program pricier than initially thought.
Program Length– While city, state, type of school, and other factors contribute to program length, most post-graduate nursing informatics certificate programs require 15-26 credits in order to complete, and are typically capped off with a certain number of clinical practicum hours. Students should carefully consider the curriculum and how it aligns with their future goals instead of choosing the shortest program blindly.
Online Options– Many schools have expanded to offer online certificate program options. These options are popular and allow students to take courses from home. Another new program option is the "hybrid" program, which allows for select classes to be taken online, with the remainder being taken on-campus. Students should inquire whether these program options are offered at their school of choice.
Internship/Externship Options– With hands-on experience often a requirement, it's a good idea to ask about partnerships a school might have with area hospitals and medical facilities. If the program is online, often students can arrange for a local preceptorship upon approval by the faculty.
Online Post-Master's Pediatric NP Certificate Programs
Due to high demand, online programs are growing in popularity. For students used to traditional campus learning, this pathway may seem tempting and perhaps even a little scary. There are many advantages to this self-paced option, but it's not a one-size-fits-all learning solution. Read on to learn more about online post-master's pediatric NP certificate programs to decide if it's the right choice for you.
Online vs. Classroom-Based Post-Master's Nursing Informatics Certificate Programs
Due to their increasing popularity, online post-master's nursing informatics certificate programs are now widely available. Since many nurses continue to work while they pursue their certification, online options make this goal achievable. Students enrolled in online courses have maximum flexibility in when and where they study. This convenience is also ideal for those with children or other obligations that may make a traditional campus-based program infeasible.
Online programs aren't for everyone, however. Those who prefer face-to-face interaction, collaboration with other students, and closer relationships with their professors may find traditional programs more suitable. Some online students also have issues with the looser pace, whereas classroom programs tend to have predictable hours and more structure. While online programs eliminate the need for costly commuting and parking expenses, traditional programs don't usually have as many technological requirements. For those looking for the best of both worlds, hybrid programs, which include a mix of online and traditional campus-based courses, are a great middle ground, but may not be as widely available.
Post-Master's Nursing Informatics Certificate Admissions Requirements
Those interested in enrolling in a post-master's nursing informatics certificate program should take care to ensure that they meet all the admissions requirements. While each school will differ, most include the following:
MSN degree from a regionally accredited institution
Cumulative GPA of at least 3.0
Current unencumbered license as an RN
Official college transcripts
Resume or CV
Professional letters or recommendation
Interview or personal essay
Post-Master's Nursing Informatics Certificate Curriculum
The post-master's certificate for nurse informatics is comprised of specialty courses designed to familiarize students with informatics, information systems, database and project management, and more. Furthermore, a minimum number of practicum hours will also be required. Course titles may include:
Intro to Healthcare & Nursing Informatics
Regulator, Legal, and Ethical Issues in Healthcare Informatics
Clinical Information Systems for Clinical Practice
Information Technology Project Management
Managing Data & Information
Helpful Resources
Other Degree Programs
List of Post Master's Certificate Nurse Informatics Programs
Are we missing your school's program or need to update information listed? Please contact us so we can make the necessary changes.