What Are Some Pathways for Nurses Who Are Interested in the Business or Administrative Side of Nursing?
Nurses who are interested in the business aspect of healthcare have several options. For nurses to get into administration in an entry-level position, a BSN is usually required. The first area nurses can get into is as a nurse manager. Nurse managers lead different staff members in an area of a hospital or clinic and report to upper leadership (such as a director or nurse executive). They assist in the day-to-day operations of a clinical area with things such as staffing, budgets, and personnel issues. Some patient care is part of the job, but the role of a nurse manager is more of an administrative one.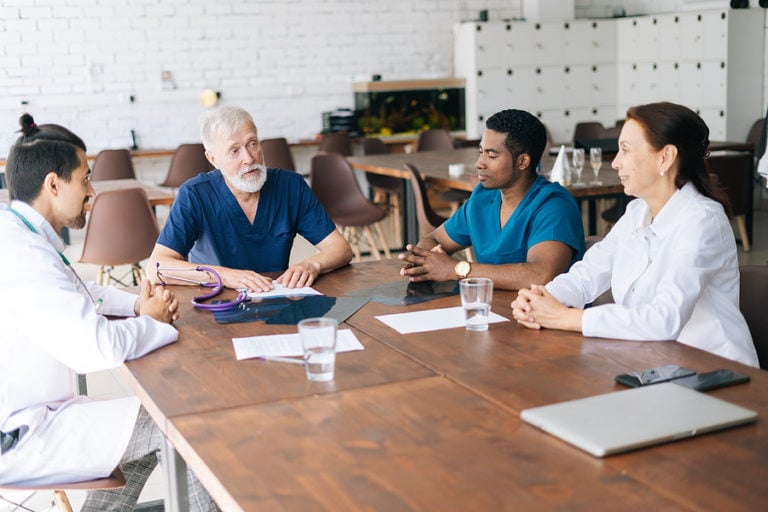 Another administrative role for nurses is as a nurse administrator. This is a higher level leadership role, and a master's degree is typically required. Nurse administrators can work in hospitals, clinics, and nursing care facilities. They generally do not have much direct patient care responsibilities except when rounding on patients or handling a patient care complaint/ issue. Nurse administrators are also responsible for recruiting and hiring nurses, budgeting, and developing policies and procedures.
RELATED: Can a Nurse Serve on a Board?
Nurses interested in the business aspect of nursing can also pursue a role as a nurse executive. Nurse executives are one of the top leadership positions a nurse can have. They can also be referred to as a "director." Nurse executives are responsible for carrying out the mission of an organization. A minimum of a master's degree is required, and some organizations prefer a dual MSN/MBA degree. Nurse executives can work in hospitals, home health agencies, and nursing homes, as well as other healthcare organizations out in the community. They can also work as consultants.
Nurse executives do not usually have direct patient care responsibilities. Some of the roles of a nurse executive include budgeting and resource allocation, developing policies to improve efficiency, collaborating with all members of the healthcare team, to include administration as well as direct patient care providers.
Another role that nurses can look into is as a nurse informaticist. In this role, nurses help develop electronic systems to maintain patient care data and improve patient care outcomes. Examples of what nurse informaticists work on are improving computerized provider order entry, nursing and provider progress notes, and medication records. Nurse informaticists are important in that they improve efficiency for healthcare workers and providers which ultimately improve patient care outcomes. For example, thorough medication records can help prevent (or reduce) medication errors.
RELATED: What Advanced Certifications Are Available for Nurses?
Nurse informaticists should have, at a minimum, a bachelor's degree. They may or may not have direct patient care responsibilities. While not required, it may help nurses to have a background in computer technology or IT.
The beauty of nursing is that there are hundreds of career options, and at many levels. Nurses may start their career at the bedside, and one day become an executive of a large healthcare organization.
Featured Nursing Programs

Latest posts by Amanda Bucceri Androus, RN, BSN
(see all)