Alaska RN to BSN Programs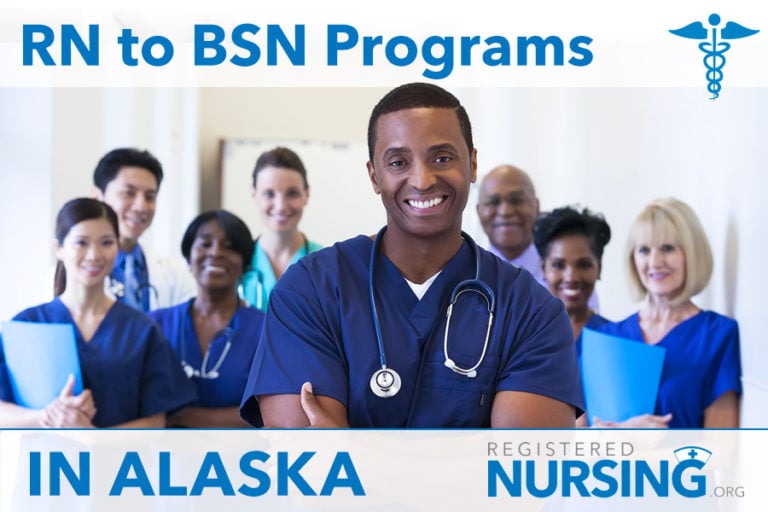 Both beautiful and wild, Alaska is a state that stands poised to increase opportunities for advanced-degree registered nurses. With many rural and underserved areas, high-level nurses are crucial to healthcare in the state. Registered nurses looking to fill this need will want to earn a Bachelor of Science in Nursing (BSN) degree, and they can do this through one of the state's RN to BSN programs.
2023 List of RN to BSN Programs in Alaska
The state of Alaska is strongly encouraging nurses to upgrade their qualifications from RN to BSN through continuing education at the college level. Candidates with an ADN in nursing and appropriate clinical experience should consider further education. With a variety of platforms through which to take courses, nurses are able to manage their personal and professional commitments along with their professional development. Alaska's nurses who possess a BSN earn more money than their ADN counterparts!
Find RN to BSN Programs By City:
Anchorage, AK
College of Nursing
3211 Providence Drive
Anchorage
,
AK
99508
Online/Campus Hybrid Instruction
Are we missing your school's program or need to update information listed? Please contact us so we can make the necessary changes.
Admissions Requirements for Alaska RN to BSN Programs
As you research RN to BSN programs, it's important to make sure that any prospective program in the state is approved by the Alaska Board of Nursing. Entrance requirements may vary, but in general you can expect to find something similar to the following for RN to BSN programs in Alaska:
Current licensure as a registered professional nurse in the state of Alaska
Minimum GPA of 2.0
Maintain a grade of C or better in all specified courses required for the nursing major
Complete the application and pay any applicable fees
Submit three letters of recommendation, two of which must be professional recommendations
RN to BSN Classes & Courses
Those looking to complete an RN to BSN program in Alaska may be eligible for an "RN Licensure Credit". The University of Alaska Anchorage essentially grants 31 credits for those who hold current RN licensure in the state, as long as they complete the appropriate form with a nursing advisor. Once this is granted, RN to BSN students are required to take courses including (but not limited to):
Nursing Informatics
Nursing Assessment of Individuals
Nursing Research
Management in Nursing
Online RN to BSN Programs in Alaska
Online courses have gained popularity, as many nurses entering an RN to BSN program are currently working and therefore need flexibility. The main school offering an RN to BSN program in the state is the University of Alaska Anchorage, which offers a select portion of classes online.
Admissions and Program Length
Registered nurses planning to complete their BSN education in the state must successfully complete the same academic prerequisites as new students. A grade of C or better must be maintained for these courses. Once these general courses have been completed, RN to BSN students must complete roughly 31 total credits in upper division nursing courses. A personalized Program of Study is prepared for students based on the transferrable courses they've already completed along with the required upper division courses they need to complete for the program, therefore the length can vary. It's possible to complete all nursing courses in four semesters.
Tuition and Cost of Attendance
Tuition and costs can weigh heavy on a student's mind as they contemplate an RN to BSN program. At the University of Alaska Anchorage, the total estimated cost for the RN to BSN program without living expenses is estimated at $10,323. This estimate includes tuition, fees, books, parking, supplies, immunizations, and equipment.
Does an RN to BSN Increase My Salary?
Completion of a BSN degree not only leads the way to nursing jobs with increased responsibility, it also offers the potential for higher pay. Nurses wanting to work more independently or hold managerial or administrative nursing positions will find a BSN highly valuable.
RN to BSN Salary Comparison in Alaska
Earning a BSN will undoubtedly help any RN reach a higher annual salary. A study conducted by Payscale reports that the average entry-level hourly wage for a registered nurse in Anchorage, Alaska is $30.63 per hour. Compare this to the average hourly wage for all RNs in Alaska at $42.37, per Bureau of Labor Statistics, and you can see where a nurse with a higher degree of education would end up on the upper end of the pay scale.