Delaware RN to BSN Programs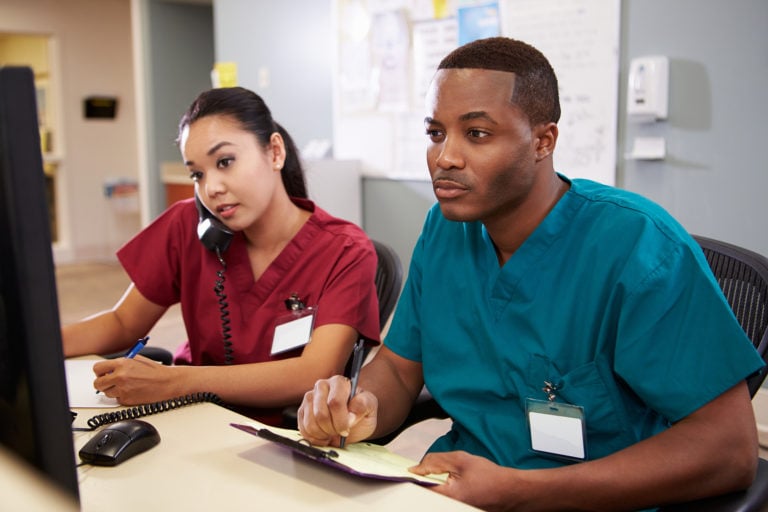 Registered nurses (RNs) in Delaware are increasingly pursuing higher education as a means to expand their career opportunities, earn higher salaries, and learn the nursing leadership skills necessary to offer greater patient care. Schools in the state are following suit, offering programs geared toward busy working RNs. Career advancement through an RN to BSN program in the state has never been easier.
2023 List of RN to BSN Programs in Delaware
The pursuit of higher learning by obtaining a Bachelor's of Science in Nursing (BSN) or greater can set up apart from other candidates. Nurses in Delaware that have a BSN or greater degree earn an estimated $10,000 more annually than ADN nurses. A BSN degree not only prepares you for higher demand health care, but it also sets you apart for being offered higher salaries and better job opportunities. As a BSN nurse in Delaware, you can find opportunities for employment in such areas as mental health, case management, public health, or other similar fields.
Find RN to BSN Programs By City:
New Castle, DE
College of Heath Professions
320 North DuPont Highway
New Castle
,
DE
19720
(302) 356-6998
Newark, DE
Are we missing your school's program or need to update information listed? Please contact us so we can make the necessary changes.
Admissions Requirements for Delaware RN to BSN Programs
Once a nurse has completed an Associate's Degree in Nursing, they can move on to complete a Bachelor's of Science in Nursing (BSN). The following are some other typical requirements needed to gain entrance into an RN to BSN program:
Completed program application and payment of any applicable fees
Copy of transcripts from all colleges or universities attended
Submission and validation of a current RN license
RN to BSN Classes & Courses
Most programs strive to provide a well-rounded education for RNs continuing their nursing education. A mix of general education courses and higher-level nursing courses are usually required. Some of the nursing courses offered as part of the RN to BSN at Delaware's Wilmington University include:
NUR 303: Nurse as Professional
NUR 313: Nurse as Decision Maker
NUR 333: Nurse as Leader
NUR 423: Global Health Care
Online RN to BSN Programs in Delaware
As part of their commitment to furthering the careers of RNs, many schools are now offering online RN to BSN programs to accommodate currently employed nurses. These innovative programs offer flexibility along with extensive interaction amongst faculty. Most students enrolled in an online program still have access to campus resources, making it the best of both worlds.
Admissions and Program Length
A total of 120 credits is needed to complete the RN to BSN program. Luckily, most schools will allow transferrable credits from past nursing courses as long as the minimum grade is met. You'll need to complete around 30 core nursing credits once the required non-nursing courses have been accounted for. It's possible to complete an RN to BSN in roughly a year, although you can take longer if you choose to attend part-time. Many programs run year-round.
Tuition and Cost of Attendance
Cost can be a major consideration for those thinking about applying to an RN to BSN program. The University of Delaware's RN to BSN will run you roughly $481 per credit hour for Delaware residents. This does not include additional mandatory fees, textbooks, or any other expenses.
Does an RN to BSN Increase My Salary?
Not only will a BSN lead to a wider array of nursing jobs, including ER nurse and surgical nurse, but it also lends itself to a higher annual salary. If leadership or management is your goal as a nurse, an RN to BSN program is ideal.
RN to BSN Salary Comparison in Delaware
There is a large salary range for registered nurses in Delaware. While things like experience and what city you live in contribute to these numbers, it's important to remember that the more education you have as a nurse, the higher your salary capabilities. Payscale reports that the annual salary for registered nurses in Wilmington, Delaware can be anywhere between $53,436 and $86,360. A BSN or higher can help any registered nurse reach the higher end of that range.