Nursing Programs in Wilmington, DE
Located along the Christina and Delaware Rivers and sandwiched between Pennsylvania to the north, Maryland to the southwest and New Jersey to the east, the city of Wilmington, Delaware is in the middle of it all. The region is a blend of old and new with castle-like estates and gardens to the spacious north and modern tax-free shopping downtown. Nursing professionals in and around Wilmington, DE earn about $29 per hour on average according to Indeed.com. RNs can achieve greater stability in their careers, as well as increased pay, by obtaining advanced degrees.
To get started in nursing or to advance your nursing career, check out our accredited program listings sections below: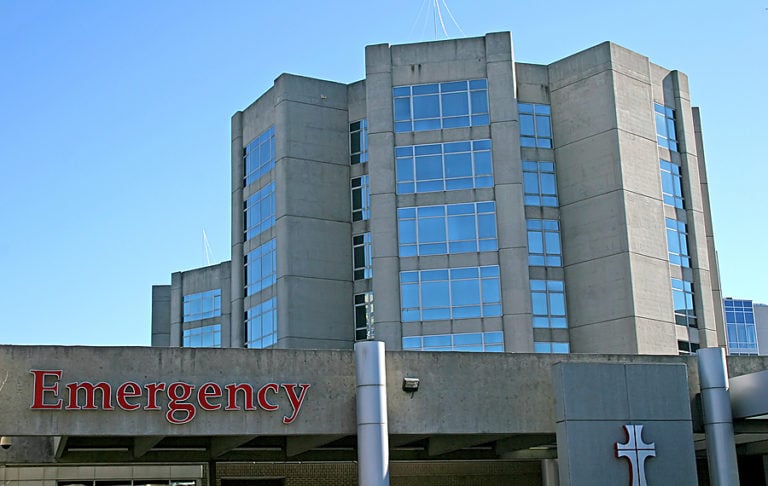 Entry-Level ADN & BSN Programs in Wilmington, DE
Nursing has evolved over the past decade with RNs being entrusted and authorized to decide on and carry out treatments for patients. You too can enter or advance your career in nursing with an LPN to RN, ADN, or BSN degree. Colleges in Wilmington have made such entry-level programs accessible to those with and without a healthcare background.
LPN to RN Programs
LPNs commonly tend to patients with chronic illnesses such as the elderly but they also provide basic nursing care to patients in doctor's offices and medical centers. However, Licensed Practical Nurses know they can't make patient diagnoses or decide on treatments and must instead rely on instructions from RNs or APRNs. Delaware Technical and Community College outside of Wilmington, DE offers an accelerated LPN to RN track that lets dedicated LPNs earn their Associate Degree in Nursing in just over a year.
ADN Programs
If you think you have a mind for medicine and a heart for healing, the profession of nursing may be for you. Delaware Technical and Community College, located 20 minutes outside of Wilmington, offers an Associate Degree in Nursing that readies students to provide hands-on care to patients. As nurses interact with patients more than any other healthcare professionals including doctors, the ADN gives you the training and skills to effectively carry out your duties.
Direct-Entry BSN Programs
Nurses with critical thinking, analysis, and communication skills have more confidence in performing the ordinary and difficult parts of their jobs. Those with a Bachelor of Science in Nursing have shown to produce fewer errors and provide overall higher quality of care for patients. The University of Delaware in Wilmington offers a traditional BSN program with a focus on nursing core components as well as specifics such as mental health, pediatrics, gerontology, and public health. Graduates are ready to sit for the NCLEX-RN exam.
Find out more about Delaware Accelerated BSN Programs.
Wilmington RN Program NCLEX-RN Pass Rates
Top Ranked Accredited Nursing Programs in Wilmington
Listed below are the top nursing schools in Wilmington based on our RegisteredNursing.org RN program rankings for Delaware out of 7 other accredited programs offered in the state:
Delaware Technical Community College - Stanton - #2
University of Delaware - #3
RN to BSN Programs in Wilmington, DE
It's been shown that patient outcomes improve when nurses hold BSNs. Recognizing the need for more nurses with bachelor's degrees, colleges in and around Wilmington, DE are offering more working nurse-friendly RN to BSN bridge programs.
RN to BSN Programs
Staff nurses who lack a bachelor's degree may, despite their years of experience, be overlooked for promotions or the best positions in preferred units. Hospitals and medical centers are pressured to staff up with nurses who hold BSNs. The University of Delaware in Newark has been a pioneer in distance learning since 1993 and offers a fully online RN to BSN program for nurses looking to advance their education.
Find out more about Delaware RN to BSN Programs.
APRN & Nurse Practitioner Programs in Wilmington, DE
Advanced practice registered nurses (APRNs), particularly nurse practitioners, are performing tasks once limited to physicians such as administering medication and performing patient diagnoses. APRNs are also taking charge of nursing units and leading healthcare policy change to improve patient care. RNs in good standing in Wilmington, Delaware can achieve this APRN status by earning a master's, post-grad cert or doctorate degree in less time than they may have thought.
MSN Programs
Advance Practice Nurses such as Nurse Practitioners are performing patient evaluations and assessments taking over many duties formerly limited to only doctors. If you are ready to take the next step in your nursing career, Wilmington University in Delaware has several practitioner-level MSN programs. Designed to be both flexible and affordable, the Family or Adult/Gerontology NP programs include a robust curriculum that puts graduates at the forefront of providing primary care for patients.
Find out more about Delaware Nurse Practitioner Programs.
Post-Master's Certificate Programs
Current Advanced Practice Nurses seeking to gain practitioner competencies can do so in less time by completing a post-grad certificate rather than earning an additional degree. Offered on a part-time basis in a blend of online and on-campus modalities, Neumann University, located about 25 minutes northeast of Wilmington outside of Delaware, offers an Adult-Gerontology Nurse Practitioner – Primary Care post-grad cert. The curriculum is concentrated on patient-centered care, evidence-based practice, and holistic treatments.
Find out more about Delaware Post-Master's Certificate Programs.
DNP Programs
Advanced Practice Nurses are influencing national and regional healthcare policy and having a broad impact on the quality of patient care. Those who pursue a Doctor of Nursing Practice, the terminal practitioner degree in the field, have the potential to have the greatest impact on policy development. Though it isn't a career path for everyone, the University of Delaware in Wilmington has a DNP program that focuses on population health, healthcare delivery, and healthcare system management among other far-reaching topics. The program has part- and full-time options.
Find out more about Delaware DNP Programs.