Maryland RN to BSN Programs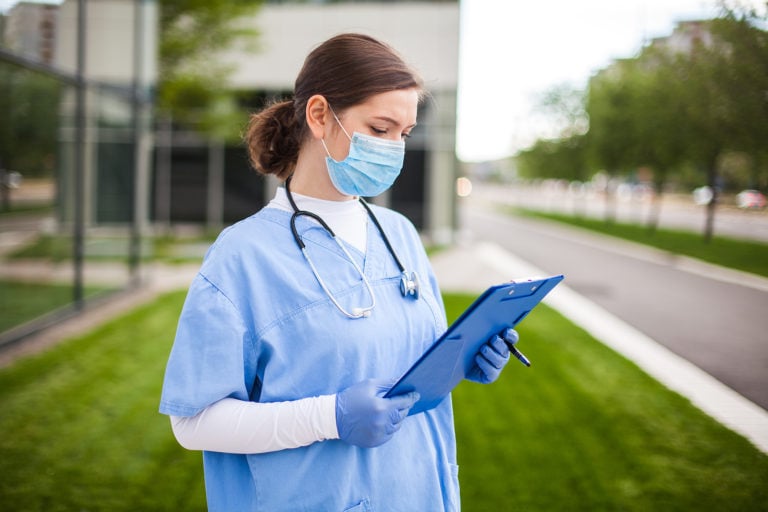 Registered nurses (RNs) looking to advance in their careers are increasingly choosing the path of an RN to BSN program. These programs are specially designed for RNs who have already earned an Associate's Degree in Nursing and want to pursue a Bachelor's degree (BSN). The state of Maryland offers many quality options for a BSN continuation degree, with both online and in-person options available.
2023 List of RN to BSN Programs in Maryland
The American Association of Colleges of Nursing lists almost 10 RN to BSN programs being offered within the state of Maryland. These programs offer the graduating BSN nurses the ability to become highly sought-after nurses that can negotiate for wages that are substantially higher than that of an ADN nurse. Salaries for BSN nurses within the state can average around $70,000 per year which is about $20,000 more yearly than an RN with ADN qualifications. If you are looking to earn more, and take on job roles such as management positions, clinical supervisor roles, or have open options for positions you should consider a BSN degree.
Find RN to BSN Programs By City:
Baltimore, MD
Frostburg, MD
Owings Mills, MD
Salisbury, MD
Towson, MD
Upper Marlboro, MD
Are we missing your school's program or need to update information listed? Please contact us so we can make the necessary changes.
Admissions Requirements for Maryland RN to BSN Programs
Entrance requirements for most RN to BSN programs are straightforward. As long as you meet or exceed these requirements, you have a good shot of being accepted. Some programs are competitive, so be sure you review your school's requirements carefully to make sure you don't miss anything. Below are some common admissions requirements for schools in Maryland:
Must submit official transcripts from all schools attended
Copy of State of Maryland or compact state licensure
Completion of prerequisite courses
Must provide two academic letters of recommendation
Overall GPA of 3.0
RN to BSN Classes & Courses
Most RN to BSN programs require students to complete lower-division, pre-professional coursework before starting their upper-division core nursing courses. Nursing courses offered as part of the RN to BSN program at Baltimore's University of Maryland School of Nursing include:
NURS 450: RN-to-BSN Transition: Implications for Practice, Policy, and the Profession
NURS 454: Pathophysiologic Implications to Patient Assessment
NURS 460: Health Informatics for the Registered Nurse
NURS 462: Nursing Leadership and Management for the Registered Nurse
Online RN to BSN Programs in Maryland
While traditional, classroom-based RN to BSN programs are still readily available, fully-online versions are starting to eclipse them in popularity. An online RN to BSN allows employed RNs the opportunity to study from home and on the schedule of their choosing. There are a handful of accredited, online programs offered at schools throughout Maryland.
Admissions and Program Length
Depending on how quickly they move through the courses, students can complete most RN to BSN programs in 1-2 years. Many programs offer the choice of part-time or full-time study to accommodate students' schedules and lives. Typically, programs require a total of 120 credits, many of which can be transferred over from prior coursework. Roughly 30 credits of upper-division nursing courses are needed to complete the degree. Program start times are usually in the Fall and Spring semesters, but some schools offer other start times throughout the year.
Tuition and Cost of Attendance
Tuition rates can vary from school to school, but the estimated cost for the RN to BSN program at the University of Maryland Global Campus is about $300 per credit hour. These costs do not reflect additional mandatory fees or extra expenses like books. There are usually different tuition rates for military students and out-of-state students. As rates tend to fluctuate each year, it would be best to check your school of choice for current figures.
Does an RN to BSN Increase My Salary?
Any registered nurse wanting to increase their earning potential will be well served by further education. Aside from this, RNs who complete a BSN degree have more opportunities for advancement in their current jobs, as well as the chance to accept more specialized nursing positions in pediatrics, surgery, and more. Most healthcare facilities these days prefer hiring RNs with a BSN or higher, so having this degree will make you much more attractive to employers.
RN to BSN Salary Comparison in Maryland
Registered nurses are highly valued healthcare team members, and can be paid handsomely if they have the right education. Payscale reports that RNs in Baltimore, Maryland earn between $53,854 and $86,404 annually. The first step to earning at the top of this range is to complete a BSN degree, which will also prepare ambitious nurses to eventually pursue a graduate degree.