North Carolina RN to BSN Programs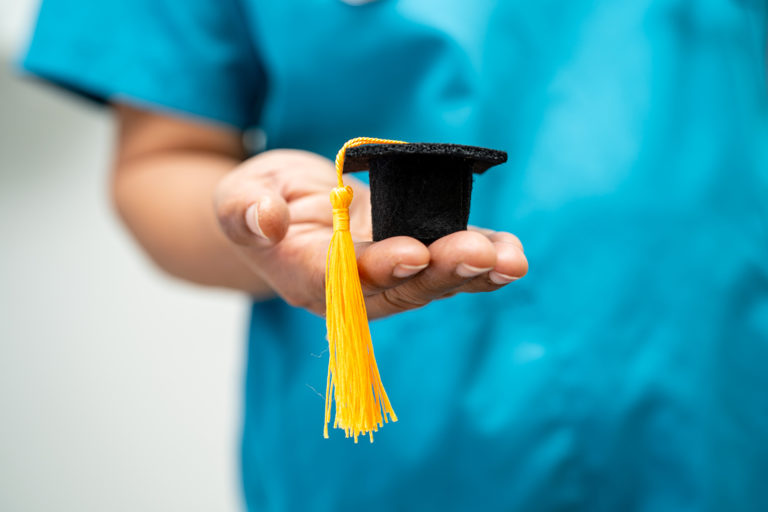 North Carolina universities support the interests and advancements of nursing practice. Encouraged to strive for success by leading faculty, nurses work to promote knowledge-based practice that extends far beyond bedside care. With a clear path of advancement, many nurses choose to continue their education through an RN to BSN program.
2023 - Best Online RN to BSN Programs in North Carolina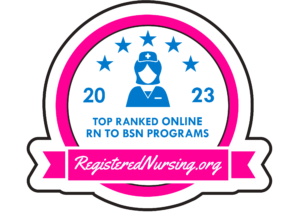 Those who hold an associate's degree in nursing or a nursing diploma and an active RN license are eligible to enroll in an RN to BSN program. These programs have seen a sharp rise in popularity as many hospital and healthcare systems move to hire more BSN-educated RNs. With online options, nurses are able to complete their bachelor's degree while continuing to work or handle other obligations, making it a convenient way to advance a nursing career. To help students choose the perfect program, we have ranked the top online RN to BSN programs in the state of North Carolina. Take a look at our rankings below and find a great program today.
For more information on our top nursing school rankings, visit our Methodology Page (https://www.registerednursing.org/rankings-methodology/).
Admissions Requirements for North Carolina RN to BSN Programs
Having already run the gamut of admissions processes in order to enter their chosen Associate's Degree in Nursing (ADN) program and later apply for jobs, many RNs are already familiar with the criteria that universities require in order to be admitted to an RN to Bachelor of Science in Nursing, or 'BSN' program. While requirements do vary, you'll likely encounter the following admissions requirements when applying to complete your BSN degree:
Complete nursing application
All pre-requisites must have a "C" grade or better
Provide evidence of a cumulative GPA of 2.8 or higher
Provide evidence of "satisfactory" feedback on health screenings
Provide up-to-date immunization records
Submit to a criminal background check and drug screening check
Submit an original typed personal statement
Attend an interview with faculty and admissions staff
RN to BSN Classes & Courses
RN to BSN programming is specifically created by experienced faculty after listening to the feedback given by nurses and healthcare administration. Often the courses build sequentially, creating tight communities of students that expand the personal and professional network of nurses in the state. Universities such as East Carolina University offer such courses as the following to ensure that gaps in knowledge, skills, and experience are filled before degree completion.
NURS 4905 – Nursing in a Global Society
NURS 4906 – Community Health Nursing
NURS 4907 – Nursing Leadership and Finance
Online RN to BSN Programs in North Carolina
The North Carolina Board of Nursing has worked tirelessly to bring excellent education options to nurses in the state, in partnership with state officials and universities. There are approximately 25 universities through which an RN could flexibly continue his or her education; most are affordable for the working professional and accommodating of the demands of a full-time nursing position – many programs are offered entirely online for additional flexibility.
Admissions and Program Length
At North Carolina A&T University, RNs can complete their BSN degree through three semesters of full-time courses taking place over as little as 1 year. Transfer credits are granted to students who hold an ADN, or who show significant experience as an RN. Offered online in an asynchronous fashion, students learn effectively due to the collaborative faculty atmosphere and reduced class sizes. In order to graduate, students are required to complete all 31 credits toward their BSN degree. Please note that the program is accredited by the Accreditation Commission for Education in Nursing (ACEN).
Tuition and Cost of Attendance
Tuition and rates vary from school to school. Additionally, fees may fluctuate so it is best to check with the school of choice for current rates. For example, the University of Mount Olive will run online RN to BSN students for about $455 per credit hour – this does not include any additional costs such as course materials or other fees.
Does an RN to BSN Increase My Salary?
As our patient population ages, we need nurses to learn more and do more in their roles. To this end, there are a number of federal policymakers and nursing profession leaders who have indicated that it would be beneficial for nurses and patients if each nurse had their BSN before being allowed to practice. Some industry observers have noted that the number of RN to BSN programs that have flourished is an indication that society is trying to overcome the credential gap as quickly as possible. Nurses with a BSN might find that they are offered jobs such as nursing education coordinator, nursing home staff nurse, or pediatric home care nurse before their ADN counterparts, simply due to their credentials.
RN to BSN Salary Comparison in North Carolina
Nurses in the state earn wages that are roughly on par with national averages, however, it is difficult to distinguish who earns what – that is, there is no data directly collected about the salary differences between ADN and BSN degrees. We can then assume that ADN-prepared RNs enter the field as the lowest salary earners (about $43,000 per year) and may not ever advance past approximately $55,000. By contrast, BSN holders are likely to enter the field at over $50,000 with more possibilities for advancement. BSN-prepared nurses may also pursue a master's degree and flex their earning potential up to about $85,000 per year over the course of their career.
2023 List of RN to BSN Programs in North Carolina
Benefits for being a BSN nurse in North Carolina include a wage of approximately $70,000 per year, preferential skills when applying to jobs and a career that can move forward quickly. More than 15 different RN to BSN programs are offered within North Carolina. Nurses looking to move their careers into different aspects of health care are encouraged to become a BSN or greater degree nurse, as these qualifications can lead you into the future of what nursing is headed toward. If management/leadership roles, supervisory positions, or outside health care organizations interest you as career options, a BSN degree is what is needed.
Find RN to BSN Programs By City:
Banner Elk, NC
Boiling Springs, NC
Boone, NC
Charlotte, NC
Concord, NC
Cullowhee, NC
Durham, NC
Fayetteville, NC
Greensboro, NC
Greenville, NC
Laurinburg, NC
Mount Olive, NC
Pembroke, NC
Wilmington, NC
Wilson, NC
Winston-Salem, NC
Are we missing your school's program or need to update information listed? Please contact us so we can make the necessary changes.