Oregon RN to BSN Programs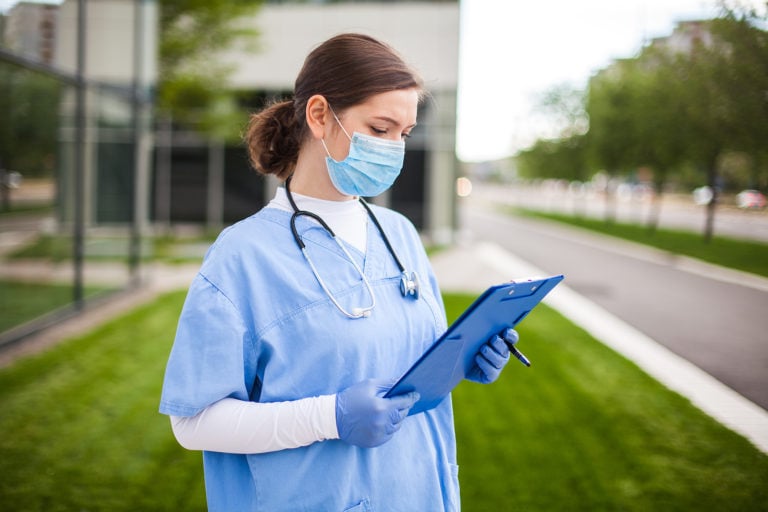 Nurses challenge stereotypes and better community health outcomes every day of their professional lives. Requiring about 1300 more RNs every year from now into the next decade, and with a net growth of about 15% over the next few years, now is a great time for RNs to plan their next career moves to attain their Bachelor of Science in Nursing (BSN) degree or even more credentials. IF you're a current registered nurse in good standing, RN to BSN track is for you.
2023 List of RN to BSN Programs in Oregon
The RN to BSN programs offered in Oregon are unique in delivery; the state has made the curriculum seamless, meaning that candidates can move from one school to another without worry if the curriculum is equivalent. Oregon also offers numerous online programs that can offer flexibility for candidates working while obtaining their degree. BSN nurses in Oregon are experiencing the benefits of holding a degree with job opportunities in an array of health care sectors i.e., public health, government or insurance agencies, and more. Reported yearly salaries for BSN nurses is around $90,000 per year making the decision to upgrade to a degree program an easier choice.
Find RN to BSN Programs By City:
Eugene, OR
Newberg, OR
School of Nursing
414 N. Meridian St.
Newberg
,
OR
97132
(503) 538-8383
Online/Campus Hybrid Instruction
Portland, OR
Are we missing your school's program or need to update information listed? Please contact us so we can make the necessary changes.
Admissions Requirements for Oregon RN to BSN Programs
RNs are quite familiar with rigorous admissions requirements – after all, in order to earn their RN, they had to graduate from an accredited Associate's Degree (ADN) program and then submit credentials in order to take the RN licensure exam in Oregon. Below we've rounded up some of the more common requirements that Oregon RN to BSN programs may ask for in order to finish the BSN-level university requirements:
Submit a completed RN to BSN application package, on time with the appropriate fee enclosed
Minimum cumulative GPA of 2.5 or higher
Provide academic records via official transcript
Submit to a background and drug screening check
Provide up to date immunization record
Professional resume detailing relevant work history
RN to BSN Classes & Courses
As with many other states, Oregon has a number of RN to BSN programs in the state. Designed to help existing RNs close gaps in their theoretical knowledge while being bolstered by their past and current professional experience, nurses will expand their body of knowledge by taking such courses as:
NURS 310 Professional Communication in Healthcare
NURS 321 Evidence-based Nursing
NRS 410B Population Health Practice
NRS 426A Integrative Practicum
Online RN to BSN Programs in Oregon
Few colleges and universities throughout the state offer online RN to BSN programs for nurses to further their career paths and better serve their communities. In previous years, nurses who were interested in working while earning their degree were forced to look out of state, or to hold off pursuing their higher education goals until they could devote part- or full-time hours to their degree. Geographically diverse, Oregon's growing RN to BSN online program options mean that higher education is more accessible than ever before.
Admissions and Program Length
A pioneer in bringing the online degree completion program to nurses throughout Oregon, OHSU RN to BSN students are required to complete three terms (one full year of full-time classes) in order to earn their degree either online or in-person, though part-time options (requiring 6 school terms) are available. Students require about 39 credits to finish their degree.
Tuition and Cost of Attendance
Costs of attendance vary significantly among Oregon's RN to BSN programs. The state's foremost online RN to BSN program offers a tuition rate of about $288 per credit. There will be some additional fees and of course materials. Tuition tends to fluctuate so it's best practice to check with the school of choice for current figures.
Does an RN to BSN Increase My Salary?
While every nurse manages their career according to a complex set of personal and professional factors, it is no surprise that earning further credentials is an easy way to earn more money. A nurse's salary in Oregon can range from $55,000 to $94,000 a year. Nurses with a BSN are more likely to earn closer to the median which is about $76,000. While RNs at the ADN and BSN level possess the same license, employers are more likely to hire those nurses who have a BSN degree. As well, there may be jobs such as nurses in cardiac clinics, burn units and ambulatory surgery clinics that are only open to those nurses with their BSN degree or higher. Having a BSN is also the ideal academic position from which to pursue a graduate or MSN degree.
RN to BSN Salary Comparison in Oregon
The lowest range of salary data, often thought to be earned by nurses with the fewest qualifications and years of experience is about $61,000 – that is, about 10% of nurses earn this amount annually. While no data is directly gathered about the differences between ADN and BSN nurses via the Bureau of Labor Statistics, we can infer that with higher qualifications, BSN nurses who are just starting out probably have a range in earnings that is closer to $71,000 to about $85,000 per year.