Rhode Island RN to BSN Programs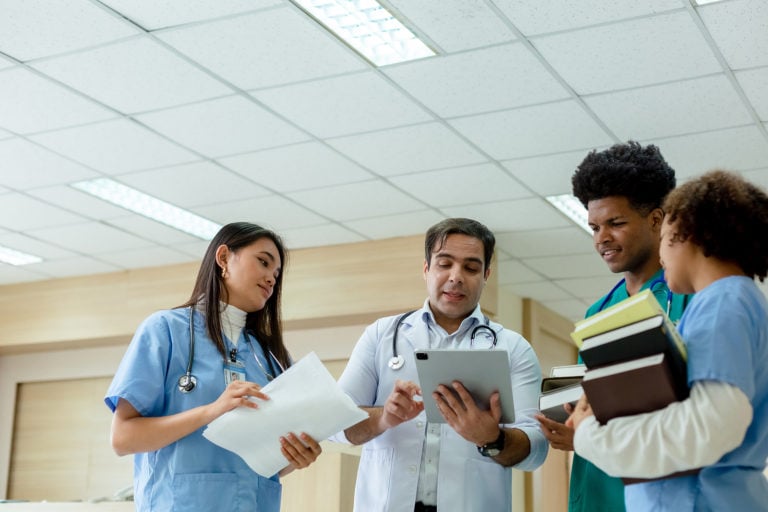 The largest portion of the nursing workforce belongs to RNs, with over 2.5 million nurses working in the United States, according to the Bureau of Labor Statistics. With the profession expected to grow much faster than average, what is the best course of action for a nurse who wishes to advance in their career? Easy – continue working while pursuing the next level in their professional designation, that is, the Bachelor of Science in Nursing. Many universities offer online and flexible RN to BSN. Nurses can use their experience and ADN degree for credit toward their BSN degrees.
2023 List of RN to BSN Programs in Rhode Island
The move toward BSN nurses is quite significant and the state of Rhode Island is greatly supporting the movement. Some hospitals in the state are providing reimbursement programs for nurses that are working in the field and upgrading their skills. Several Rhode Island colleges have been listed on the Association of Colleges of Nursing as offering RN to BSN programs within the state. Rhode Island has an increasingly complex health care system that will require more qualified nurses; a BSN degree would provide the qualifications you would need to provide the level of care needed. Compensation for nurses with a BSN is close to $10,000 more annually than that of an ADN nurse.
Find RN to BSN Programs By City:
Kingston, RI
Newport, RI
Providence, RI
Are we missing your school's program or need to update information listed? Please contact us so we can make the necessary changes.
Admissions Requirements for Rhode Island RN to BSN Programs
RN to BSN programs have undergone radical expansion in light of our nation's need for highly qualified nurses. Universities vary in their admissions criteria, but still, there are definitely more similarities than differences in what makes a candidate attractive to nursing faculty. We've listed some of the most common criteria below.
Submit a completed application
Overall GPA of 3.0 or higher
Provide a copy of the ADN degree from a regionally accredited school
Provide a record of current immunizations and 'negative' drug screening test
Have a recent record of clear background check
Provide current and valid nursing license data
RN to BSN Classes & Courses
Salve Regina University in Newport has been a provider of nursing programs almost since its inception in the 1930s. With its newest online offerings for RN to BSN programming, Salve continues its commitment to the community of Newport to provide quality education and service to residents and guests. A sample of the programming that nurses will be exposed to looks like this:
Experiential Learning: Aging and End of Life Care
Public Health and Disaster Response Planning
Leadership and Management
Service Learning
Healthcare Informatics
Online RN to BSN Programs in Rhode Island
There are a few online RN to BSN programs throughout the state – an economical way for RNs to continue building their professional credentials without the costs associated with out-of-state scholarships for working professionals. Like other states, Rhode Island BSN degrees must be accredited by either the American Association of Colleges of Nursing (AACN) or the Accreditation Commission for Education in Nursing (ACEN), and require 120 credits (newly earned or in partial transfer from a completed ADN program) in order to earn a BSN.
Admissions and Program Length
Students at the University of Rhode Island will submit their ADN transcripts first for review in order to see how many credits are left to earn from the standard 120 that comprises a BSN degree. Usually, students are left to earn 30 – 45 credits, which may take as little as 2 semesters, or as many as 6.
Tuition and Cost of Attendance
Nurses who live in the state of Rhode Island can apply to Rhode Island College's RN to BSN program using the in-state tuition fee schedule of about $280 per credit. This base fee, while among the lowest in the state, is exclusive of additional administrative and activity fees that are a student's responsibility toward their school of choice along with the tuition.
Does an RN to BSN Increase My Salary?
Roles such as a geriatric nurse, hospice administration, and hospice care nurse are roles that are only open to those with more advanced qualifications such as a BSN. While some markets for nursing skills do vary across the country, it is easy to see that with qualifications that are more academic there is a definite rise in salary.
RN to BSN Salary Comparison in Rhode Island
With a median salary for RNs of about $66,000 per year, we can make some educated guesses about how much an ADN nurse makes, compared to a BSN nurse. The entry point for nurses is about $43,000 with the top end coming in closer to $90,000. With more jobs than ever being awarded to BSN holders, and ADN holders being limited in terms of growing their income potential – it's easy to note that ADN holders like start and stay around the lower end, while BSN holders probably start around $66,000. BSN holders are also ideally positioned to start working toward their advanced level degrees that offer salaries of between $80,000 and $100,000 annually.