Clinical Nurse Specialist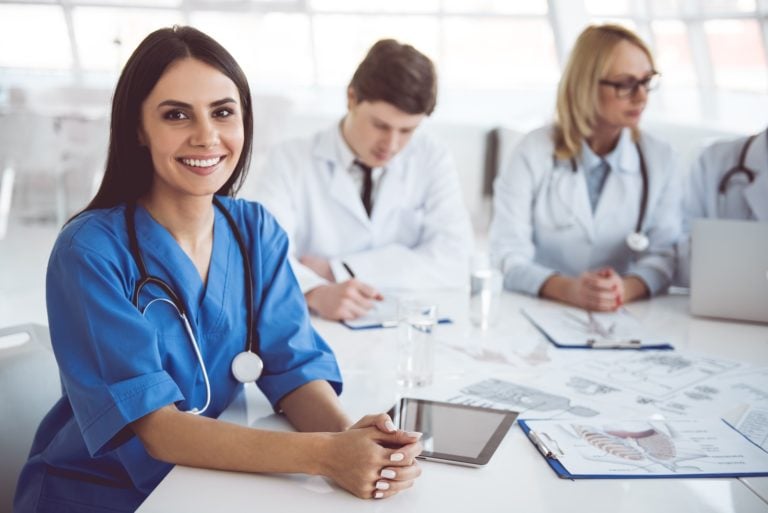 What Is a Clinical Nurse Specialist?
A clinical nurse specialist (CNS) is a graduate-level registered nurse who is certified in a specialty of choice. Obtaining specialty certification demonstrates an advanced level of knowledge as well as advanced clinical skills in a niche area of nursing.
There are differences between a nurse practitioner (NP) and CNS. While both are advanced-practice registered nurses, their roles are different.
Nurse Practitioners:
Take comprehensive health histories
Diagnose, treat, and manage chronic and acute illnesses
Often act a primary care provider
Prescribe medications
Clinical nurse specialists have a different scope of practice. They can prescribe medications if they apply for authority to do so, but this is not always required in their practice. They usually focus on education, research, and consulting.
Why Are Clinical Nurse Specialists So Important?
Clinical nurse specialists are leaders in the field of nursing. They serve as mentors, educators, and advocates. They demonstrate expertise in their specialty area and maintain strong clinical skills.
As leaders, they can also promote and facilitate change. They utilize evidence-based practice to educate other nurses and to assist in developing cost-saving strategies in the delivery of care. They can also bring their observations and experience in patient care and apply it to research, policies, and to improve practices.
How to Become a Clinical Nurse Specialist
Nurses looking to advance to a CNS should value evidence-based practice. This means adhering to practices that have been proven effective through clinical research. Since research and therefore practice is always changing, nurses interested in a CNS role should be flexible and willing to facilitate and accept change.
Nurses should also be interested in education, as educating other nurses on best practices and current research is a significant component of what they do.
Nurses should be able to work well in groups and utilize a team approach to healthcare. A large part of the CNS role is to collaborate with all members of the healthcare team. Effective communication is essential.
Leadership skills are also a must with CNSs. They serve as mentors to nurses and bring their knowledge of bedside nursing to organizational leadership to improve clinical practice.
What Are the Educational Requirements for a Clinical Nurse Specialist?
Clinical nurse specialists are advanced-practice registered nurses who have completed a master's program in nursing (MSN) or doctoral degree program (DNP). A DNP is necessary for those who wish to focus on research.
To advance to a master's degree or doctoral in nursing, a student must complete an accredited nursing program and obtain a bachelor's degree in nursing (BSN). Students should be sure the school is accredited by the Commission on Collegiate Nursing Education (CCNE) or the Accreditation Commission for Education in Nursing (ACEN).
Successful completion of the NCLEX-RN is needed for licensure. The length of time it takes to obtain an MSN depends on the nurse's starting point:
Nursing students enrolled in a BSN program complete in about four years
RN to BSN takes about two years
BSN to MSN takes about two years
BSN to DNP takes three to four years
MSN to DNP takes one to two years
Additionally, both online programs and classroom programs are available to accommodate students. Both types have pros and cons depending on students' needs, therefore researching individual schools is encouraged.
Find a clinical nurse specialist program.
Schools may offer CNS tracks in:
Adult health
Adult gerontology
Acute care
Pediatrics
Psychiatric/mental health
Women's health
Community care/health
General advanced-practice courses include concepts such as:
Health promotion and maintenance
Advanced pathophysiology
Advanced health assessment
Pharmacology for advanced practice nurses
The core curriculum for clinical nurse specialists include courses on:
Theory and ethics
Application of research to practice
Context of health care for advanced-practice nursing
Statistics in nursing research
Are Any Certifications or Credentials Required?
Upon completion of the MSN or DNP program, clinical nurse specialists can obtain additional certification(s) in the specialty of choice. The American Nurses Credentialing Center (ANCC) offers certification in the following areas:
Adult health
Adult-gerontology
Adult psychiatric-mental health
Child/adolescent psychiatric mental health
Pediatrics
Basic requirements for certification are:
Current RN license
MSN, Postgraduate, or Doctoral degree
Graduate program must include three separate courses in

Advanced physical/health assessment
Advanced Pharmacology
Advanced pathophysiology

Worked a minimum of 500 supervised, clinical hours in the CNS role and population of choice
Additional requirements are needed for certification in adult gerontology, pediatric, and mental health specialties. Certification is obtained by exam and is valid for five years.
Other certifications are available as well and may meet state board requirements. For example, the American Association of Critical-Care Nurses (AACN) offers certification for adult, pediatric, and neonatal acute care CNSs, and meets the standards for the California BRN. Nurses are encouraged to review the requirements outlined in their state board of registered nursing.
Although BRN requirements can vary from state to state, CNSs must complete the following for licensure:
Submit verification of completion of a graduate degree program
Submit transcripts of the completed graduate degree program
Provide verification of certification from an organization/ association (such as the ANCC)
Clinical Nurse Specialist FAQs
A CNS can work with a variety of professionals, and it depends on where they work. In the hospital setting, for example, a CNS can interact with those involved with direct patient care such as:
Nurse assistants
Technicians
Physicians
Nurses
Respiratory therapists
Physical Therapists
However, as master's or doctorally-prepared specialists, they can also work alongside administrative staff such as:
Managers (clinical and non-clinical)
Supervisors
Department Secretaries
Directors
Researchers
The beauty of a CNS role is that it is multi-faceted. They straddle both the patient care and administrative role. In this liaison-type role, they can gather information from the front lines of patient care and use it to develop ways to improve healthcare delivery.
What Does a Clinical Nurse Specialist Do?
Clinical nurse specialists have many roles in the healthcare field. They are responsible for:
Ordering medical tests/treatment
Examining patients and diagnose illnesses
Treating disease unique to their specialty
Promoting wellness
Conducting research in their area of specialty
Assisting in creating, upholding, and revising policies and procedures as well as standards of care using current evidence-based research
Provide clinical expertise in various clinical areas
Gather data from medical records and patients to improve care and health care services
Collaborate with the interdisciplinary health care team to create, review, and revise treatment plans
Educate and mentor nurses
Designing evaluation tools to assess the quality of different patient care and education programs
Act as a supervisor or manager to nursing and ancillary staff
Clinical Nurse Specialist Concentration Areas
Clinical nurse specialists can choose from a wide variety of specialties. Specialty areas can be based on:
Population, such as:

Pediatrics
Adult health
Neonatal
Women's Health
Geriatrics

The setting, such as:

Emergency room
Critical care
Medical/Surgical Units
Home health
Health centers

Disease/Subspecialty, such as:

Diabetes
Oncology
Infectious disease
Orthopedics
Neurology

Type of care, such as:

Psychiatry
Public health
Rehabilitation

Type of health problem, such as:

Pain
Wounds
Stress/anxiety
These five specialty areas may overlap as well. For example, a CNS could work in pediatric neurology, or a public health CNS can specialize in HIV/ infectious disease.
Clinical Nurse Specialist Working Conditions
Clinical nurse specialists can work in the following areas:
Hospitals
Outpatient (clinic) settings
Physician offices
Student health Centers
Community health centers
Home health agencies
Mental health facilities
Clinical nurse specialists usually work regular business hours. However, the collaboration between physicians and medical staff may require occasional weekend, evening, and holiday shifts—especially considering most CNSs work in the hospital setting.
CNSs often work in direct patient care, but some work in administrative, consulting, research, and supervisory positions where direct patient care is not required.
Clinical nurse specialists may work in high-risk areas that may expose them to workplace violence, blood borne pathogens, and chemicals. However, not all work areas are risky, such as research and education. Regardless of the chosen work area, workplace safety training is mandatory and ongoing, and most organizations strive to protect the safety of its workers.
Clinical Nurse Specialist Employment Outlook & Salary
Clinical nurse specialists have a unique role. They apply their expertise not only to direct patient care but to research and practice improvement projects. They strive to advocate for high-quality care to achieve the best outcomes for patients.
While the Bureau of Labor Statistics does not have statistics specifically for CNSs, the growth for advanced-practice RNs, in general, is expected to rise 31% by the year 2024. This increase is believed to be due to an increase in the demand for healthcare, emphasis on preventive care, and a large population of aging patients.
According to a survey by the U.S. Department of Health and Human Services, there were 59,242 CNSs in the United States, the second largest group of advanced-practice RNs. Additionally, over 90% of CNSs report feeling moderately-to extremely satisfied in their job.
For organizations to remain sustainable during potentially turbulent political times, they can utilize clinical nurse specialists to help maintain the delicate balance of cutting-edge, quality care and cost efficiency. This results in CNSs becoming a highly sought-after resource for employers.
According to salary.com, the median salary of clinical nurse specialists is $99,550 as of June 2017, with a range of $89,999-$109,045. Salary can vary depending on the city/state of employment, additional certifications held, experience level, and the organization.
Helpful Organizations, Societies, & Agencies