Nurse Case Manager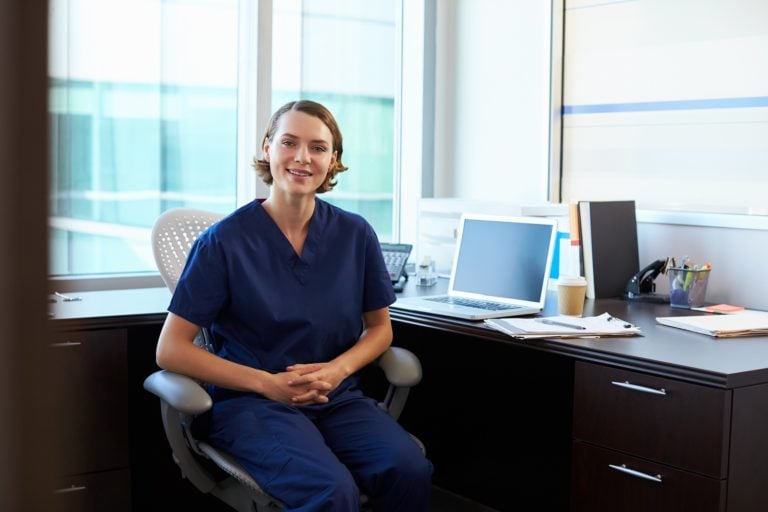 What Is a Nurse Case Manager?
A case management nurse oversees the long-term care plan for his or her patients. Often working with a specific type of patient requiring ongoing medical care (e.g., geriatrics, HIV/AIDS, or cancer patients), the case management nurse collaborates with other medical professionals to create and implement a long-term care plan that insures a patient gets the comprehensive care they need. Case management nursing is a particularly rewarding field that allows nurses to develop long-term relationships with their patients, often working with them for the entire course of their illness and treatment.
Becoming a Nurse Case Manager
Once a nurse earns a nursing degree and secures an RN license, obtaining hands-on experience is the next step, often through an internship in case management. Many nursing students also have the opportunity to perform clinical rotations that include case management work. Prior to obtaining a full-time case management nursing position, many nurses seek to obtain a professional certification in case management from an accredited organization such as the American Nurses Credentialing Center.
A typical job posting for a case management nursing position would likely include the following qualifications, among others specific to the type of institution and patient population:
Active RN license, BSN, or MSN preferred
Minimum 1-2 years of professional nursing experience
Professional experience in case management, utilization reviews, or discharge planning experience preferred
Excellent interpersonal and communication skills for working with patients, caregivers, and medical teams on an ongoing basis
Strong organizational skills, coupled with solid computer skills needed to coordinate appointments and maintain a patient's care plan
To search and apply for open case management nursing positions, visit our job boards.
What Are the Education Requirements for Case Management Nurses?
Most case management nurses hold a Bachelor's of Science in Nursing degree, which is a requirement for many case management nursing certifications. While a few employers may only require an Associate of Science in Nursing degree, applicants with a BSN likely have a competitive advantage. Case management nursing is also an option for advanced-practice nurses who hold a Master's of Science in Nursing degree. All case management nurses must hold an active RN license, which can be achieved by passing the NCLEX-RN. Most hospitals and healthcare employers prefer case management nurses to have prior professional clinical experience.
Learn more about MSN in Case Management programs.
Are Any Certifications or Credentials Needed?
While not all healthcare employers require case management nurses to be certified, applicants with relevant certifications will certainly have an advantage when competing for case management nursing positions. The American Nurses Credentialing Center offers the Nursing Case Management Certification, the Accredited Case Management Credential is offered by the American Case Management Association and the Commission for Case Manager Certification offers the Certified Case Manager credential.
Eligibility requirements for these certifications vary and generally include a blend of education, practical training, and clinical experience.
Where Do Nurse Case Managers Work?
Case management nurses have the unique opportunity to work in a wide range of settings, including hospitals, clinics, and private practices. Case management nurses also work in facilities for patients with long-term medical issues such as nursing homes, hospice care facilities and home healthcare companies. Case management nurses interested in a high level of autonomy may also consider becoming independent case management consultants.
Nurse Case Manager FAQs
An emergency room is a fast-paced environment that includes a variety of staff including doctors, nurses, nursing assistants, registration/front desk, environmental service workers, laboratory staff, nurse practitioners, physician assistants, and in some hospitals, even a case manager.
A case manager in the emergency room is most commonly filled by a registered nurse due to their clinical experience. The essential job functions of the nurse case manager are to manage patients to the appropriate level of care (which may or may not include hospitalization), ensure optimum utilization of resources to promote cost-effectiveness, safe discharge planning, and the overall improvement of patient satisfaction in a timely manner. It is important to note that not all ERs require case managers due to their patient population.
Depending on the position, a case manager may be asked to complete a Utilization Review (UR). UR is the process of reviews and audits that ensure patients do not receive any unnecessary care to increase the cost of their healthcare.
Emergency room case managers have a unique role in that not all patients who enter the ER meet inpatient criteria for admission, but may require additional services for a discharge.
Discharge planning is critical to health care. It helps to transition patients from the hospital to home by collaborating with the physician, bedside nurses, specialists, and other healthcare team members. Discharge planners review not only the physical needs of the patient but psychosocial and financial needs as well. They work to remove barriers that may delay recovery or healing while at home. For patients who are still need continuing care, they arrange for admission to a skilled nursing facility, rehab facility, or assisted-living facilities.
Utilization review nurses work to examine the cost efficiency of healthcare services while maintaining quality of care. They review medical records to ensure patients are not undergoing unnecessary and costly procedures and are not remaining needlessly in the hospital. They also help educate patients on their individual benefits plans,
Both discharge planning and utilization review overlap with case management. Case management nurses, as with discharge planners, work collaboratively with the healthcare team to meet the needs of the patient. However, while discharge planners focus on the transition out of the hospital, case managers focus on the entire stay as well as out in the community. Additionally, case managers also perform utilization review, ensuring patients are not over-utilizing resources unnecessarily while receiving the care they need.
Case management nurses usually work in healthcare organizations such as hospitals and outpatient clinics. However, there are opportunities to work from home. Working from home allows case management nurses to have a high level of autonomy and flexibility
One career opportunity is as an independent consultant. Some companies (i.e., insurance companies) hire case management nurses to manage claims. Sometimes the case management nurse working as a consultant must still attend meetings and meet with clients, etc., so it may not always be 100% home-based.
Other case management positions allow telephonic work, but occasionally visiting patients may be required, and checking in at "the office" may also be required.
Case management nurses looking to work from home must be self-directed and learn how to be self-paced. It can be challenging to create your own workflow at home, and nurses must know how to "shift gears" when necessary as there is an intermingling of both work and home.  All in all, working from home allows for a healthy work-life balance once the case management nurse learns to structure their day to be able to complete their work and home responsibilities.
What Does a Nurse Case Manager Do?
Case management nurses partner with a patient and their medical teams to create and implement a long-term care plan tailored to the patient's specific illness, medical history, and lifestyle. An advocate for the patient and their caretakers throughout the course of their illness, case management nurses coordinate doctors' visits and surgeries, educate patients on their treatment options and the latest research, and often act as emotional support to patients in need of long-term care. Case management nurses often specialize in a specific group or type of patient; for example, working with patients suffering from cancer, diabetes, HIV/AIDs, Alzheimer's disease, or physical disabilities. Case management nursing offers a unique opportunity for nurses to develop deep connections with patients, often working with them throughout the full course of their illness.
What Are the Roles and Duties of a Case Management Nurse?
Work with a team of medical professionals to develop and implement a comprehensive care plan based on the patient's illness and medical history
Coordinate doctor's appointments and schedule surgeries
Monitor medication usage by a patient
Educate patients and caretakers on different treatment options and resources available to them
Monitor and update treatment plans to reflect the latest in a patient's condition or lifestyle
Research the latest treatments and procedures in their chosen area of specialization
Work with insurance companies to help patients receive the most cost-effective care available
Learn more about case management via our NCLEX-RN case management section
Nurse Case Manager Salary & Employment
Case management nurses make a median salary of $69,233 with a range of $54,565 – $86,446. Factors affecting a case management nurse's salary include geographic location, certification status, and education level as well as the type of employer (e.g., hospital, nursing home, or private practice).
The employment outlook for case management nurses is very positive, due to an increase in the aging population and the rising prevalence of medical conditions that require long-term care, such as diabetes and heart disease. There is also a wide range of employers looking for professional case management nurses, from hospitals and clinics to nursing homes and hospice care facilities.
Helpful Organizations, Societies, and Agencies