Difference in Workplace Roles of LPN's and RN's of Varying Education Levels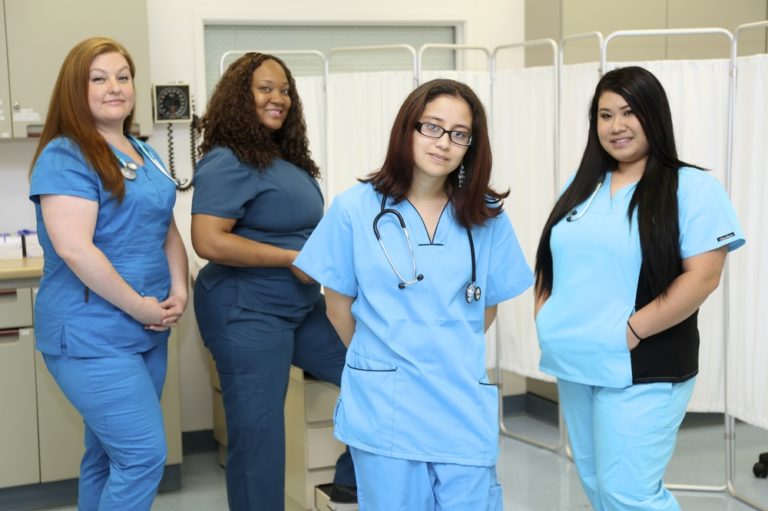 With the increasing age of the Baby Boomer generation and the onset of Obama Care, the need for nurses as never been greater. Skilled nursing facilities, hospitals, acute care rehabilitation, outpatient surgical centers, physician offices, and countless other medical facilities are hiring nurses now and will be in the future. Those drawn to a career in nursing have never had so many options, but which nursing program is best for you?
LPN
Short nursing programs, some only 13 months
Make less money than RNs
Work directly under RN supervision
Are usually limited to non-supervisory workplace roles
Are usually limited to employment in certain types of facilities
May enter LPN to RN programs with little or no waitlist
RELATED: LPN to RN Programs & Entry Level Nursing Careers
Associate's Degree RN
Program approximately 2 years in length
Make more money than LPN but usually less than BSN
May be hired by some facilities with the stipulation to earn BSN within a specified timeframe
May be eligible for 100% online RN to BSN courses
Are usually hired into New Graduate RN programs without difficulty
Learn about ADN degrees.
Bachelor's Degree RN
Program approximately 4 years without any previous degrees
May enjoy preferential hiring over Associate's Degree RNs
Can enroll in graduate degree nursing programs, some 100% online
May experience long waitlists for program acceptance
May hold supervisory positions in some facilities
Learn about BSN degrees and RN to BSN programs.
LPN Education in the Workplace
The Licensed Practical Nurse (LPN), the Registered Nurse (RN) with an Associate's Degree in Nursing (ADN), and the RN with a Bachelor's Degree of Science in Nursing (BSN) are offered at most schools. For working LPNs, many schools offer LPN to RN programs and for RNs, finding an RN to BSN program is usually fairly easy. For college graduates, many programs even offer bachelor to BSN degree programs. Depending on the education level, many if not all classes may be available online.
When considering which program to choose, the prospective nursing student should decide which type of workplace, patient population, and time frame to graduation they wish to accomplish. Also his or her current education level.
The LPN or Licensed Vocational Nurse (LVN), the title depends on which state you live in but is the same role, is a nurse who has a diploma in Practical/Vocational Nursing and has completed a program approximately 1 year in length. These programs are usually offered at vocational schools or private nursing schools and often require entry-level testing and fluency in speaking, reading, and writing English. Many require some college-level prerequisites with a decent GPA to be accepted.
The best thing about these programs is their fast track style, short waiting lists due to quick semesters, relatively low acceptance requirements versus universities, and their fast but intense syllabi. They are usually full-time programs with lots of homework and high GPA requirements. But if the student is up for a challenge, wishes to start working as a nurse quickly and earning a decent salary, then it may be the perfect fit. If interested in becoming an RN at some point, the LPN can work while attending an LPN to RN program.
Employment as an LPN is usually in Skilled Nursing Facilities, physician's offices, urgent care offices, rehabilitation, and some hospitals, although many are phasing out the LPN role. This is usually because while LPNs are licensed and therefore required to pass the NCLEX-PN but are still required to work under a registered nurse's supervision. LPNs are paid more than CNAs but not quite as much as Registered Nurses. However, entering into a specialization can raise an LPNs salary significantly.
Many CNAs, medical assistants, and non-healthcare workers attend school to transition into the LPN role and his or her workplace may even offer financial education assistance. Some schools may offer evening programs to accommodate working student.
The most commonly employed nurse is a Registered Nurse (RN). There are two undergraduate degrees available and many ways to earn either one. The Associate Degree in Nursing (ADN) and the Bachelor's degree of Science in Nursing (BSN) both require passing the state NCLEX-RN and graduates from both programs will be able to apply to most available nursing positions. The biggest difference is the time frame it takes to complete each program.
RELATED: LPN vs RN, Working Together: RNs and LPNs
RN with ADN Education in the Workplace
The registered nurse with an ADN has completed approximately 2 years of nursing school, not including prerequisites, and graduated with an Associate's degree. Most if not all ADN programs require prerequisites. These programs are usually offered at a community college, vocational school, or private nursing college. They usually have waitlists and GPA requirements. Many schools offer LPN to ADN programs and these traditionally have shorter waitlists.
ADN program graduates are required to sit for and pass the NCLEX-RN then he or she may apply for positions as an RN. This is a sharp contrast to the university setting which requires 4 years of nursing school to sit for the NCLEX-RN and begin a career in nursing. A majority of facilities hire ADN level nurses at the same pace as BSN level nurses. Some larger hospitals may require the nurse to obtain a BSN within a certain amount of time after hire, usually about 5 years. Some hospitals do not require a BSN at all. The best approach is to read the job requirements for the desired facility before deciding on a nursing program.
RN with BSN Education in the Workplace
The registered nurse with a BSN degree has completed approximately 4 years of nursing school and has graduated with a Bachelor's degree of Science in Nursing. Like the ADN program, most if not all BSN programs require prerequisites before applying. These programs are offered at universities, both online and in person. Many programs are highly competitive and only students with very high GPAs in prerequisite courses will be considered. However, if time is not a factor or the waitlists are short and the student's GPA is strong, graduating from a university may be less expensive and carry less of a hassle-factor than attending different nursing schools to ultimately earn the BSN.
RN to BSN, LPN to BSN, or Bachelor's to BSN programs is offered at many schools. Many even offer 100% online classes. These are not offered to students below the ADN level due to state-required clinical hours and the necessary hands-on learning that occurs in the first 2 years.
A career in nursing, at any education level, maybe the most emotional, exciting, challenging, and rewarding career move an individual can make. Finding the right match for each prospective nursing student may be difficult and time-consuming, but the end result will make it all worthwhile.
LPN & RN FAQs
Each facility should have a process for overseeing students and probationary employees which typically includes a checklist of skills. Once the preceptor, or person assigned to orient and train the student, has deemed the student capable of managing skills on their own, the preceptor can act as a resource to the student and no longer needs to oversee each task.
If the preceptor determines that the student is not able to manage the tasks on their own after appropriate instruction over time, the preceptor should consult with the charge nurse or manager so feedback can be provided to the school of the student's failure to perform at the expected standard level.
Students should refer to their school's policy or the policies of the institution for further clarification.

Latest posts by Amanda Bucceri Androus, RN, BSN
(see all)