Nursing Care for a Mesothelioma Patient
The journey for any cancer patient is a terrifying experience. For those rare patients diagnosed with mesothelioma, the pathway is no different, yet with typically a very poor prognosis of a median survival rate of 8-12 months. Nursing care of these specialized patients comes in many forms over the numerous touchpoints of the treatment plan for these distinctive patients. According to MesotheliomaTreatmentCenters.org, centers around the country utilize nurses in many aspects. Below we look at the many specializations who may be present and how they interact with patients: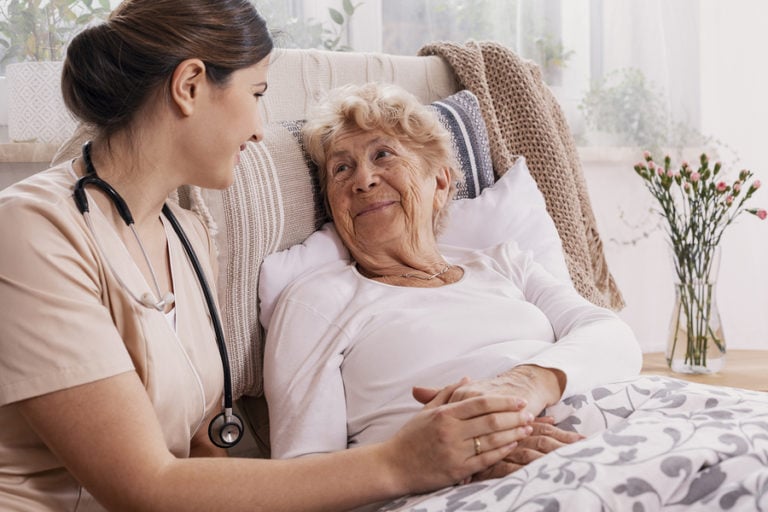 Physician Office
Most patients who are eventually diagnosed with mesothelioma present to their doctor's office complaining of fatigue, shortness of breath and cough. As these symptoms can be related to many other diagnosis and disease states, nurse practitioners and other primary care providers, after a complete history and physical, order diagnostic studies to begin ruling out the cause of the symptoms. The latency period of the cancer can be as long as 70 years post-exposure to asbestos. Therefore, clinicians must consider the long histories of such patients for a timely diagnosis and treatment plan.
RELATED: Inherent Risks of Pesticides – Nurse's Point of View
Interventional Radiology
Once mesothelioma is suspected, a patient must undergo a biopsy of the affected tissue to confirm the grave diagnosis. Nurses in the diagnostic radiology department provide education and support to the patient and family before, during and after the procedure. Nurses often times will administer medications to the patients to keep them comfortable during the biopsy, will advise how to care for the puncture site and when to call the doctor.
Operating Room
Once diagnosed with mesothelioma, the multimodality treatment plan includes surgery to remove the cancer and strip the pleural lining of the lungs. Additionally, most patients will undergo a second surgery to remove lymph nodes to reduce the change of the cancer spreading throughout the body. Nurses play a key role in the operating room (OR) before, during and after surgery. Nurses will prepare the patient prior to surgery to confirm the health history and note any allergies or special needs during the procedure. Many facilities have advance-practice nurses, called Nurse Anesthetists, who perform the role of putting the patient to sleep and keeping the patient comfortable during and after surgery. Nurses assist the surgeon during the surgery and also monitor the patient once the surgery is complete. Patients and families rely heavily on the nursing staff in the OR environment for pain relief, information and support.
Oncology
Patients who are candidates for chemotherapy interact intimately with the oncology nurses. Nurses administering chemotherapy are experts in providing excellent clinical and psychosocial care to patients undergoing treatment. Oncologists and pharmacists are present in the treatment center, but nurses are at the heart of the treatment plans as they place intravenous or long-arm catheters and initiate the medications. "It takes a special personality to choose an oncology specialty." reports Danna Wood, MSN, RNC, ONC "We not only provide care and treatment, but compassion, friendship and hope to those we serve. Many mesothelioma patients shared that they felt they had been robbed of their life as the employers were pushing for productivity even though they knew the conditions were hazardous. For the few patients I knew that received settlements, they would have given it all back just to have more time with their families. This cancer not only stole years from them, but most of the wives came from an era where the husbands took care of everything for them. It was so sad to see how lost they all were without these patriarchal figures leading their families." Nurses are also part of the care team when deciding to stop treatment, such as when the patient is not tolerating the treatment medications.
Radiation Therapy
Radiation therapy is used many ways for mesothelioma patients. Prophylactically, radiation therapy is used to treat the site of the intended biopsy as this procedure may contribute to the development of tumor growth, or metastasis, along the biopsy scar. Typically, radiation therapy is used more as a palliative solution to keep patients more comfortable as the tumors are reduced significantly with treatment. Radiation oncology nurses provide care, education and support to the patients and families of those receiving radiation. As many treatments are daily for many weeks or months, nurses not only form a bond with their patients, but they are responsible to understand radiobiology and the principles of radiation to mitigate side effects and unnecessary risks in the treatment dosing.
Palliative Care
In spite of all efforts to provide care and treatment, the prognosis for mesothelioma patients surviving past 5 years is very small, less than 14% for most types. That said, an important part of the multimodal care team is the palliative care nurse. Palliative care is a specialized team of nurses, physicians, pharmacists and social workers who provide resources and support to the patients and families who are diagnosed with a terminal illness. Different than hospice, although the roles are symbiotic, palliative care nurses intervenes and provide support that can include curative therapy as well as comfort therapy. Patients with mesothelioma utilize palliative care services to receive help with physical and psychosocial needs such as transportation, respite care or psychotherapy to manage this complex and tragic cancer.
Hospice
When a patient with mesothelioma is expected to pass away within 6 months, the patient can be referred to hospice as a support program. Hospice nurses are trained to assist the patient and family through the last stages of life in a comfortable environment, usually at home. Linda Lee, RN describes her role as a hospice nurse. "The goal of hospice is to provide comfort and dignity to the patient and family through emotional support and if needed, medication." Part of the hospice care team, the nurse is responsible to keep the patient comfortable and to provide education as they navigate the imminent death of the patient.
Nurses play a vital role in the education, care, and advocacy for patients diagnosed with mesothelioma. As treatment options are updated for this rare cancer, the nursing role and responsibilities must adjust and react accordingly to continue to provide excellent care that is expected of nurses.
Featured Nursing Programs

Latest posts by Amanda Bucceri Androus, RN, BSN
(see all)