2022 – Dual MSN/MBA Degree Programs Online & Campus
Nurses who have mastered bedside nursing and who strive to facilitate change from a higher leadership role would benefit from looking into earning a dual MSN/MBA degree. This degree combines the traditional Master of Science in Nursing (MSN) with a Master of Business Administration (MBA) to demonstrate that the nurse has leadership as well as business skills. It prepares the nurse to assume roles in leadership, management, and at the executive level. The role of the MSN/MBA nurse is to utilize nursing leadership skills and principles of finance and economics to facilitate change within a healthcare organization and improve efficiency and patient care outcomes.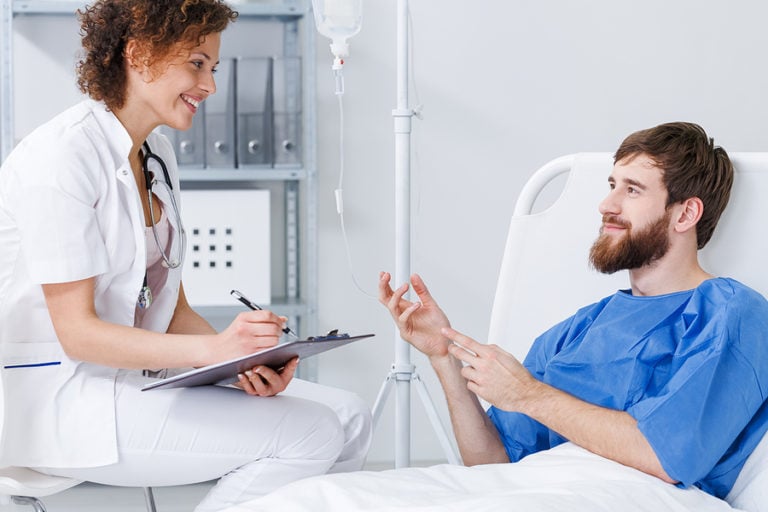 Which MSN/MBA Program Is Right for Me?
So how do nurses choose the right program? There are many considerations that prospective students should look into based on their individual career goals and needs. Some of the frequently-researched considerations include the following:
Do MSN/MBA Programs Offer Campus or Online Options? – MSN/MBA programs are offered in both online and in-person/campus formats. Online learning is beneficial for working nurses as it provides flexibility as well as self-paced learning.
Is the MSN/MBA Program Accredited? – Accreditation is critical when choosing an MSN/MBA program. Nursing programs in the United States must be accredited by either the Commission on Collegiate Nursing Education (CCNE) or the Accreditation Commission for Education in Nursing (ACEN). A school might be locally accredited, but national certification is usually required for licensure, and it ensures that the school has met educational standards based on the degree type.
MSN/MBA Program Course Topics – Students can expect to take courses in advanced practice nursing and nursing leadership, as well as courses in the field of business. Business courses may include accounting, marketing, and finance.
Associated Tuition Costs – The cost to complete an MSN/MBA program greatly varies by state and by the school. Base tuition can cost several hundred dollars to around a thousand per credit hour. It's important to remember that the cost of books and supplies, as well as university fees, are added.
Online MSN/MBA Program Advantages
Flexible Schedule
Online nursing programs have many advantages. Many nurses, especially those pursuing advanced-level roles, must continue to work while attending school. As many nurses are aware, nurses often work around-the-clock, and on weekends and holidays. Therefore, the more flexible a program, the better. Online learning allows for nurses to complete coursework when they can. They can also arrange for mentorship or clinical hours to work with their current work schedule.
Nurses can also work at their own pace. Many programs allow for self-paced learning, but some schools place caps on the time frame in which the program must be completed. For example, a school may require all coursework to be completed within six years. Self-paced learning is beneficial for those who learn best by alternative methods (such as reading as opposed to listening to lectures).
Tuition and Costs
As stated earlier, tuition is variable depending on several factors. One factor is location. Tuition varies based on the state and even the city in which it is located. Some states are more expensive than others.
Residency status is another factor that can affect tuition. Out-of-state residents may be required to pay higher tuition. Again, this depends on the school. However, some online programs charge a flat rate for programs regardless of residency status.
The good news is that most schools offer financial aid options as well as incentives when enrolling. Additionally, banks and other financial institutions offer tuition aid/loans, so students needing financial aid are encouraged to shop around for the best offers. Some employers offer nurses tuition reimbursement as well.
Accessibility and Convenience
Online programs are extremely convenient; nurses can study when and wherever they can. They can access learning content anywhere there is a computer and internet, and at any time. A night shift nurse may wish to study at three in the morning, while another nurse may need to cram on a Saturday after working full-time during the week.
Additionally, online programs are beneficial for those living in more remote or rural areas. Commuting long distances to campus, sometimes in terrible weather, finding parking, and racing to get to class on time is a thing of the past with online programs.
Fast Completion
Since online learning allows for self-paced study, nurses can get through the program faster. This helps get the nurse out into the workforce and into their new advanced-level role sooner. The program usually takes around three years to complete if attending full-time, four or five years if part-time. When possible, nurses can attend full time and finish in as early as two years when enrolled in an online program.
MSN/MBA Program Curriculum
The core concepts for dual MSN/MBA programs are standardized, although the learning format is different in online programs. Rather than in-person lectures, learning content can be in module formats online or broadcast at predetermined times (i.e., a distance lecture). Campus visitation requirements may vary between schools- sometimes programs are 100% online, some require "blocks" of time, for example, a few days in a row per semester. Students are encouraged to review campus visitation requirements before enrollment.
Online learners can also expect to find they have peer, faculty, and tech support when enrolled in online programs. Even though coursework can be completed in the privacy of one's home, the student is never alone.
Additionally, practicum hours may be required based on the specialty track and school. This requirement cannot be fulfilled online, but the faculty is available to provide supervision.
MSN/MBA Classes and Courses
MSN/MBA programs have core courses that nurses must start with before choosing a specialty track. Core courses may include:
Nursing theory for advanced-practice
Role development
Leadership in nursing
Advanced physiology
Advanced Pharmacology
Advanced physical assessment
Population health
Policy
Ethics
Project management
Financial accounting
Business analysis
Accounting
In addition to the didactic courses, dual MSN/MBA students must complete supervised clinical practicum hours. This requirement is designed to ensure the nurse applies what is learned in the healthcare setting. While required practicum hours may vary, around 500 hours may be needed to graduate.
MSN/MBA Specialty Tracks
Following the core courses of study, students may select available specialty tracks (depending on the school). Concentrations for MSN/MBA students may include:
Health Systems Management – focuses on proper management and business leadership to facilitate interdisciplinary collaboration and address strategic, ethical, and HR issues.
Healthcare Administration – focuses on policy, economics, and other administrative issues to optimize best healthcare practices.
Human Resources – focuses on personnel development, organizational behaviors, and promoting workplace satisfaction and performance.
Organizational Development – focuses on analyzing and predicting behaviors to enhance efficiency in medical environments.
Strategic Leadership – focuses on strategic planning, development, and growth of healthcare environments and organizations.
Dual MSN/MBA FAQs
An MBA and MSN in Health Systems Management are similar in that with both, nurses are considered advanced-level nurses, practicing at the executive level. Both roles involve supervising and developing healthcare-related workflows to improve both patient care and efficiency. However, there are differences between the degree types.
A Master's in Business Administration is a business degree, not a nursing degree. However, while the initial approach is broad and can encompass many types of businesses, nurses can earn a dual MSN/MBA degree to apply advanced-practice and executive-level nursing to the business aspect of healthcare.  Nurses with this degree type can become chief nursing officers, responsible for the oversight of large organizations.
Those with an MSN in Health Systems Management are also in the nursing leadership chain. However, their focus is not only on budgets and cost. MSN-HSM nurses look at ways to develop and improve electronic medical records as well as utilize the latest research to develop and implement workflows and improve clinical decision-making. They also focus on project improvement, identifying risk concerns, and developing ways to improve quality.
What Are the Tuition and Costs of an MSN/MBA Program?
The specific costs and tuition rates for a dual MBA/MSN degree are variable. Base tuition can range from the hundreds to the low thousands per credit hour. Students should be aware of the following costs associated with the program:
Base tuition
University fees
Supplies
Graduation fees
Residency fees
Room and board
Transportation
Parking
For online programs, some costs do not apply, such as parking and transportation fees. However, students may need to invest in equipment to be able to utilize online learning. An example would be a laptop or webcam.
What Are the Career Options for Nurses With an MSN/MBA Degree?
Nurses who hold an MSN/MBA degree can take on different roles, mainly in healthcare leadership and management as well as nursing administration. Examples include:
Chief Nurse Executive– A chief nurse executive is a high-level, senior management position. Responsibilities include supervising patient care throughout a healthcare facility, developing ways to improve efficiency, and creating workflows and policies to improve patient care outcomes.
Nurse/Healthcare Manager– A nurse manager or healthcare manager is responsible for a specific department or department within a healthcare facility. They work directly with staff and patients to ensure everything runs smoothly and efficiently in a specified work area. They supervise staff and implement established workflows.
Chief Executive Officer– A chief executive officer is similar to a nurse executive and with similar job responsibilities. The difference is in title only- a CEO of an organization may or may not be a nurse while a nurse executive is.
Director of Nursing Practice– A director of nursing is also a higher-level management position. Nurse managers often report to directors. Nurse directors provide patient care oversight. Directors of nursing practice may also develop and implement evidence-based organizational policies and procedures.
Consulting– A nurse consultant or entrepreneur assists outside agencies, such as government entities and insurance companies. They can assist in:

Insurance claims
Healthcare reform
Legal issues, such as developing healthcare-related laws/regulations
Improving patient care and financial efficiency
Organizations and Helpful Resources
 Other Nursing Degree Programs:
List of Dual MSN/MBA Programs
Dual MSN/MBA programs are available across the country. To find the options nearest to you, we've compiled a state-by-state list of schools that offer this growing pathway. You can be on your way to a high-level nursing leadership career before you know it!
Jump to Your State Listings
Arizona
Delaware
Florida
Georgia
Illinois
Indiana
Kansas
Maryland
Michigan
New Hampshire
North Dakota
Ohio
Pennsylvania
Texas
Virginia
West Virginia
Are we missing your school's program or need to update information listed? Please contact us so we can make the necessary changes.