The Rise of the Nurse Practitioner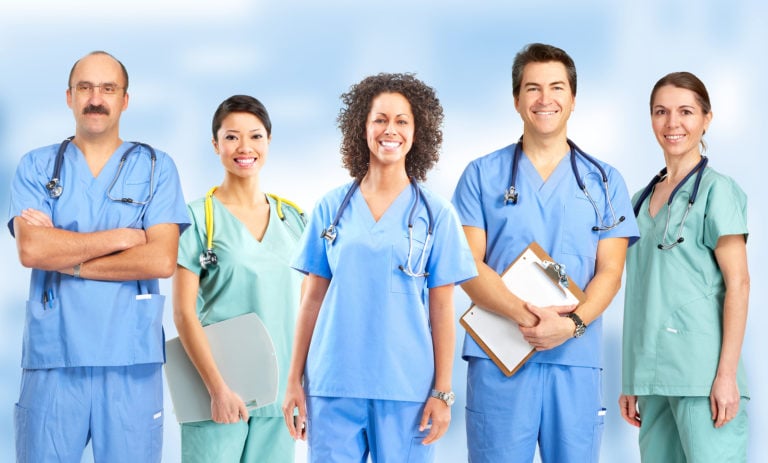 Nurse Practitioners are among the fastest growing medical professions, according to the Bureau of Labor Statistics. In fact, the profession has more than doubled in the past 12 years and was up 9% in less than a year. More Registered Nurses are choosing to advance their education and practice to that of a Nurse Practitioner (NP) than ever before in the history of nursing. Is this a flash-in-the-bedpan phenomena or a sustainable rise in the field of nursing?
Licensed Nurse Practitioners (NPs) have been providing acute, primary and specialty care to patients of all ages for over 50 years. In a recent survey by the American Association of Nurse Practitioners (AANP), the average NP is 49 years old, female, and practices in rural areas. Most have practiced more than 10 years, but over a third have been practicing for less than five years – which is a significant increase in the past two years. The survey of more than 4,000 NPs also reported that most (87%) were trained in Primary Care and many (89%) contribute in some way as nursing faculty while working in settings such as private offices, hospitals, or outpatient medical clinics.
More and more bedside nurses are choosing the path of the Nurse Practitioner to further their careers. For example, Willa Illustrisimo, MSN-FNP, RN spent 21 years as an Intensive Care Nurse after deciding to attend University of Phoenix's Nurse Practitioner program. "Bedside patients are getting heavier and I'm not getting younger! I needed to find a way to still be able to care for patients and apply my medical knowledge without the extreme physical exertion." Stories such as this are prevalent in the nursing community, as more nurses seek advance practice to continue to apply their learned skills.
One reason for the incredible growth in the number of NPs is the availability of Nurse Practitioner programs across the globe. Nurses can choose from a variety of educational settings including traditional full-time-in-the-classroom, to complete online didactic and arranged clinical rotations, to hybrids of both settings, such as the program at Sacred Heart University. Current NP programs also cater to specific nurses in order to streamline their educational goals. For example, Simmons University has two programs: one designed to take a nurse from Associate's Degree in Nursing (ADN) to a Master's Degree in Nursing (MSN) – Family Nurse Practitioner. The second program is for those who already hold a Bachelor's of Science in Nursing (BSN) to the MSN – Family Nurse Practitioner degree.
There are many published reports that patient satisfaction scores are higher when seeing an NP as opposed to their physician colleagues. The role as the patient educator is reinforced throughout every stage of nursing education and for this reason, patients report that they feel that the Nurse Practitioner spends valuable time explaining disease processes and treatment plans. Joyce Knestrick, PhD, APRN, CFNP, FAANP and president of AANP stated that NPs treated over 1 billion patients in 2018; evidence that NPs are becoming the provider of choice for patients in the United States. The upward trend of Nurse Practitioners in the medical community is not likely to decrease anytime soon. Changes to each state's scope of practice laws for the NPs are moving more towards independent practice and billing for services. This rise is not only good for nurses as it offers career advancement, it is also good for patients and medicine as a whole. With less doctors choosing primary care or family medicine as a specialty, communities need NPs to care for populations at all ages and levels of illness.
Featured Nursing Programs

Latest posts by Amanda Bucceri Androus, RN, BSN
(see all)