CNA Classes & Programs in Georgia
Do you have the temperament and personality to care for others for a living? When you become a Certified Nursing Assistant (CNA) in Georgia, you tend to patients' basic needs at assisted living facilities and nursing homes. CNAs in Georgia earn $24,800 annually on average, per the U.S. Bureau of Labor Statistics, and may qualify for free or low-cost career training.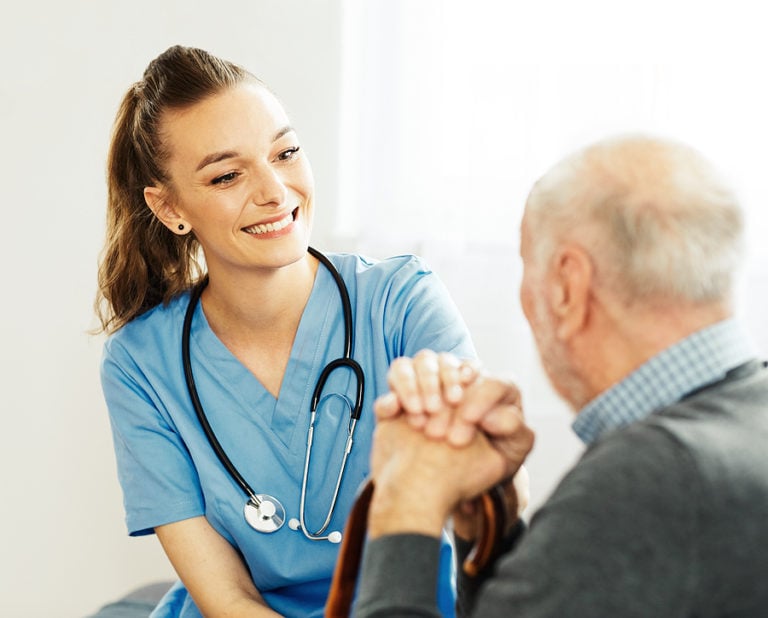 Choosing the Best CNA Programs in Georgia
Low instructor to student ratios, pace of instruction, and modern facilities are just a few things you should consider before choosing a CNA program in Georgia. Certified Nursing Assistant coursework is offered at community colleges, vocational schools and allied health institutes. Get details on admission requirements by going to our CNA Training Programs Admissions page.
Program Length: You can begin a new career in healthcare by completing your CNA training in as few as 3 weeks for accelerated programs or 8 weeks for standard-paced ones. Clinical and theoretical learning and practice is required to earn CNA certification in Georgia.
Program Cost: Many job openings are available for CNAs. To help fill them, the Workforce Innovation and Opportunity Act (WIOA) training assistance program covers the cost of CNA training for qualified applicants. (It may not cover costs of testing fees, supplies and learning materials and there may be a waiting period.) Otherwise, tuition costs range from $500 to $800 at most schools.
Board Approved Programs: Completing your CNA education at an approved program is crucial. Non-approved CNA programs may not prepare students for the Georgia State Certification Exam. In addition, scholarship grants and funding may not be available for non-approved programs. Check out the CNA certification requirements for Georgia to learn more.
Online/In-Person Options: Certified Nursing Assistants work closely with patients providing hands-on care. Because this experience cannot be duplicated online, there's limited online coursework available. Most programs do offer flexible day, evening, or weekend programs to work with students' full schedules.
2023 List of CNA Classes in Georgia
To get a feel for the CNA curriculum in Georgia, see our list of classes and courses available in the state:
Acworth, GA
Albany, GA
Alma, GA
Athens, GA
Atlanta, GA
Augusta, GA
Bainbridge, GA
Baxley, GA
Brunswick, GA
Calhoun, GA
Carrollton, GA
Clarkesville, GA
Clarkston, GA
Columbus, GA
Cordele, GA
Covington, GA
Dacula, GA
Douglasville, GA
Fayetteville, GA
Flowery Branch, GA
Gainesville, GA
Griffin, GA
Hinesville, GA
Jesup, GA
Kennesaw, GA
LaGrange, GA
Marietta, GA
Rincon, GA
Rock Spring, GA
Rome, GA
Savannah, GA
Statesboro, GA
Swainsboro, GA
Thomasville, GA
Valdosta, GA
Vidalia, GA
Waco, GA
Warner Robins, GA
Waycross, GA
Woodstock, GA
Are we missing your school's program or need to update information listed? Please contact us so we can make the necessary changes.