CNA Classes & Programs in Indiana
If you are considering a career in the nursing field, becoming a certified nursing assistant (CNA) is a great entry point to the field. Also called "nursing assistants" or "nursing aides," CNAs assist patients with daily activities such as feeding and bathing, answering call lights, preparing patient rooms, and taking vital signs. In Indiana, CNAs earn an average annual salary of $26,070 according to the U.S. Bureau of Labor Statistics. Because CNA training programs are relatively inexpensive and quick to complete, some nursing assistants use the CNA role to help them decide if nursing is the right career for them, and many go on to become licensed practical nurses or registered nurses.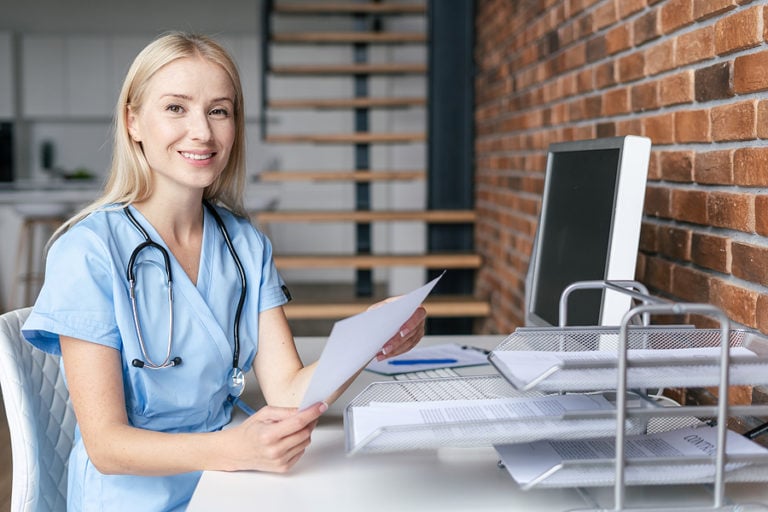 Choosing the Best CNA Programs in Indiana
Once you've decided to become a CNA, the first step is choosing a training program. CNA training programs are offered at many community colleges, vocational schools and at some high schools and medical centers. CNA training programs are offered all around the state, in bigger cities like Indianapolis and Fort Wayne, as well as in smaller towns. To learning more about applying to a CNA training program in Indiana, visit our CNA Training Programs Admissions page.
Program Length: The length of a CNA training program varies, and can take anywhere from 4 to 12 weeks to complete. In Indiana, CNA training programs include a minimum of 30 hours of classroom instruction and 75 hours of clinical practice hours.
Program Cost: The fees associated with a CNA training program varies from school to school. Some medical centers or nursing homes may offer free CNA training in exchange for working for that facility for an agreed upon amount of time.
Online/In-Person Options: CNA training programs include classroom instruction as well as hands-on practical training in a clinical setting. While the clinical experience portion of training must take place in person, in some cases the classroom coursework may be offered in an online format. Online CNA training programs may be a particularly good fit for students who have work or family obligations that make it difficult to attend in-person classes, and the flexibility of completing assignments from home on your own schedule appeals to everyone.
2023 List of CNA Classes in Indiana
To get a feel for the CNA curriculum in Indiana, see our list of classes and courses available in the state:
Corydon, IN
Edinburgh, IN
Evansville, IN
Fort Wayne, IN
Gary, IN
Indianapolis, IN
Jasper, IN
Kendallville, IN
Lowell, IN
Are we missing your school's program or need to update information listed? Please contact us so we can make the necessary changes.