CNA Classes & Programs in Kansas
Many nurses begin their careers as certified nursing assistants (CNAs), also known as nursing aides or nursing assistants. The CNA role is a support position working under licensed practical nurses and registered nurses, and CNAs are responsible for assisting patients with daily activities like eating and bathing, sanitizing patient rooms, taking vital signs, and answering call lights. Because training programs are often relatively inexpensive and quick to complete, the CNA position is a great entry point to the nursing profession. In Kansas, CNAs earn an average annual salary of $25,290 according to the U.S. Bureau of Labor Statistics.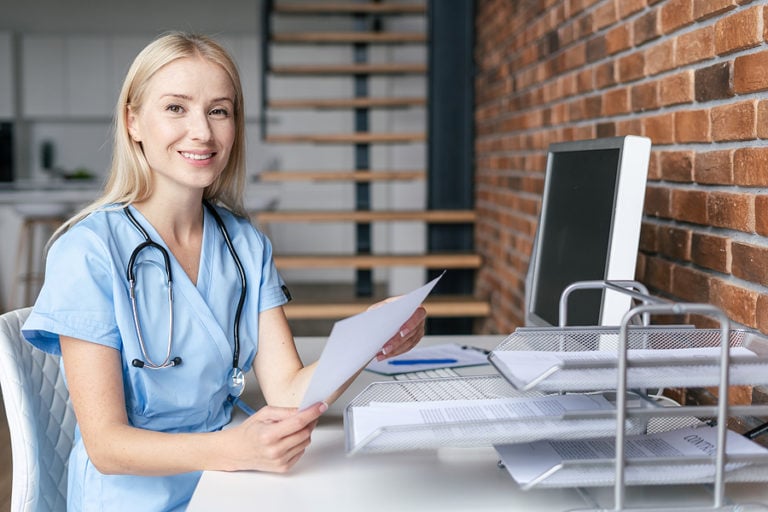 Choosing the Best CNA Programs in Kansas
In order to become a CNA, a student must first complete a state-approved CNA training program and pass a certification exam. CNA training programs are offered at community colleges, vocational schools and at some medical facilities and nursing homes. In Kansas, training programs are available across the state, including in Kansas City and Wichita. To learn more about requirements for admissions to a CNA training program in Kansas, visit our CNA Training Programs Admissions page.
Program Length: Generally much faster to complete than an LPN or RN training program, CNA training programs take between 4 and 12 weeks to complete. In Kansas, CNA training programs include 90 hours of training, which includes hands-on clinical experience as well as classroom instruction.
Program Cost: The cost of a CNA training program can vary from school to school. As one example of CNA training program costs, Salina Area Technical College offers an 8-week CNA training program that costs $675 in 2019 and offers classes in the afternoons and evenings to accommodate working students.
Board Approved Programs: Each state sets its own regulations for CNA training and certification, so it is important to choose a program that is in line with your state's standards. In Kansas, the Department for Aging and Disability Services provides information about CNA certification and offers a listing of schools across the state that offer approved training programs. For more information, check out the CNA certification requirements in Kansas.
Online/In-Person Options: In addition to traditional in-person training programs, some schools offer a portion of the CNA training curriculum in an online format. Online training programs provide students with the convenience of completing assignments from home and on their own schedules. Online programs are especially convenient for students who live far from campus or those who have challenging work schedules.
2023 List of CNA Classes in Kansas
To get a feel for the CNA curriculum in Kansas, see our list of classes and courses available in the state:
Arkansas City, KS
Beloit, KS
Chanute, KS
Coffeyville, KS
Colby, KS
Concordia, KS
El Dorado, KS
Emporia, KS
Fort Scott, KS
Garden City, KS
Goodland, KS
Great Bend, KS
Hays, KS
Highland, KS
Hutchinson, KS
Independence, KS
Iola, KS
Kansas City, KS
Lawrence, KS
Lenexa, KS
Lindsborg, KS
Manhattan, KS
Merriam, KS
Overland Park, KS
Parsons, KS
Pratt, KS
Salina, KS
Topeka, KS
Wichita, KS
Are we missing your school's program or need to update information listed? Please contact us so we can make the necessary changes.