CNA Classes & Programs in Kentucky
Certified nursing assistants (CNAs), also known as state-registered nursing aides (SRNAs) in Kentucky, play a vital role on the nursing team. CNAs support licensed practical nurses (LPNs) and registered nurses (RNs) by assisting patients with their daily activities such as bathing, eating and using the restroom, sanitizing patient rooms, answering call lights, and taking vital signs. Many CNAs use their role as a jumping-off point to a career as an LPN or RN, learning about the nursing profession from this entry-level position. CNA training programs are quick to complete and less expensive than a practical nursing or RN program, which makes this role an attractive entry point to the nursing field. In Kentucky, CNAs earn an average annual salary of $23,880 according to the U.S. Bureau of Labor Statistics.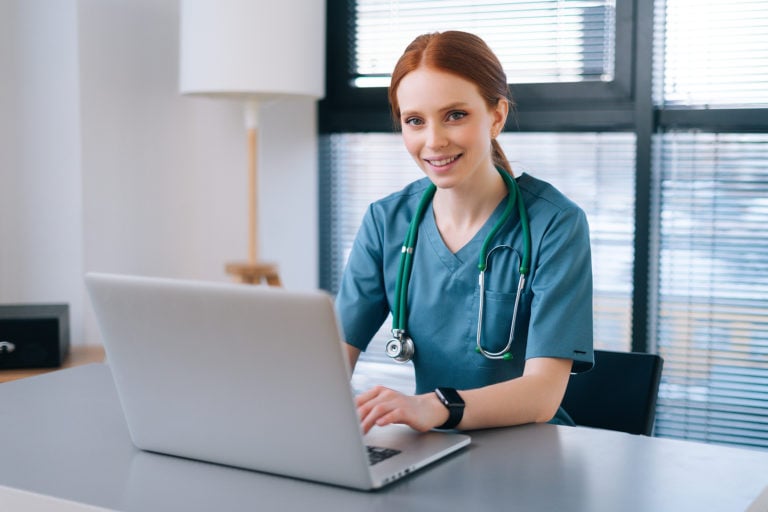 Choosing the Best CNA Programs in Kentucky
The first step in becoming a CNA in Kentucky is completing a state-approved SRNA training program. Then the student must pass a nurse aide competency exam before starting their first job. Training programs are offered at community colleges, vocational schools and at some medical facilities and nursing homes across the state, including in the larger cities of Lexington and Louisville. To learn more about admissions requirements for an SRNA training program in Kentucky, visit our CNA Training Programs Admissions page.
Program Length: CNA training programs are quick to complete, taking on average between 4 and 12 weeks to complete. In Kentucky, SRNA training programs include a minimum of 75 hours of instruction, with a minimum of 16 hours of supervised practical training, which takes place in a laboratory or other setting in which the student demonstrates practical skills under the supervision of an LPN or RN.
Program Cost: The cost of a nursing aide training program varies from school to school. As one example of CNA training program costs, Kentucky Healthcare Training in Lexington offers an SRNA training program that costs $598.50 for the on-site program or $650 for the online training program in 2019. Not included in these costs are the required textbook, uniform, TB testing costs, and state competency testing fee.
Board Approved Programs: Each state has its own unique requirements for CNA training and certification, so it is imperative to select a state-approved training program. In Kentucky, the Kentucky Board of Nursing maintains the Kentucky Nurse Aide Registry that CNAs must register with once they have passed the state's competency exam. For more information, check out the CNA certification requirements in Kentucky.
Online/In-Person Options: If you are interested in becoming a CNA but have a busy work schedule, family obligations or live far from the nearest training program, an online training program may be a good fit. While the supervised practical training component must be completed in person, some schools now offer the classroom portion of their training curriculum in an online format. These online training programs offer students the convenience of completing assignments from home and on their own schedules.
2023 List of CNA Classes in Kentucky
To get a feel for the CNA curriculum in Kentucky, see our list of classes and courses available in the state:
Ashland, KY
Bowling Green, KY
Campbellsville, KY
Cumberland, KY
Elizabethtown, KY
Erlanger, KY
Florence, KY
Ft. Thomas, KY
Greenville, KY
Hazard, KY
Henderson, KY
Hopkinsville, KY
Lexington, KY
London, KY
Louisville, KY
Madisonville, KY
Morganfield, KY
Owensboro, KY
Paducah, KY
Prestonsburg, KY
Richmond, KY
Simpsonville, KY
Williamsburg, KY
Are we missing your school's program or need to update information listed? Please contact us so we can make the necessary changes.