CNA Classes & Programs in Mississippi
Certified nursing assistants (CNAs), commonly referred to as nursing aides in Mississippi, are important members of the patient care team. Working alongside licensed practical nurses and registered nurses, CNAs assist patients with activities of daily living, take and record vital signs and sanitize patient rooms. As an entry-level position that requires a basic training program and certification exam, nursing aides often go on to become LPNs or RNs after being introduced to the nursing profession as a CNA. In Mississippi, CNAs earn an average annual salary of $22,790, according to the U.S. Bureau of Labor Statistics.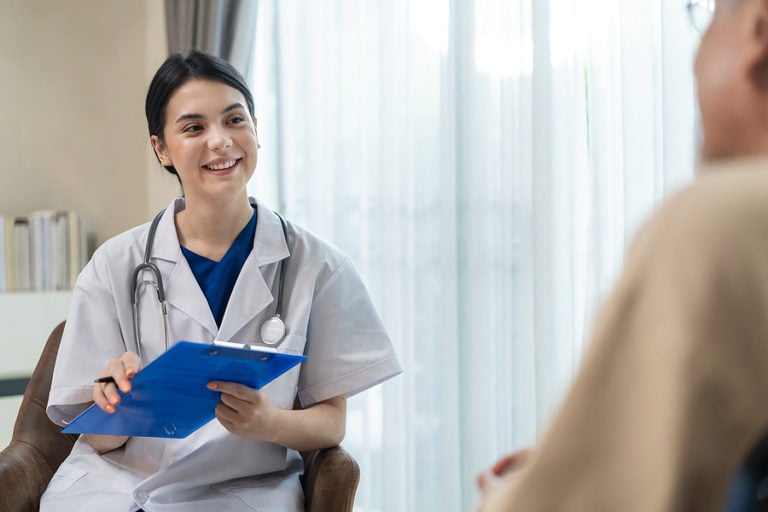 Choosing the Best CNA Programs in Mississippi
The first step in becoming a nursing aide is to enroll in a nursing assistant training program that is approved by your state, and then take your state's certification exam. In Mississippi, CNA training programs are offered at many community colleges, vocational schools, and some medical centers and long-term care facilities. For more information about admissions requirements for CNA programs in Mississippi, please visit our CNA Training Programs Admissions page.
Program Length: CNA training programs are quick to complete, often taking 6 to 8 weeks with some programs taking as little as 4 weeks. Mississippi requires nursing aide training programs to include a minimum of 75 hours of training including classroom instruction and a minimum of 16 hours of clinical practice.
Program Cost: The cost of a training program varies from school to school. As one example of program costs, the cost of tuition for the Nurse Assistant Program at Southwest Mississippi Community College is $1,145 in 2019. In addition, there is an estimated cost of $650 for books, uniforms, supplies, immunizations, CPR certification, and CNA certification exam fees. When researching schools, make sure to find out the cost of additional fees, supplies, exam costs, etc. in addition to the stated tuition cost.
Board Approved Programs: In order to become certified as a nursing aide in Mississippi, applicants must complete a state-approved training program, or be certified by another state. The Mississippi State Department of Health regulates nursing aide training programs and certification. You can request a list of state-approved training programs by visiting the Department of Health website. To learn more, check out the CNA certification requirements for Mississippi.
Online/In-Person Options: While some states offer hybrid CNA training programs that combine online instruction with in-person clinical training, Mississippi does not currently accept online computer-based nursing aide training. However, many schools offer CNA training courses during nights and weekends to accommodate working students.
2023 List of CNA Classes in Mississippi
To get a feel for the CNA curriculum in Mississippi, see our list of classes and courses available in the state:
Batesville, MS
Booneville, MS
Clarksdale, MS
Crystal Springs, MS
Gulfport, MS
Perkinston, MS
Poplarville, MS
Scooba, MS
Are we missing your school's program or need to update information listed? Please contact us so we can make the necessary changes.