CNA Classes & Programs in Missouri
Becoming a certified nursing assistant (CNA) is a rewarding career path that is an excellent entry point to the nursing profession. CNAs work under the supervision of licensed practical nurses (LPNs) and registered nurses (RNs) to assist patients with activities of daily living including dressing and bathing, taking and recording patients' vital signs, and cleaning patient rooms. In Missouri, CNAs earn an average annual salary of $25,360, according to the U.S. Bureau of Labor Statistics. Many CNAs go on to become LPNs or RNs after learning the profession as nursing assistants.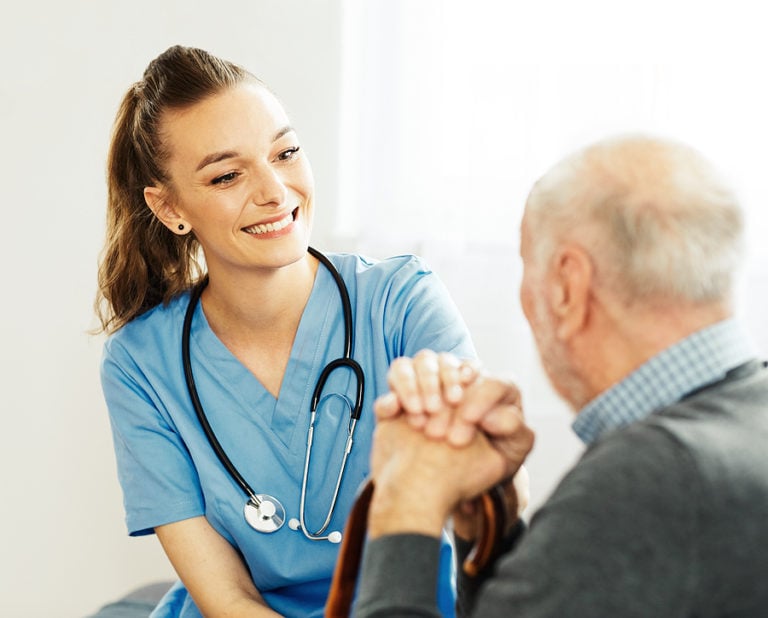 Choosing the Best CNA Programs in Missouri
In order to become a nursing assistant, students must complete a state-approved training program and pass their state's certification exam. Training programs are relatively quick to complete and are offered in many community colleges, vocational schools as well as in some medical facilities. For more information about admissions requirements for CNA programs in Missouri, please visit our CNA Training Programs Admissions page.
Program Length: CNA training program length can vary, generally taking less than a year to complete. In Missouri, CNA training programs must include a minimum of 75 hours of classroom instruction and 100 hours of on the job clinical training. In some cases, applicants may be exempt from the training hours requirement if they have previous nursing experience. For more information about exemptions to the training requirements, please visit the Missouri Department of Health and Senior Services website.
Program Cost: The cost of a CNA training program varies from school to school. As one example of program costs, the certified nursing assistant program at St. Charles Community College is $375 for the classroom instruction, $310 for the clinical internship and $115 for the certification exam as of 2019. When researching schools, be sure to find out the cost of additional fees, supplies, exam costs, etc. in addition to the stated tuition cost in order to estimate the total cost of a program.
Board Approved Programs: In order to become certified as a nursing aide in Missouri applicants must complete a state-approved training program, or be certified by another state. The Missouri State Department of Health and Senior Services regulates CNA training programs and maintains the Certified Nurse Assistant Registry. Students can find a listing of approved training programs on the Department's website. To learn more, check out the CNA certification requirements for Missouri.
Online/In-Person Options: Some states offer online courses as part of their CNA training. In Missouri, there is a handful of schools approved by the state that offer online coursework accompanied by in-person clinical training in a local healthcare facility. These hybrid options may be a particularly good fit for students who have busy work schedules or family obligations that make it difficult to attend classes in person.
2023 List of CNA Classes in Missouri
To get a feel for the CNA curriculum in Missouri, see our list of classes and courses available in the state:
Bolivar, MO
Cape Girardeau, MO
Chillicothe, MO
Columbia, MO
Cottleville, MO
Excelsior Springs, MO
Hannibal, MO
Harrisonville, MO
Hillsboro, MO
Imperial, MO
Independence, MO
Ironton, MO
Jefferson City, MO
Joplin, MO
Kansas City, MO
Neosho, MO
Sedalia, MO
Springfield, MO
St. Louis, MO
Union, MO
West Plains, MO
Are we missing your school's program or need to update information listed? Please contact us so we can make the necessary changes.