CNA Classes & Programs in Nebraska
Certified Nurse Assistants (CNAs), also referred to as nurse's aides or nurse assistants, are healthcare workers who assist patients with activities of daily living such as feeding, hygiene, and mobility. They check vital signs, monitor intake and output, and report to the nursing staff. They are invaluable in the healthcare setting as they are often the eyes and ears of nursing staff. In Nebraska, the need for certified nursing assistants is expected to increase by 12% until 2026. As the demand for healthcare services continues to increase, so does the demand for healthcare workers- including CNAs. The median salary for certified nurse assistants in Nebraska is currently $28,280.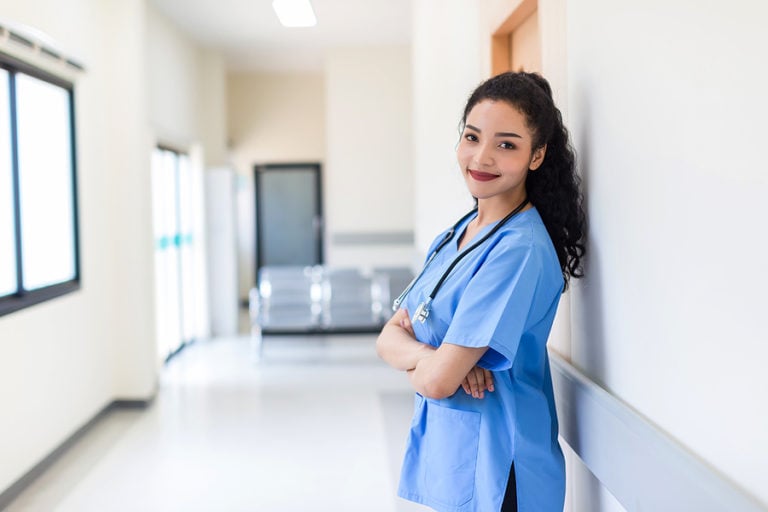 Choosing the Best CNA Programs in Nebraska
Prospective nurse assistant students must first complete a CNA training program approved by the state of Nebraska, complete the certification exam, and then become registered. For details on admission requirements for CNA programs, please visit our CNA programs admissions page.
Nebraska residents who are interested in becoming a certified nurse assistant may not know where to start when researching schools. The following are starting points to help select a program that is right for their needs.
Program Length: The amount of time it takes to complete a CNA program is dependent on the school. In Nebraska, a 75-hour nurse assistant course is required along with a one-hour abuse/neglect/misappropriation training course. Many of the programs require full-time commitment.
Program Cost: The cost to attend a nurse assistant program in Nebraska can vary between schools, but averages around $400 for the course. Books and supplies are often included. Students are encouraged to check the cost of each school of interest before enrolling. Some colleges even offer financial aid.
Online/In-Person Options: There are online hybrid programs available to prospective CNA students. However, students must ensure the program is accredited in the state of Nebraska and fulfills the required hands-on portion of the program. Much of the classroom portion can be completed online, but in-person, didactic, hands-on training is also required. The hybrid learning format allows students to learn at their own pace, continue to work their current job, and meet the needs of their family all while gaining new skills as a nurse assistant.
2022 List of CNA Classes in Nebraska
To get a feel for the CNA curriculum in Nebraska, see our list of classes and courses available in the state:
Albion, NE
Arapahoe, NE
Beatrice, NE
Chadron, NE
Columbus, NE
Grand Island, NE
Hastings, NE
Kearney, NE
Lincoln, NE
Macy, NE
McCook, NE
Norfolk, NE
North Platte, NE
Omaha, NE
Ravenna, NE
Scottsbluff, NE
York, NE
Are we missing your school's program or need to update information listed? Please contact us so we can make the necessary changes.