CNA Classes & Programs in Ohio (STNA)
Certified nursing assistants, referred to as State Tested Nurse Aides (STNA) in Ohio, are valuable members of the nursing team who perform a number of patient care duties under the supervision of a licensed practical nurse (LPN) or registered nurse (RN). STNAs help patients with daily activities such as getting dressed, eating and using the restroom, as well as assisting with physical therapy exercises, taking and recording vital signs, and sanitizing patient rooms. For many nurse aides, the position is an entry point to a long career in nursing and many go on to become LPNs and RNs. In Ohio, nursing aides earn an average annual salary of $26,740, according to the U.S. Bureau of Labor Statistics.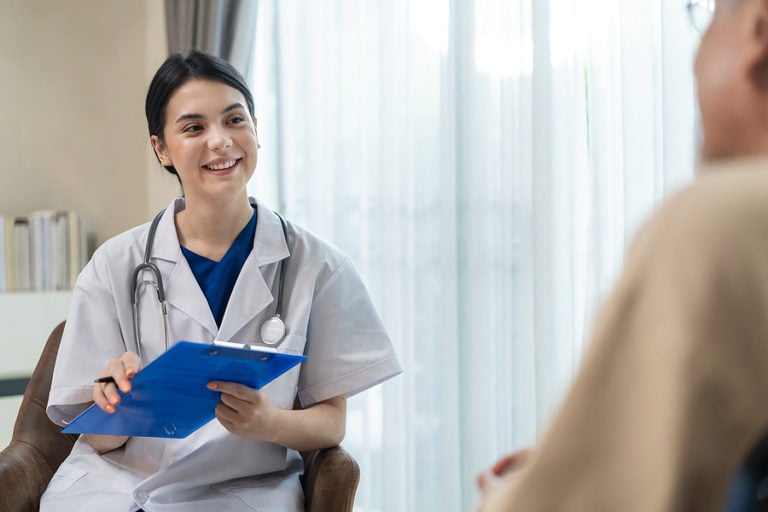 Choosing the Best CNA (STNA) Programs in Ohio
In order to become a certified nursing assistant, aspiring STNAs must complete a state-approved training course and pass their state's certification exam. In Ohio, training programs generally take only a few weeks to complete. For information about admissions requirements for CNA training programs in Ohio, visit our CNA Training Programs Admissions page.
Program Length: STNA training programs in Ohio must include a minimum of 75 hours of instruction including 59 hours of classroom instruction and 16 hours of hands-on training in a long-term care facility. Training programs are offered in a number of technical schools and healthcare facilities throughout the state.
Program Cost: The cost of a CNA training program varies from school to school. In some cases, healthcare employers may reimburse employees for the cost of their STNA training programs. As one example of program costs, the STNA program at Premier Choice Health Services in Columbus costs $385, which includes textbooks and lab materials.
Board Approved Programs: Each state has its own set of criteria for certifying nurse aides, so it is important to select a training program that is approved by your state. In Ohio, the Ohio State Department of Health certifies STNA training programs and maintains a nurse aide registry for the state. For a full list of state-approved training programs, visit the Department of Health website. To learn more, check out the CNA certification requirements for Ohio. You'll also find be part of the STNA registry in Ohio once certified.
Online/In-Person Options: In most cases, because training is completed in just a few weeks, courses are taught in-person during nights or weekends to accommodate working students. In some cases, however, the classroom portion of STNA training may be available in an online format. Online coursework is followed by in-person clinical training hours in a local healthcare facility. These programs may be particularly convenient for students who have busy work schedules or with family obligations that make coming to campus for training difficult.
2023 List of CNA (STNA) Classes in Ohio
To get a feel for the CNA curriculum in Ohio, see our list of classes and courses available in the state:
Ashland, OH
Beavercreek, OH
Bellefontaine, OH
Bethel, OH
CLEVELAND, OH
Carroll, OH
Cincinnati, OH
Cleveland, OH
Cleveland Heights, OH
Columbus, OH
Dayton, OH
Delaware, OH
Euclid, OH
Geneva, OH
Groveport, OH
Huber Heights, OH
Jefferson, OH
Kirtland, OH
Lima, OH
Lisbon, OH
Mansfield, OH
Marion, OH
Middletown, OH
Milan, OH
Nelsonville, OH
Newark, OH
Niles, OH
Parma Heights, OH
Sandusky, OH
South Euclid, OH
Springfeld, OH
St Clairsville, OH
Urbana, OH
Warrensville Heights, OH
West Union, OH
Wilmington, OH
Xenia, OH
Zanesville, OH
Are we missing your school's program or need to update information listed? Please contact us so we can make the necessary changes.